Robots
PCL - Point Cloud Library (PCL) HKPilot Mega V2.5 Flight Controller USB/GYRO/ACC/MAG/BARO. HKPilot Mega V2.5 Flight Controller USB/GYRO/ACC/MAG/BARO. Cognitive Machines Group. Speechome Recorder for the Study of Child Development Disorders Soroush Vosoughi, Matthew Goodwin and Deb Roy Collection and analysis of dense, longitudinal observational data of child behavior in natural, ecologically valid, non-laboratory settings holds significant benefits for advancing the understanding of autism and other developmental disorders.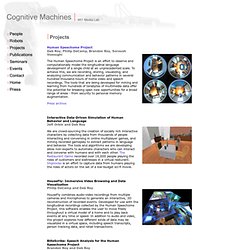 We have developed the Speechome Recorder, a portable version of the embedded audio/video recording technology originally developed for the Human Speechome Project, to facilitate swift, cost-effective deployment in special-needs clinics and homes. Recording child behavior daily in these settings will enable us to study developmental trajectories of autistic children from infancy through early childhood, as well as atypical dynamics of social interaction as they evolve on a day-to-day basis. Its portability makes possible potentially large-scale comparative study of developmental milestones in both neurotypical and autistic children. How to make your first robot. If you have purchased an "Instant Robot" shield, you can find a project using that shield here.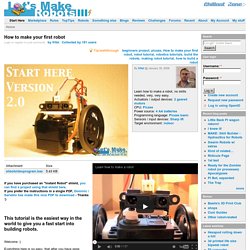 If you prefer the instructions in a single PDF, Dominic / Servello has made this nice PDF to download - Thanks :) Welcome :) Everything here is so easy, that after you have gone through it, you can make a robot in a couple of hours. Les robots domestiques ne sont pas pour demain. La lecture de la semaine provient de l'édition numérique du New Yorker.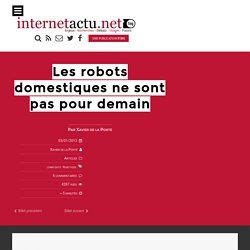 On la doit à Gary Marcus (@GaryMarcus), qui est professeur de psychologie à la New York University et elle s'intitule "Pourquoi fabriquer des robots est horriblement difficile ?" "Les robots, tout un coup, font la Une de l'actualité. Mitsubishi vient d'annoncer avoir construit un robot spécialement créé pour nettoyer le réacteur nucléaire de Fukushima ; la Nasa travaille sur un homme à tout faire automatique adéquat aux travaux dans l'espace. Les deux dernières semaines ont vu paraître un nouveau guide pour robots sur iPad (où l'on trouve 36 robots provenant de 19 pays) et un investissement dans un site web baptisé RobotAppStore, sur lequel vous pouvez télécharger des applications pour Roomba, le robot aspirateur.
Documentation. ROS (Robot Operating System) provides libraries and tools to help software developers create robot applications.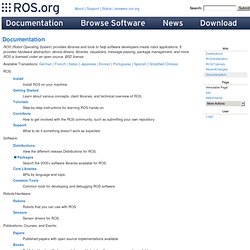 It provides hardware abstraction, device drivers, libraries, visualizers, message-passing, package management, and more. ROS is licensed under an open source, BSD license. Installation. These instruction will install our current release, ROS Fuerte.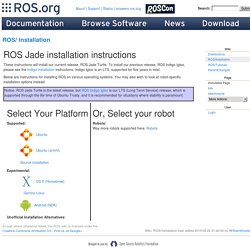 To install our previous release, ROS Electric, please see the Electric installation instructions. Below are instructions for installing ROS on various operating systems. You may also wish to look at robot-specific installation options instead. Alternatively, you can use a VirtualBox virtual image with Ubuntu 12.04.1 LTS and ROS Fuerte pre-installed. It is packaged in an OVA (Open Virtualization Archive) file of approx. 2.4GB.
Overview. Our mission is to help advance the state-of-the-art in autonomous robotics technologies.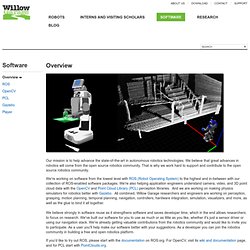 We believe that great advances in robotics will come from the open source robotics community. That is why we work hard to support and contribute to the open source robotics community. We're working on software from the lowest level with ROS (Robot Operating System) to the highest and in-between with our collection of ROS-enabled software packages. We're also helping application engineers understand camera, video, and 3D point cloud data with the OpenCV and Point Cloud Library (PCL) perception libraries. And we are working on making physics simulators for robotics better with Gazebo. GitHub Says 'No Thanks' to Bots — Even if They're Nice | Wired Enterprise.
Erik Michaels-Ober Photo: Ryan Resella When something called Imageoptimiser said it could improve Erik Michaels-Ober's software on the GitHub code-sharing website last Sunday, Michaels-Ober wasn't sure what to make of it.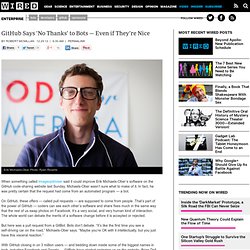 In fact, he was pretty certain that the request had come from an automated program — a bot. NXTI2CDevice/examples/NXTServo/NXTServo.pde at master · rwldrn/NXTI2CDevice. My Robot, Makey. The NodeCopter - Programming flying robots with node.js. Lego NXT – Arduino Truck « Robotics / Electronics / Physical Computing. #define S_ACCEL IN_4 #define S_COMP IN_4 #define S_US IN_2 #define S_IR IN_1 #define S_SERVO IN_3.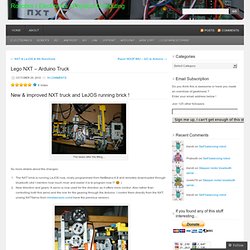 Grove - 3-axis Gyro. [中文] Introduction Grove - 3-Axis Digital Gyro module based on ITG 3200.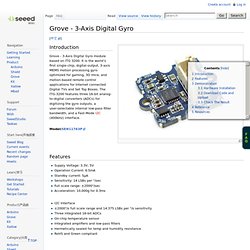 It is the world's first single-chip, digital-output, 3-axis MEMS motion processing gyro optimized for gaming, 3D mice, and motion-based remote control applications for Internet connected Digital TVs and Set Top Boxes. The ITG-3200 features three 16-bit analog-to-digital converters (ADCs) for digitizing the gyro outputs, a user-selectable internal low-pass filter bandwidth, and a Fast-Mode I2C (400kHz) interface. Model:SEN11763P.
Basic Servo Motor Controlling with Microchip PIC Microcontroller. Basic Servo Motor Controlling with Microchip PIC Microcontroller February 17, 2009 by rwb, under Robotics.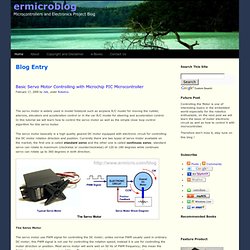 The servo motor is widely used in model hobbyist such as airplane R/C model for moving the rudder, ailerons, elevators and acceleration control or in the car R/C model for steering and acceleration control. In this tutorial we will learn how to control the servo motor as well as the simple close loop control algorithm for this servo motor. The servo motor basically is a high quality geared DC motor equipped with electronic circuit for controlling the DC motor rotation direction and position. Mission - ardupilot-mega - Official ArduPlane repository. The Mission Planner, created by Michael Oborne, does a lot more than its name. Here are some of the features: Point-and-click waypoint entry, using Google Maps. Select mission commands from drop-down menus Download mission log files and analyze them Configure APM settings for your airframe Interface with a PC flight simulator to create a full hardware-in-the-loop UAV simulator. See the output from APM's serial terminal.
Arducopter - Arduino-based autopilot for mulitrotor craft, from quadcopters to traditional helis. The DIY Drones development team is proud to bring you the ultimate open source quadcopter and helicopter UAV! ArduCopter's autopilot is based on APM 2, the most sophisticated IMU-based open source autopilot on the market. It provides full UAV functionality, with scripted waypoints, Ground Station and more. Advanced GCS. IrRanger. ROS package or Stack If you're creating the initial page for a stack or package, please give it the page the same name as the stack or package itself, and use one of the following templates: StackTemplate - Template this new page to hold usage documentation for a stack PackageTemplate - Template this new page to hold usage documentation for a package. Conversion of cheap optical mouse to robot odometer.
For a small robot project I'm working on I needed a way to measure the robot's progress across the floor. There are various possibilities, such as: use stepper motors (expensive and am recycling some old continuous run servos), add an encoder to the wheels (would need to go buy some parts for that), or use the optical sensor for a mouse. I had a really old PS/2 optical mouse lying around which contains an MCS-12085 optical sensor that has a rather simple serial interface suitable for connection to a microcontroller. Inside there are two separate areas of components. On the right in the picture above is the PS/2 interface chips and four nice extras that I desoldered for later use (three microswitches and a quadrature encoder). On the left is the red LED that illuminates the surface and the 8 pin square MCS-12085 that has the camera.
'BOB' V2.0. This is a sequel, so to speak, of the 'Obstacle-Avoiding Robot with a Personality' instructable. In that instructable, I decided to call the robot 'BOB'. BOB had quite a few flaws and drawbacks, so I have now improved BOB in a few ways. (He? It?) Now has better: Stamina (improved power system) 'Vision' (extra sensors) 'Nerves' (connections are made more securely) Brainpower (different microcontroller) Bob now uses a switching regulator and a 9.6V RC battery for power, better sensor mounts, an extra GP2D12 IR sensor, a panning servo for the ultrasonic rangefinder, and an AVR ATmega168 microcontroller on an Arduino development board.
Odométrie du Pobot Easy. Odométrie. Pilotage du Pobot Easy. Accéléromètre Analog ADXL311. Visualisation radar d'une détection de distance. Robotique. (w/ Video) Basic Arduino Robot, Light Seeker! MD1.3 2A Dual Motor Controller (SKU: DRI0002) Make: Microcontrolled Bots. About | Art Of Code. Store DIYdrones - UAV Robotics parts. ArduCopter - arducopter - Arduino-based autopilot for mulitrotor craft, from quadcopters to traditional helis. DIY Drones. Let's Make Robots!
---