Robots
HKPilot Mega V2.5 Flight Controller USB/GYRO/ACC/MAG/BARO
HKPilot Mega V2.5 Flight Controller USB/GYRO/ACC/MAG/BARO
Cognitive Machines Group
Speechome Recorder for the Study of Child Development Disorders Soroush Vosoughi, Matthew Goodwin and Deb Roy Collection and analysis of dense, longitudinal observational data of child behavior in natural, ecologically valid, non-laboratory settings holds significant benefits for advancing the understanding of autism and other developmental disorders.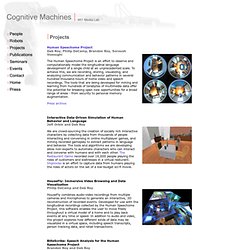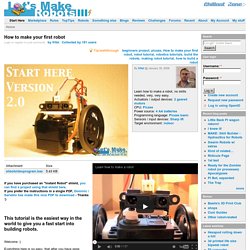 If you have purchased an "Instant Robot" shield, you can find a project using that shield here.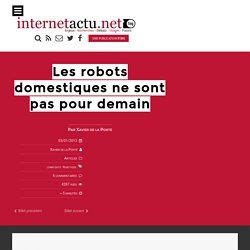 Les robots domestiques ne sont pas pour demain
La lecture de la semaine provient de l'édition numérique du New Yorker.
ROS (Robot Operating System) provides libraries and tools to help software developers create robot applications. It provides hardware abstraction, device drivers, libraries, visualizers, message-passing, package management, and more. ROS is licensed under an open source, BSD license.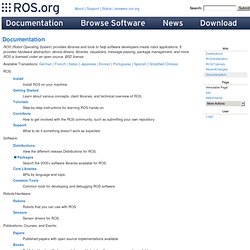 These instruction will install our current release, ROS Fuerte. To install our previous release, ROS Electric, please see the Electric installation instructions.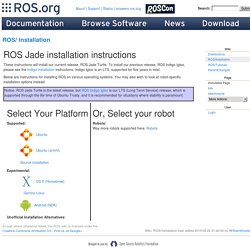 Installation
Overview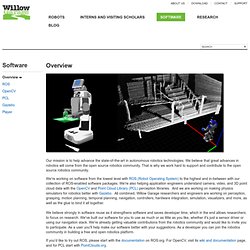 Our mission is to help advance the state-of-the-art in autonomous robotics technologies. We believe that great advances in robotics will come from the open source robotics community.
When something called Imageoptimiser said it could improve Erik Michaels-Ober's software on the GitHub code-sharing website last Sunday, Michaels-Ober wasn't sure what to make of it. In fact, he was pretty certain that the request had come from an automated program — a bot. On GitHub, these offers — called pull requests — are supposed to come from people.
GitHub Says 'No Thanks' to Bots — Even if They're Nice | Wired Enterprise
NXTI2CDevice/examples/NXTServo/NXTServo.pde at master · rwldrn/NXTI2CDevice
My Robot, Makey
The NodeCopter - Programming flying robots with node.js
Lego NXT – Arduino Truck « Robotics / Electronics / Physical Computing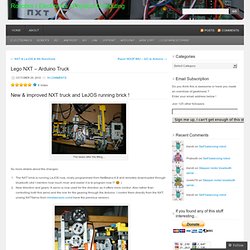 #define S_ACCEL IN_4
Grove - 3-axis Gyro - Wiki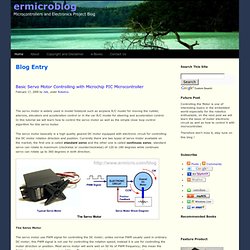 Basic Servo Motor Controlling with Microchip PIC Microcontroller | ermicroblog
Basic Servo Motor Controlling with Microchip PIC Microcontroller
The Mission Planner, created by Michael Oborne, does a lot more than its name.
Mission - ardupilot-mega - Official ArduPlane repository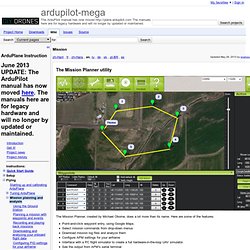 The DIY Drones development team is proud to bring you the ultimate open source quadcopter and helicopter UAV!
ROS package or Stack If you're creating the initial page for a stack or package, please give it the page the same name as the stack or package itself, and use one of the following templates: StackTemplate - Template this new page to hold usage documentation for a stack PackageTemplate - Template this new page to hold usage documentation for a package
IrRanger
Conversion of cheap optical mouse to robot odometer
For a small robot project I'm working on I needed a way to measure the robot's progress across the floor. There are various possibilities, such as: use stepper motors (expensive and am recycling some old continuous run servos), add an encoder to the wheels (would need to go buy some parts for that), or use the optical sensor for a mouse.
'BOB' V2.0
This is a sequel, so to speak, of the 'Obstacle-Avoiding Robot with a Personality' instructable. In that instructable, I decided to call the robot 'BOB'.
Voici une odométrie simple, avec une seule détection. Une meilleure odométrie nécessiterait plus de points et surtout des encodeurs en quadrature, permettant de connaitre le sens de rotation.
Odométrie du Pobot Easy
Odométrie
Pilotage du Pobot Easy
Accéléromètre Analog ADXL311
Visualisation radar d'une détection de distance
(w/ Video) Basic Arduino Robot, Light Seeker!
MD1.3 2A Dual Motor Controller (SKU: DRI0002) - Robot Wiki
About | Art Of Code
Store DIYdrones - UAV Robotics parts.