Law
Citizenship denotes the link between a person and a state or an association of states. It is normally synonymous with the term nationality although the latter term may also refer to ethnic connotations. Possession of citizenship is normally associated with the right to work and live in a country and to participate in political life. A person who does not have citizenship in any state is said to be stateless .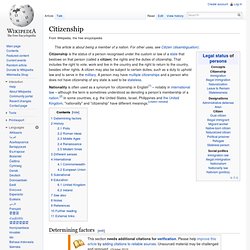 Citizenship
unnamed pearl
Definition of 'Colony' - A group of immigrants (or settlers) from a conquering country living in a separate land apart from but still under the control of the imperial power. Colonization: A system or policy by which a dominant country maintains foreign colonies in order to exploit them economically. Colonialism: A relationship where one group of people (usually smaller and weaker) is dependent upon another cultural group. There is an implicit understanding that the weaker group is unilaterally re-defined into the image of the stronger group. The relationship is based neither upon a contractual nor negotiated understanding, but upon the power of one side to regulate the behaviour of the other in accordance with a set of unilaterally selected criteria. For example, the presumed inferiority of Native nations, allowed for the imposition of motives, methods and understandings of the dominant culture in virtually every domain of Indigenous life.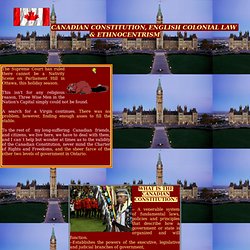 Constitution of Canada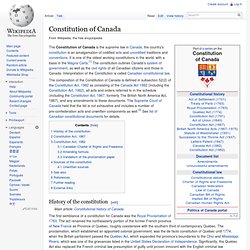 The Constitution of Canada (la Constitution du Canada in French ) is the supreme law in Canada ; the country's constitution is an amalgamation of codified acts and uncodified traditions and conventions . It is one of the oldest working constitutions in the world, with a basis in the Magna Carta . [ 1 ] The constitution outlines Canada's system of government , as well as the civil rights of all Canadian citizens and those in Canada. Interpretation of the Constitution is called Canadian constitutional law . The composition of the Constitution of Canada is defined in subsection 52(2) of the Constitution Act, 1982 as consisting of the Canada Act 1982 (including the Constitution Act, 1982 ), all acts and orders referred to in the schedule (including the Constitution Act, 1867 , formerly The British North America Act, 1867), and any amendments to these documents.
Constitutional Documents
Public law is a theory of law governing the relationship between individuals ( citizens , companies ) and the state . Under this theory, constitutional law , administrative law and criminal law are sub-divisions of public law. This theory is at odds with the concept of constitutional law, which requires all laws to be specifically enabled, and thereby sub-divisions, of a constitution. Generally speaking, private law is the area of law in a society that affects the relationships between individuals or groups without the intervention of the state or government. In many cases the public/private law distinction is confounded by laws that regulate private relations while having been passed by legislative enactment.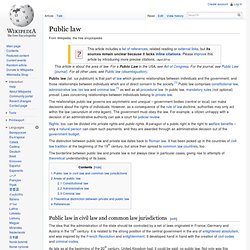 Public law
Private law is that part of a civil law legal system which is part of the jus commune that involves relationships between individuals, such as the law of contracts or torts [ 1 ] (as it is called in the common law ), and the law of obligations (as it is called in civil legal systems ). It is to be distinguished from public law , which deals with relationships between both natural and artificial persons (i.e., organizations ) and the state , including regulatory statutes , penal law and other law that affects the public order . In general terms, private law involves interactions between private citizens, whereas public law involves interrelations between the state and the general population. [ edit ] Private law in common law jurisdictions The concept of private law in common law countries is a little more broad, in that it also encompasses private relationships between governments and private individuals or other entities.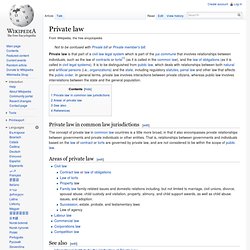 Private law
Difference Between Public and Private Law | Difference Between | Public vs Private Law
Public vs Private Law Legal terms may appear complicated to common individuals, which is why confusion usually occurs during legal procedures. To have a deeper understanding of the basics regarding legal procedures, let us take a look at the difference between two terms: Private law and public law.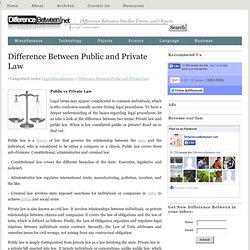 Civil vs. Criminal Law
Glosssary civil law Law based upon a published code of statutes, as opposed to law found in the decisions of courts. Body of law that determines private rights and liabilities, as distinguished from criminal law. criminal law Branch of the that specifies what conduct constitutes crime and establishes appropriate punishments for such conduct.