Outils test confidentialité
Hadopi, Acta : les lois qui surveillent Internet se multiplient. Mode d'emploi à l'usage des non-geeks pour utiliser le Web sans laisser de traces. Naviguer sur Internet, c'est comme sauter à pieds joints dans du béton frais : on laisse des traces (presque) indélébiles partout. C'est aussi ce que dit Bruce Schneier, expert en sécurité informatique :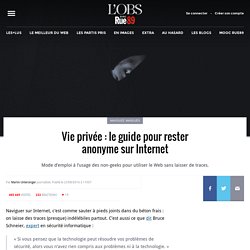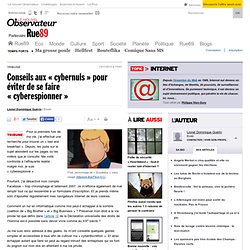 Tribune Pour la première fois de ma vie, j'ai effectué une recherche pour trouver un « bed and breakfast ». Depuis, les pubs sur le sujet abondent sur les pages ou les vidéos que je consulte. Me voilà confronté à l'effrayante réalité : malgré moi, je suis « cyberespionné ». Pourtant, j'ai désactivé mon compte Facebook – trop chronophage et tellement 2007. Je m'efforce également de mal remplir tout ce qui ressemble à un formulaire d'inscription.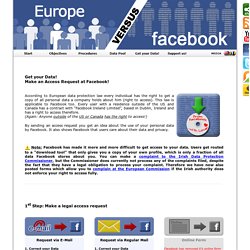 europe-v-facebook.org
Note: Facebook's "Download Tools" do not give you a copy of all data! For a while now Facebook has been fooling its users and sends them a link to a "download tool" where you can download a small fraction of your data (less than half of the data categories Facebook is holding). If you did not receive more information by Facebook, you should file a complaint with the Irish Data Protection Commission to ensure that your right to access all files is enforced.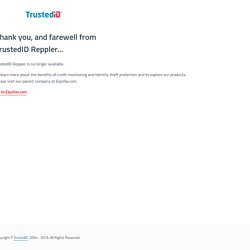 Whether looking for a job or building up your career, it is important for your online image to represent you professionally and consistently. Start Now You're about to see a permissions dialog box from Facebook We respect your privacy. Reppler will NOT: Post to your wall without permission Share your information with third parties Ignore notification preferences
This website provides an independent and open tool for scanning your Facebook privacy settings. NOTEthis scanner is not fully compatible with the latest Facebook privacy settings, so please be sure you check your privacy settings manually yourself. This site is maintained on a volunteer basis, and though we hope to keep it up to date, there often isn't enough spare time to do so. Drag this grey button to your browser bookmarks bar: Scan for Privacy Go to your Facebook privacy settings and then click that bookmark once you are on Facebook. You will see a series of privacy scans that inspect your privacy settings and warn you about settings that might be unexpectedly public. Follow us on Facebook to hear about the latest updates.