Production
Customer Kudos "I'd just like to say that I am enjoying Theta Music immensely! I am a complete novice when it comes to music theory and your system is just so easy to understand, I'm constantly having aha moments! After only a short period of time my listening skills have improved dramatically and I wasn't expecting this because I was not sure that I had the ability to develop in this area."- A.S.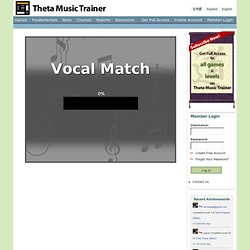 Vocal Match | Theta Music Trainer
Interactive Frequency Chart - Independent Recording Network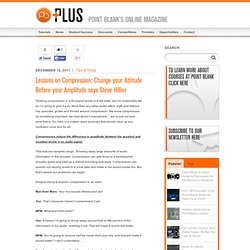 Lessons on Compression: Change your Attitude Before your Amplitude says Steve Hillier | Point Blank Blog
Tackling compression in a thousand words is a tall order, but I'm reasonably tall so I'm going to give it a try. More than any other audio effect, myth and folklore has sprouted, grown and thrived around compression. We know compressors do something important; we read about it everywhere… we're just not sure what that is.
6 Tips for Reigning in the Bass in Your Mix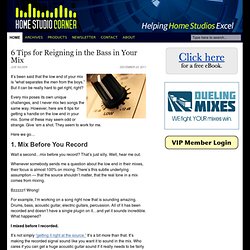 It's been said that the low end of your mix is "what separates the men from the boys." But it can be really hard to get right, right? Every mix poses its own unique challenges, and I never mix two songs the same way. However, here are 6 tips for getting a handle on the low end in your mix. Some of these may seem odd or strange. Give 'em a shot.
To put an end to all those "how to make a bassline", I've decided to make this illustrated tutorial. Hope you enjoy it. This is by no means the correct way, and using the settings you see in the screenshots won't help you since they don't sound that good actually.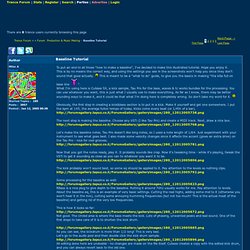 Bassline Tutorial
Boom! Time for another producer Q&A. This week I'm particularly chuffed to present the U.S. legend that is Bassnectar . Pioneer of that slow, swinging, bass heavy sound he sometimes calls swamp-hop, it's now slowly getting recognition worldwide, as part of that hip-hop influenced West Coast scene that includes the likes of Glitch Mob, Flying Lotus et al. Get on over to his site to download a few free tracks and see what it's all about. Bassnectar is honestly one of the best party DJ's I've seen, switching tempos so quick it left me scratching my head how he did it - although you can see from his gig list he gets plenty of practise.
Producer Q&A - Bassnectar - bass music.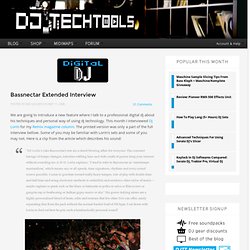 We are going to introduce a new feature where I talk to a professional digital dj about his techniques and personal way of using dj technology. This month I interviewed Dj Lorin for my Remix magazine column. The printed version was only a part of the full interview bellow. Some of you may be familiar with Lorin's sets and some of you may not. Here is a clip from the article which describes his sound:
  Bassnectar Extended Interview
Mixing Secrets For The Small Studio: Additional Resources (Cambridge Music Technology)
ACAPELLAS4U • Portal
Musical communication - Dorothy Miell, Raymond A. R. MacDonald, David John Hargreaves
www.mitpressjournals.org/userimages/ContentEditor/1312572722088/2012 institution pricelist.pdf
Welcome to Computer Music Journal
Source
Pro Audio Bookshelf - a shitload of unsorted music related books Torrent Download
10 Essential Tips for Making a Living with Your Music by Christopher Knab - Fourfront Media & Music - Updated April, 2010 Back to The Academy Everybody loves Top 10 Lists, from David Letterman's countdowns, to the Huffington Post's top 10 this and that. It's a fun way to maintain the illusion that in a complex world, things can be simpified, or dumbed-down.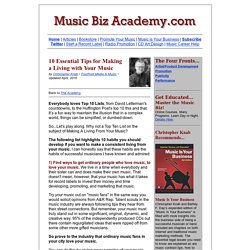 10 Essential Tips for Making a Living with Your Music
Pro Tools All-in-One Desk Reference ... - Jeff Strong
Social Media Monitoring Tools Made Easy
View topic - What Pretty Lights does so well and why people like his jams
scutheotaku wrote: I'd start with detuning two saw waves, distorting it heavily (try a bass or guitar amp simulator, like the free Voxengo Boogex). To get the right sound, you may need to cut some bass freq - try dipping the freqs around 100hz. Then send it to a return effect with a chorus effect to get the stereo width. For the sliding, just use portmanteau. Massive would be very well suited for this sound.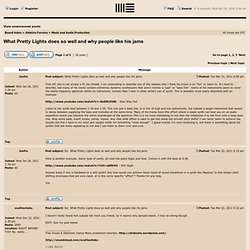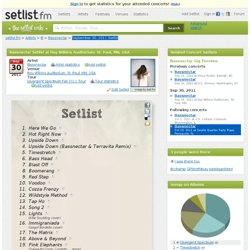 Bassnectar Concert Setlist at Roy Wilkins Auditorium, St. Paul on September 30
Sign in to get statistics for your attended concerts! ( Hide ) setlist.fm Setlists Artists Festivals
Pretty Lights Concert Setlist at Brady Theater, Tulsa on October 28
If 1991 was the year punk broke, 2011 was the year club music crept into the heart of America. In a trend that was born in the EU and Scandinavia and has been building stateside for the better part of a decade, the floodgates burst open this year with everyone from Rihanna to Britney Spears riding the coattails of Euro-styled synth hooks to the top of the charts. In-demand DJs are now pocketing as much as $200,000 a show and selling out multiple nights in cities from New York to Los Angeles.
How Electronic Music Moved the Masses in 2011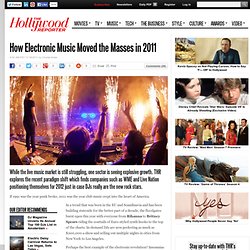 Starting A Digital Electronic Dance Record Label | SOUNDSECTOR
Kick Drum EQ Settings and Compression
Ever wonder how to apply the EQ and compression to kick drums? Applying EQ and compression are one of the most important things you should consider when mixing kick drums. As a start, the kick drum EQ settings and compression depends on the song genre. For example, your kick drum sounds different in rock versus jazz or country music.
BBC Radio 1 Programmes - Gilles Peterson, Gilles Peterson's All Winners Part 3!
VIP Zone Superchords Vol 1and Vol 2 MIDI WAV SAMPLESLOOP - Free Download from uploadstation
Producerloops Supalife Dubstep Hard Edition WAV REX MIDI SAMPLELOOPS - Free Download from filesonic
producerloops supalife dubstep hard edition wav/rex/midi hotfile filesonic fileserve megaupload rapidshare oron File no longer available Added: 2011-06-03 07:06:46
Source
Sonic Reality Trip Hop Beats Konstruction Pak SampleTank EXPANSiON - Free Download from wupload
sonic reality trip hop beats konstruction pak sampletank midi expansion - rapidshare, megaupload, filesonic, fileserve, hotfile, torrent download File no longer available Added: 2011-08-30 20:20:21
So i generally produce alot of 4/4 kinda stuff and getting groove in my tracks is one of those things i seem to struggle with. It also seems like one of the most important parts for techno flavoured music. So..... Where to start! There are the obvious 'turn quantise off', 'do what feels right' etc.
View topic - Swing/groove and making tracks less rigid
Electronic Music Instruments & Electronic Music Production
Forgotten In Time: The Ancient Solfeggio Frequencies
Jezar´s compressor
FREQUENCIES OF THE ORGANS OF THE BODY AND PLANETS
SrPdr
An Introduction To 3D Mixing
3D Mixing Part 3: Equalization
Thinking inside the Box: a complete EQ tutorial - dnbscene.com: the very best of underground drum and bass music