Inspiring
Connaissant mieux le fonctionnement de son cerveau, soucieux de développer le travail collaboratif, inventif pour venir à bout des problèmes et bienveillant, le management ne devra toutefois pas perdre de vue le sens de sa mission en 2014 : fixer des objectifs à atteindre sans brûler les étapes. 1.
Management: les cinq tendances de 2014 - L'Express avec L'entreprise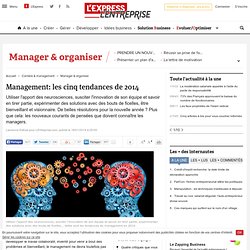 Why the Coach Approach Beats the Manager Mentality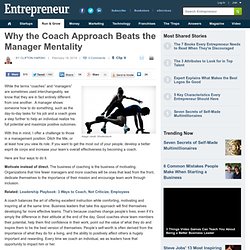 Image credit: Shutterstock While the terms "coaches" and "managers" are sometimes used interchangeably, we know that they are in fact entirely different from one another. A manager shows someone how to do something, such as the day-to-day tasks for his job and a coach goes a step further to help an individual realize his full potential and maximize positive outcomes. With this in mind, I offer a challenge to those in a management position.
Which Leadership Styles Questionnaire?
There are many leadership style questionnaires available to take these days and both would-be and experienced leaders could be forgiven for being somewhat overwhelmed by the choices available.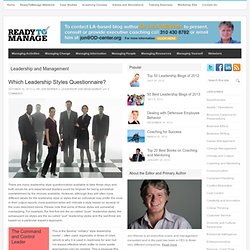 Présidente DIGINOVE Consulting Les périodes de crise sont, à bien des égards, des révélateurs pour les entreprises et les managers. Face à une concurrence mondialisée et exacerbée, à la nécessité de respecter des standards de production toujours plus exigeants ou à l'arrivée sur le marché de nouveaux entrants qui imposent leurs règles du jeu, les managers se demandent comment faire pour rester dans la course.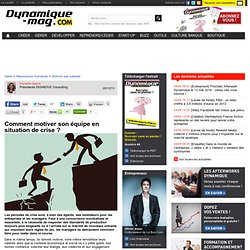 Comment motiver son équipe en situation de crise ?
7 Things You Should Expect From Your Leaders In 2014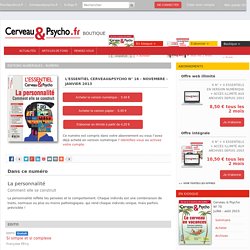 Pour télécharger un numéro ou un article après l'avoir acheté, il vous suffit de retourner dans la page de la boutique numérique correspondant à cet article et de vous identifier. Vous pourrez alors télécharger l'article en PDF ou le lire en ligne en intégralité. Attention : aucun fichier ne vous sera envoyé après votre achat.
Editions numérique
Which Leads to More Success, Reward or Encouragement?
changement organisationnel - ISRI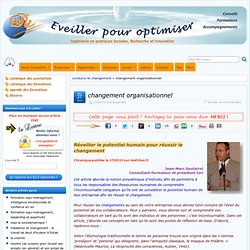 Cet article aborde la notion polysémique d'individu afin de permettre à tous les responsables des Ressources Humaines de comprendre l'incontournable obligation qu'ils ont de considérer le potentiel humain de leur entreprise afin de réussir le changement.
Employee Engagement: The Missing 50% - The Employee Engagement Network
7 Reasons Employees Don't Trust Their Leaders
Idea #1: Concentrate High-Engagement Leadership At The Employee Management Level Employee surveys consistently show that the single most important factor in employee engagement is an employee's relationship with his or her direct manager. In fact, employees don't leave companies; they leave their managers.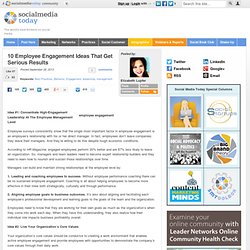 Employee Engagement Ideas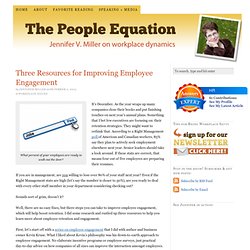 Websites with research on employee engagement and company culture
What percent of your employees are ready to walk out the door? It's December. As the year wraps up many companies close their books and put finishing touches on next year's annual plans.
Seven Ways To Increase Employee Satisfaction Without Giving A Raise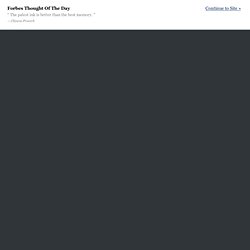 A few years ago when employees became dissatisfied with their organization they would quit and get another job. Today, with placement opportunities very low and unemployment extremely high, very few people opt to quit and leave. As a result something much worse is happening within organizations.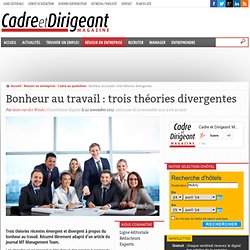 Bonheur au travail : trois théories divergentes
Les chercheurs se cassent la tête depuis des années à propos du bonheur au travail.
Emmanuel Stanislas, fondateur du cabinet de recrutement Clémentine (1), explique pourquoi la motivation et la personnalité passent avant les compétences. "Pendant longtemps, les recruteurs n'ont accordé leur attention qu'aux CV les plus accrocheurs, présentant des actions et des résultats concrets et mettant en avant les réussites passées. Aujourd'hui, ils ont compris que « réalisation n'est pas synonyme de compétence » et que les compétences seules ne font pas tout.
Recutement:la personnalité passe avant les compétences — Paroles d'entrepreneurs
by Michael Houlihan and Bonnie Harvey, authors of "The Barefoot Spirit: How Hardship, Hustle, and Heart Built a Bestseller" These days we hear plenty about employee engagement. We know disengaged employees are bad for business.
La semaine passée, je vous ai parlé de l'onboarding, il me restait cependant deux points à traiter: l'intégration dans l'équipe et dans le job.
La suite du décollage… #onboarding | RHevolution
4 Bio-Inspired Tips to Create Better Teams
HR, and management in general, has taken the brunt of the vitriol and blame for low engagement scores.
Why Employees Have a Role In Their Own Engagement | Fistful of TalentFistful of Talent
A Simple Guide to Employee Engagement Actions
The 6S's of Employee Engagement Actions — David Zinger - Employee Engagement Speaker
7 Tips For Motivating Your Team (Even When the Going Gets Tough)
Authenticité: Comment motivez-vous?
Loyalty Insights: Your best employees work for love, not money
Find out your personality type and choose the right career
Belgian Network
Employee Engagement Ideas
Bookboon.com: Free eBooks for career, coaching and personal development
The 6 Types of Thinkers to Seek for Your Team
QUEL EST LE PRIX DE VOTRE ABONNEMENT À LA PROCRASTINATION? | Coaching co-actif Huma Vires
The 6 Types of Thinkers to Seek for Your Team