Effective teaching
2014-nmc-horizon-report-he-EN-SC.pdf. Www.ideaedu.org/sites/default/files/paperidea_53.pdf. Www.wjh.harvard.edu/~lds/pdfs/DanaSpelke.pdf. How People Learn: Brain, Mind, Experience, and School: Expanded Edition. Below are the first 10 and last 10 pages of uncorrected machine-read text (when available) of this chapter, followed by the top 30 algorithmically extracted key phrases from the chapter as a whole.Intended to provide our own search engines and external engines with highly rich, chapter-representative searchable text on the opening pages of each chapter.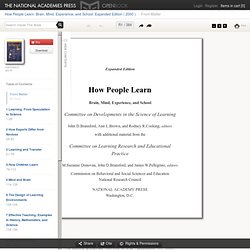 Because it is UNCORRECTED material, please consider the following text as a useful but insufficient proxy for the authoritative book pages. Do not use for reproduction, copying, pasting, or reading; exclusively for search engines. Game-Based Learning | OER Commons. In game play, the progress a player makes is through learning.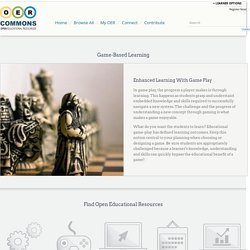 This happens as students grasp and understand embedded knowledge and skills required to successfully navigate a new system. The challenge and the progress of understanding a new concept through gaming is what makes a game enjoyable. What do you want the students to learn? A letter to teachers on the use of stoplights in the classroom | beyond the stoplight. Dear Teacher, Before you hang that stoplight up for the new school year, please put yourself on red for a minute or two.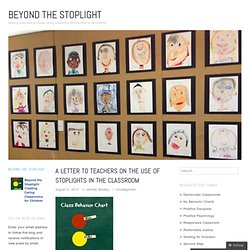 Rethink the idea that hanging a large paper traffic light in the front of the room, dotted with magnets or popsicle sticks displaying each student's name is ok. Rethink the concept that publicly tracking behavior and doling out consequences based on whose behavior moves them off of green each day is fair, kind, or appropriate. Rethinking the Design of PowerPoint. A small, but growing, revolution is occurring in the way that engineers and scientists design their presentation slides.
This revolution advocates alternatives (based on multimedia learning principles) that challenge PowerPoint's default structure of a topic-phrase headline supported by a bullet list of subtopics. Rethinking scientific presentations: the assertion-evidence approach. One such alternative is the assertion-evidence structure, in which a sentence headline states the main message of the slide. Alabi. Checklist for Research Papers. Lesson Plan Map – Search Education – Google.
Visuwords™ online graphical dictionary and thesaurus. The Blended Librarian - Resources. Breivik, Patricia Senn and Robert McDermand.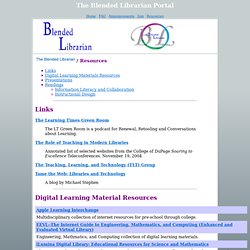 "Campus Partnerships Building on Success. " College & Research Library News. 65.4 (April 2004): 210-212, 215. Bennis, W. New Media Consortium Names 10 Top 'Metatrends' Shaping Educational Technology - Wired Campus. A group of education leaders gathered last week to discuss the most important technology innovations of the last decade, and their findings suggest the classroom of the future will be open, mobile, and flexible enough to reach individual students—while free online tools will challenge the authority of traditional institutions.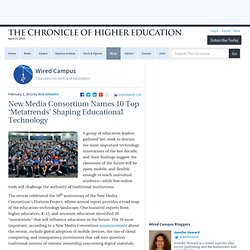 The retreat celebrated the 10th anniversary of the New Media Consortium's Horizon Project, whose annual report provides a road map of the education-technology landscape. One hundred experts from higher education, K-12, and museum education identified 28 "metatrends" that will influence education in the future. The 10 most important, according to a New Media Consortium announcement about the retreat, include global adoption of mobile devices, the rise of cloud computing, and transparency movements that call into question traditional notions of content ownership concerning digital materials. Apps - CLC Technology Conference 2011. I came, I saw, I researched. Students reflect on library life in six-word memoirs Robert Miller + Author Affiliations.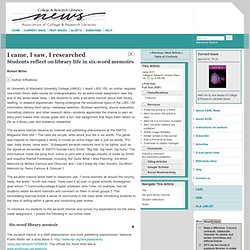 Effective Teaching Strategies for the College Classroom.
---