Effective teaching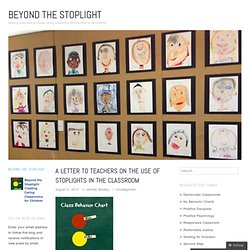 a letter to teachers on the use of stoplights in the classroom | beyond the stoplight
Dear Teacher, Before you hang that stoplight up for the new school year, please put yourself on red for a minute or two. Rethink the idea that hanging a large paper traffic light in the front of the room, dotted with magnets or popsicle sticks displaying each student's name is ok. Rethink the concept that publicly tracking behavior and doling out consequences based on whose behavior moves them off of green each day is fair, kind, or appropriate.
Rethinking the Design of PowerPoint
A small, but growing, revolution is occurring in the way that engineers and scientists design their presentation slides. This revolution advocates alternatives (based on multimedia learning principles) that challenge PowerPoint's default structure of a topic-phrase headline supported by a bullet list of subtopics. Rethinking scientific presentations: the assertion-evidence approach. One such alternative is the assertion-evidence structure, in which a sentence headline states the main message of the slide.
Alabi
Checklist for Research Papers
Lesson Plan Map – Search Education – Google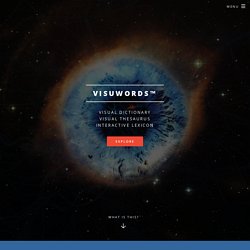 Visuwords™ online graphical dictionary — Look up words to find their meanings and associations with other words and concepts. Produce diagrams reminiscent of a neural net. Learn how words associate. Enter words into the search box to look them up or double-click a node to expand the tree. Click and drag the background to pan around and use the mouse wheel to zoom. Hover over nodes to see the definition and click and drag individual nodes to move them around to help clarify connections.
https://www.ideals.illinois.edu/bitstream/handle/2142/11699/Gretencord_dissertation_deposited.pdf?sequence=2
SRI's report on Khan Academy usage, released earlier this month, has the potential to make us all a lot wiser. They studied Khan Academy use at nine sites over two years, recording field notes, survey results, usage logs, and achievement measures, all well-specified in an 82-page implementation report and summarized in a shorter briefing. Their report has sharpened some of my concerns about the use of Khan Academy in math classrooms while blunting others. First, there is irony to be found in SRI's reporting of usage rather than efficacy. The Gates Foundation underwrote the SRI report and while Gates endorses value-added models of quality for teachers it doesn't extend the same scrutiny towards its portfolio company here.
Breivik, Patricia Senn and Robert McDermand. "Campus Partnerships Building on Success." College & Research Library News. 65.4 (April 2004): 210-212, 215. Bennis, W.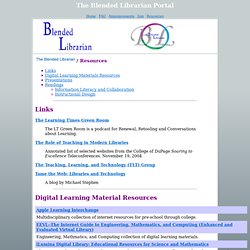 The Blended Librarian - Resources
New Media Consortium Names 10 Top 'Metatrends' Shaping Educational Technology - Wired Campus
A group of education leaders gathered last week to discuss the most important technology innovations of the last decade, and their findings suggest the classroom of the future will be open, mobile, and flexible enough to reach individual students—while free online tools will challenge the authority of traditional institutions. The retreat celebrated the 10th anniversary of the New Media Consortium's Horizon Project, whose annual report provides a road map of the education-technology landscape. One hundred experts from higher education, K-12, and museum education identified 28 "metatrends" that will influence education in the future. The 10 most important, according to a New Media Consortium announcement about the retreat, include global adoption of mobile devices, the rise of cloud computing, and transparency movements that call into question traditional notions of content ownership concerning digital materials.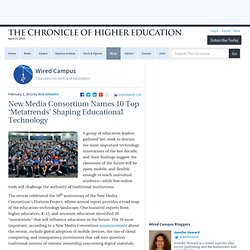 Apps - CLC Technology Conference 2011
I came, I saw, I researched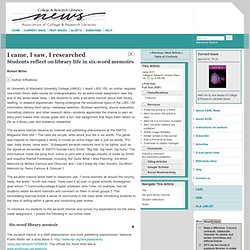 Students reflect on library life in six-word memoirs Robert Miller + Author Affiliations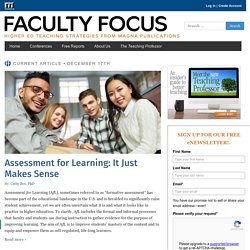 April 14 - Moving a Face-to-Face Course Online without Losing Student Engagement By: Louise Sharrar and Paula Bigatel in Online Education The rapid growth and popularity of online learning is necessitating the creation of online courses that actively engage learners. Research has shown that effective integration of multimedia that is content relevant and pedagogically sound can be a valuable teaching tool for facilitating student learning (Mandernach, 2009). Read More » April 11 - From Rusty to Robust: Overcoming the Challenges to Effective Faculty Development