Perception
The head-mounted device, presumably Google Glass, would communicate with a server, relaying information about pupil dilation captured by eye-tracking cameras. The system could store "an emotional state indication associated with one or more of the identified items" in an external scene, according to the patent. Though the patent specifies that "personal identifying data may be removed from the data and provided to the advertisers as anonymous analytics" in an opt-out system, the idea is to charge advertisers--using a new pay-per-gaze metric--when users view ads online, on billboards, magazines, newspapers, and other types of media. "Thus, the gaze tracking system described herein offers a mechanism to track and bill offline advertisements in the manner similar to popular online advertisement schemes," the patent states.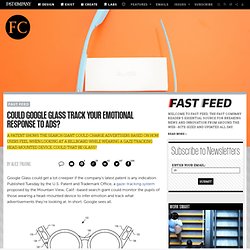 Could Google Glass Track Your Emotional Response to Ads? | Fast Company | Business + Innovation
Reconnaissance d'individu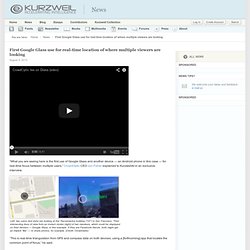 "What you are seeing here is the first use of Google Glass and another device — an Android phone in this case — for real-time focus between multiple users," CrowdOptic CEO Jon Fisher explained to KurzweilAI in an exclusive interview. Left: two users (red dots) are looking at the Transamerica building ("22″) in San Francisco. Their intersecting lines of view form an instant cluster (right) of two members, which could be displayed on their devices — Google Glass, in this example. If they are Facebook friends, both might get an implicit "like" — to share photos, for example. (Credit: CrowdOptic)
First Google Glass use for real-time location of where multiple viewers are looking
This Robo-Nose Can Smell Better Than You
Par Sylvain Biget, Futura-Sciences Une équipe de chercheurs a mis au point une minuscule caméra numérique dotée de 180 capteurs associés à des microlentilles inspirées des yeux d'une libellule. Très sensible aux mouvements , elle permet de filmer avec un angle de vision de 180° et offre une image nette, quelle que soit la distance du sujet par rapport au capteur. La nature est bien faite.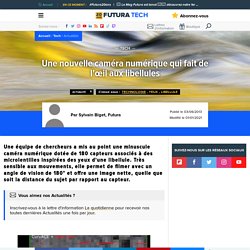 Une nouvelle caméra numérique qui fait de l'œil aux libellules
Joggobot: The Flying Quadrocopter Jogging Companion
June 5th, 2012 by Range It's not always easy staying motivated when you train alone. This is one of the reasons why I find the Joggobot interesting. It's kind of like a robotic coach, that follows you around as you run. Based on the AR.Drone, the hovering Joggobot quadrotor will attract stares and looks from fellow runners, but it's certainly easier to keep pace if your smartphone or GPS isn't enough to keep you motivated.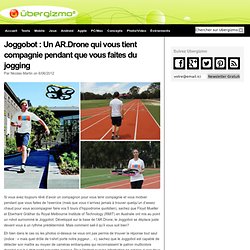 Joggobot : Un AR.Drone qui vous tient compagnie pendant que vous faites du jogging
Par Nicolas Martin on 6/06/2012 Si vous avez toujours rêvé d'avoir un compagnon pour vous tenir compagnie et vous motiver pendant que vous faites de l'exercice (mais que vous n'arrivez jamais à trouver quelqu'un d'assez chaud pour vous accompagner faire vos 5 tours d'hippodrome quotidien), sachez que Floyd Mueller et Eberhard Gräther du Royal Melbourne Institute of Technology (RMIT) en Australie ont mis au point un robot surnommé le Joggobot. Développé sur la base de l'AR.Drone, le Joggobot se déplace juste devant vous à un rythme prédéterminé.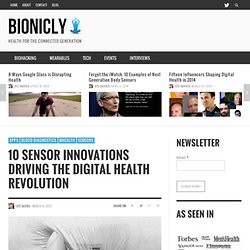 10 Sensor Innovations Driving the Digital Health Revolution | Bionic.ly
This year I.B.M dedicated its Five in Five series (an annual list of five technologies that are likely to advance dramatically) solely to sensors. Digital sensors of the touch, sight, hearing, taste and smell kind along with their potential are all profiled by I.B.M. Sensor technology is going through a renaissance as companies develop smart and innovative new ways to track data using them. Sensor innovation is in-part driving the Digital Health Revolution as digital health companies find ingenius ways to integrate them in to apps, devices and other peripherals.
Google's Patent Background Wearable systems can integrate various elements, such as miniaturized computers, input devices, sensors, detectors, image displays, wireless communication devices as well as image and audio processors, into a device that can be worn by a user. Such devices provide a mobile and lightweight solution to communicating, computing and interacting with one's environment. With the advance of technologies associated with wearable systems and miniaturized optical elements, it has become possible to consider wearable compact optical displays that augment the wearer's experience of the real world. By placing an image display element close to the wearer's eye(s), an artificial image can be made to overlay the wearer's view of the real world. Such image display elements are incorporated into systems also referred to as "near-eye displays", "head-mounted displays" (HMDs) or "heads-up displays" (HUDs).
Google Glass Advances with Superimposed Controls & More
AOptix Lands DoD Contract To Turn Smartphones Into Biometric Data-Gathering Tools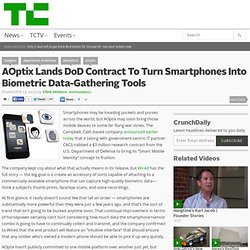 Smartphones may be invading pockets and purses across the world, but AOptix may soon bring those mobile devices to some far-flung war zones. The Campbell, Calif.-based company announced earlier today that it (along with government-centric IT partner CACI) nabbed a $3 million research contract from the U.S. Department of Defense to bring its "Smart Mobile Identity" concept to fruition. The company kept coy about what that actually means in its release, but Wired has the full story — the big goal is o create an accessory of sorts capable of attaching to a commercially-available smartphone that can capture high-quality biometric data— think a subject's thumb prints, face/eye scans, and voice recordings. At first glance, it really doesn't sound like that tall an order — smartphones are substantially more powerful than they were just a few years ago, and that's the sort of trend that isn't going to be bucked anytime soon.
专利之家-设计发明与创意商机 » 安全结实的伪飞艇飞机
Micro Drones Now Buzzing Around Afghanistan
British soldiers are testing out tiny 4×1-inch mini surveillance drones throughout Afghanistan. "We used it to look for insurgent firing points and check out exposed areas of the ground before crossing, which is a real asset," said Sgt. Christopher Petherbridge. The toy-looking Black Hornet Nano can fly for up to 30 minutes with a top speed of 22 mph, or a range of about one half-mile.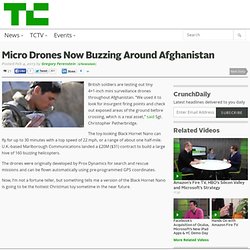 Leap Motion Augmented Reality Demo
Par Nicolas Martin on 8/01/2013 [CES 2013] Chaque fois que vous pensez à de la vidéo de sécurité, la première chose qui vient l'esprit est sans doute de la vidéo granuleuse, en noir et blanc, et en basse résolution. Cependant, il semble que Samsung souhaite changer les choses.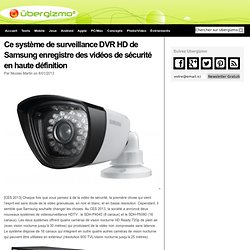 Ce système de surveillance DVR HD de Samsung enregistre des vidéos de sécurité en haute définition
PanaCast, la caméra offre le streaming HD avec un champ de vision de 200 degrés
PanaCast d'Altia est un prototype qui pourrait changer définitivement le marché de la conférence vidéo HD. Bien que nos écrans utilisent généralement les formats 16:9 ou 4:3, le champ de vision humain est beaucoup large que ça (en particulier, si vous comptez la vision périphérique), alors l'idée d'une conférence vidéo avec un écran ultra large n'est pas nouvelle. Le système a été conçu pour donner l'impression que l'autre partie « est là », mais il coûte des dizaines de milliers, voire des centaines de milliers de dollars. PanaCast est un projet kickstarter qui veut changer le jeu de plusieurs magnitudes. La firme propose la caméra Panacast, un appareil multi-optique large de 200 degrés qui peut envoyer six streams vidéo simultanément et les assemble en temps réel en un stream vidéo HD ultra-large.
Sony : Un "Kinect" basé sur le son - 27/12/2012
Robot Dragonfly - Gaming & Photography
Watch a short trailer www.TechJect.com Our prototypes have gone through multiple design cycles. We'll be offering a number of Apps that the users can download from Google Play and App stores to perform pre-defined operations like: Indoor mapping, automated patrolling and more.
Microsoft Invents Smart Walls for Next-Gen Homes & Offices - Patent Bolt
Microsoft has been working with large scale multi-touch displays for some time now. Their PixelSense projects, once under the branding of Surface, involve large scale interactive tables for the home and office. According to a new patent application that we recently discovered, it now appears that Microsoft has their eye on being the first to bring touch and haptics technology to future smart homes in the form of smart walls. First generation smart walls will allow users to interact with lighting and other types of controls that will be virtual based; meaning that they'll only appear when needed, leaving the walls unblemished when not in use. These new controls will deliver higher end haptics that will be able to provide users with a true sense of touching and controlling these new virtual controls.
Nous nous doutons que vous ne vous posez pas tous les jours cette question, mais vous êtes-vous déjà demandé quelle est la partie de votre cerveau qui s'active quand vous pensez à telle ou telle chose ? Cette petite application en ligne est une véritable mine d'informations. Elle emmagasine un nombre fou de données issues d'IRM, ce qui lui permet de montrer les interactions entre le fait de penser à un objet ou une action et le néocortex. Les données ont donc été recueillies au cours d'IRM, les participants ont passé des heures devant des bandes-annonces de films, tandis que leurs pensées étaient analysées. Simple mais efficace, il ne restait plus qu'à compiler les informations. Vous voulez savoir quelle partie de votre cerveau s'illumine quand vous songez à une voiture de sport?
Ce cerveau interactif va répondre à toutes vos questions !
Samsung Invents Air-Gesturing Controls for Tablets & Beyond - Patent Bolt
Why Apple Might Have a Hard Time Keeping Up With Google Maps
FBI launches $1 billion face recognition project - tech - 07 September 2012
La frappe au clavier, un outil biométrique prometteur
Emploi : Tape sur ton clavier, je te dirais qui tu es
Face.com Brings Facial Recognition to the Masses, Now with Age Detection: Interview With CEO
New Surveillance System Identifies Your Face By Searching Through 36 Million Images Per Second
Face.com : une API qui détecte l'âge
This Futuristic Camera Can See Around Corners Using Lasers
Got Lazy Fingers? Now You Can Play Pong With Your Eyes
You Can Crash This RC Helicopter as Many Times as You Want
Reconnaissance d'états corporels
Watch This: POV Aerial Shots Taken with $12k Copter
MIT robot plane deletes the pilot
Flying Robotic Swarm of Nano Quadrotors Gets Millions of Views, New Company
Festo BionicOpter Robot Dragonfly Makes Quadcopters Look Clumsy
Seed drone Samarai swarms will dominate the skies [Video]
Les quadricoptères à la rescousse des policiers
Les micro-drônes gagnent en réactivité grâce au MIT
LA100 : un drone capable de prendre automatiquement des photos d'en-haut
Conscience et Omniscience
Reconnaissance du comportement