Origami
Simple frog
Bear
Tartaruga
Hungry bat
Panda origami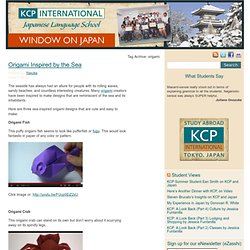 KCP International | origami
The seaside has always had an allure for people with its rolling waves, sandy beaches, and countless interesting creatures. Many origami creators have been inspired to make designs that are reminiscent of the sea and its inhabitants. Here are three sea-inspired origami designs that are cute and easy to make:
FREE EASY ORIGAMI FLOWERS « EMBROIDERY & ORIGAMI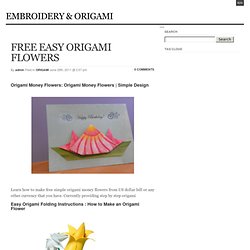 Origami Money Flowers: Origami Money Flowers | Simple Design Learn how to make free simple origami money flowers from US dollar bill or any other currency that you have. Currently providing step by step origami Easy Origami Folding Instructions : How to Make an Origami Flower Easy paper folding instructions on how to make an origami flower in this free how-to video clip lesson.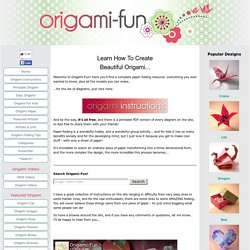 Welcome to Origami-Fun! Here you'll find a complete paper folding resource: everything you ever wanted to know, plus all the models you can make… ...for the list of diagrams, just click here: And by the way, it's all free, and there is a printable PDF version of every diagram on the site, so feel free to share them with your friends!
Are you looking for origami instructions? You've come to the right place! Here you'll find out how to make many kinds of neat and ingenious items. Our instructions consists of actual photographs of the folding process to help you along.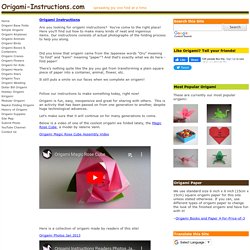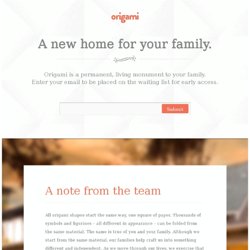 A new home for your family. Origami is a permanent, living monument to your family. Enter your email to be placed on the waiting list for early access. All origami shapes start the same way, one square of paper.