Origami
Simple frog. Bear. Tartaruga. Hungry bat. Panda origami. KCP International | origami. The seaside has always had an allure for people with its rolling waves, sandy beaches, and countless interesting creatures.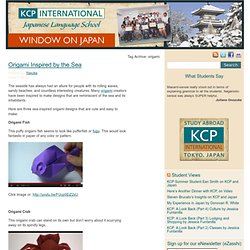 Many origami creators have been inspired to make designs that are reminiscent of the sea and its inhabitants. Here are three sea-inspired origami designs that are cute and easy to make: FREE EASY ORIGAMI FLOWERS « EMBROIDERY & ORIGAMI. Origami Money Flowers: Origami Money Flowers | Simple Design Learn how to make free simple origami money flowers from US dollar bill or any other currency that you have.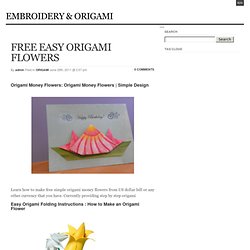 Currently providing step by step origami Easy Origami Folding Instructions : How to Make an Origami Flower Easy paper folding instructions on how to make an origami flower in this free how-to video clip lesson. Origami That's Fun And Easy. Origami club. Origami Folding Instructions - Instructions on How to Make Origami. Origami. Pliages - papier.
---