Design Webs & Blogs
Design. Top Design Magazine - Web Design and Digital Content. Gear : Design Magazine. With this G-PAD, a slide-on silicone sleeve which turns your smartphone into a Game Boy.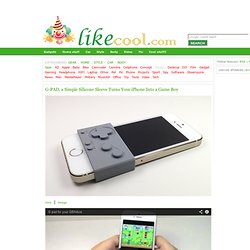 Created by Aws Jan who's currently trying to raise $16,000 on Indiegogo to put it into production, the G-PAD is designed to work with an iOS Game Boy emulator called GBA4iOS that doesn't require iPhone users to Jailbreak or hack their hardware to install. The sleeve slides up and onto an iPhone so that it perfectly covers the emulator's on-screen controls. There's no additional software needed and no Bluetooth connectivity. This idea looks cool. CCambrea. Surreal Visionary art by Cristine Cambrea "If there were a special camera or glasses we put on to see people and things not just by their physical attributes but also see their experiences, their troubles, their sicknesses, their connectedness or lack of to everything else around them I think it would look very similar to one of my paintings.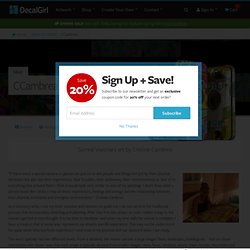 I don't draw what a person looks like I draw a map of those experiences, feelings and energy and the relationship between their physical, emotional and energetic environments." -Cristine Cambrea. Packaging Never Tasted So Good: The Brave, New World of Edible Wrappers - Lifestyle. Some people have a lot of ideas.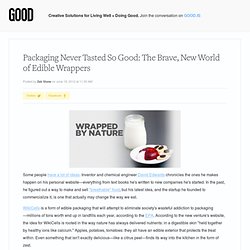 Inventor and chemical engineer David Edwards chronicles the ones he makes happen on his personal website—everything from text books he's written to new companies he's started. In the past, he figured out a way to make and sell "breathable" food, but his latest idea, and the startup he founded to commercialize it, is one that actually may change the way we eat. WikiCells is a form of edible packaging that will attempt to eliminate society's wasteful addiction to packaging—millions of tons worth end up in landfills each year, according to the EPA. According to the new venture's website, the idea for WikiCells is rooted in the way nature has always delivered nutrients: in a digestible skin "held together by healthy ions like calcium.
" Apples, potatoes, tomatoes: they all have an edible exterior that protects the treat within. Residue. - 46 - Garçon - - myspace.com/artresidue. Career Education Choices. These are very tough questions from a young artist that could take a life time to answer.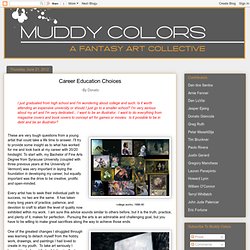 I'll try to provide some insight as to what has worked for me and look back at my career with 20/20 hindsight. To start with, my Bachelor of Fine Arts Degree from Syracuse University (coupled with three previous years at the University of Vermont) was very important in laying the foundation in developing my career, but equally important was the drive to be creative, prolific and open-minded.
Every artist has to seek their individual path to success, no two are the same. It has taken many long years of practice, patience, and devotion to craft to attain the level of quality now exhibited within my work. Feng Zhu Design. The focus on education has always been a big part of Feng's career.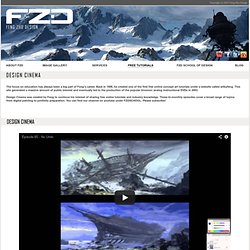 Back in 1998, he created one of the first free online concept art tutorials under a website called artbyfeng. This site generated a massive amount of public interest and eventually led to the production of the popular Gnomon analog instructional DVDs in 2003. , I want to be conscious until I'm gone, I want to... Categories. Target animated typeface Minute Cycles.
The Dieline: The World's #1 Package Design Website - Design Inspiration. Inspiration. Find Momo, Can You Find the Dog in Each of these Photos?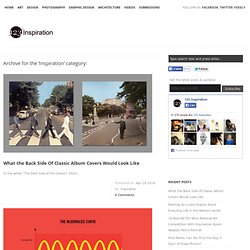 Canadian photographer Andrew Knapp and his pet border... The Miniature World Of Snails By Vyacheslav Mishchenko Ukrainian nature photographer Vyacheslav Mishchenko... Mobile Lovers & Spy Booth by Banksy. Abduzeedo | Graphic Design Inspiration and Photoshop Tutorials. Visual sundae. Sweet Station. Heath West Heath West <-- Born in Houston, Texas; Lives and works in Houston; Education: 2008-2009 Master of Science in Advanced Architectural Design Columbia University, Graduate School of Architecture, Planning, and Preservation, New York, NY; 2006-2007 Visiting Student, Studio Wolf D.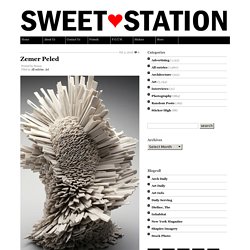 Prix University of Applied Arts, Vienna, Austria; 2004-2007 Master of Architecture University of Houston, Gerald D. Hines College of Architecture. The Art of Negative Space. on the Behance Network. Burma. Manystuff.org — Graphic Design daily selection. Dreamfarm | Tapi | tap squeeze drink fountain. LOVERS TOWN. Dark Mind Bright Future. Fecal Face - HOME.
Home. Tattly™ Designy Temporary Tattoos — Welcome. The Jealous Curator. Tara donovan Giant/fluffy pussy willows, and pink stalagmites?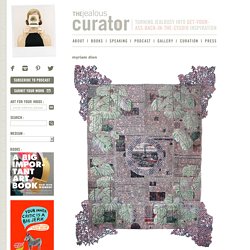 Nope. Bunches of acrylic rods, and stacks of buttons. Insane. This is the breathtaking work of Brooklyn based installation artist Tara Donovan. Creators - Dedicated to inspiring designers, inventors & the creative spirit in all of us. August 22, 2013 Artist's Work Paints a Beautiful Picture Animations Tyrus Wong, a 102-year-old artist's work influenced the visual direction of Bambi in 1941.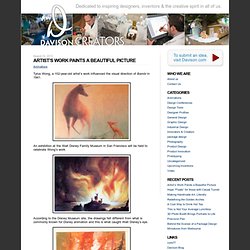 An exhibition at the Walt Disney Family Museum in San Francisco will be held to celebrate Wong's work. According to the Disney Museum site, the drawings felt different from what is commonly known for Disney animation and this is what caught Walt Disney's eye. Plazm. Harri Pälviranta: BatteredPhotography series and interview examining the culture of violence in Finland. More>> Storm Tharp: Arrangement in Flesh and BlackStephanie Snyder, director of the Cooley on Storm's recent body of work.
More >> Christina Seeley: LuxA photographic mapping of the most brightly illuminated — and industrialized regions on the planet. More>> GizMag - Design Magazine. Main. Crayons to Concept. Espirales de tinta - Fernando Martínez - Ilustrador: 39 | Ouróboros. Microrrelato con el que participé en el certamen Artgerust | On The Road, y que ha resultado seleccionado entre los 200 que formarán parte del libro. La versión que os dejo aquí es la primera que escribí. La del certamen está recortada para ajustarse a las bases, pero he decidido publicar esta porque la presentada pierde atmósfera.
Creo. Hijo, es el momento de contarte la verdad sobre tu origen. No me mires así, tranquilo, pronto entenderás. Ever So Lovely: A design, inspiration, wedding, fashion and illustration blog by Brandi Moody. Don't Fear the Internet. Monográfica.org. 1000 journals - Splash. For your eyes only – Special Collection on the Behance Network. GizMag - Design Magazine. Life Hacks. Quipsologies. • Quipsologies, is a division of UnderConsideration, chronicling the most curious, creative, and notable projects, stories, and events of the graphic design industry on a daily basis. • Quipsologies uses TypeKit to render P22 Underground, Skolar Web by TypeTogether, and Coquette by Mark Simonson. • Quipsologies is run with Six Apart's MovableType 4.32-en.
Freshcharacters | Fresh & Unique Character Designs Inspiration Gallery. Creativity Fuse. Juxtapoz Magazine. Carbonmade : Your online portfolio. Distinctive design to ripen minds. Awesome 3D Characters. Have you ever thought of creating your own responsive website? It could be your own personal webpage or your blog or even a site for your business? How about to create a website by yourself using one of today's most advanced website builder? Feel free to use the best website builder with wide opportunities allowing to create beautiful websites of different topics in minutes. Great variety of creative website templates, advanced drag-and-drop editor, mobile/tablet optimized versions, SEO features and all this is free. Hello You Creatives. Threadless graphic t-shirt designs: cool & funny t-shirts weekly! Tees designed by the community. Lacailloux | Graphisme handmade, photographie, print. Network :: Gallery. Eight Hour Day » Blog.
Season 7 of Mad Men kicks off for the final time this Sunday. So sad to see it go, but excited to see how it ends. We made one final wallpaper to mark the occasion. Goodbye Don, Peggy, Roger, Pete, Joan and the rest—we'll miss you. Magazine. The Creative Finder - Search portfolios and images for networking, collaboration, and inspiration. InspireFirst - Sharing the inspiration with the World. LES IMPREVISIBLES. Simple Desktops. 45 Awesome Abstract Textures. Inspiration. Abduzeedo. CMYBacon. FaceCam. More Design Please - MoreDesignPlease. Theo Inglis. Aesthetics. Booooooom. Gallery of Computation - StumbleUpon. Glurkys_graphiks. Nokturnal > switch.
Coverjunkie. The Design Blog. Creativos Sin Ideas. La Criatura Creativa. Hello You Creatives. Cataloging inspiration daily. Achieving a Vintage Look Through Color Tones in Photoshop CS. Web Design and Development Tips, Tutorials and Related Resources - [Re]Encoded.com. Designers. From up North. Fri, 07/08/2011 | Co.Design. NiceFuckingGraphics! Sharona Design. Sophie Blackall. Fuck Yeah Illustrative Art!: Archive.
Top 10 Websites for Designers - April 2012. Art Project by Cirque du Soleil | SAFEWALLS. Simplevector - Illustration - Web Design - Animation. High Quality Texture 4 Fresh Green Leafs. TRECOOL :: Diseño, Arte, Tecnología, Arquitectura, Gadgets, Ecología, Internet y más.
---