Design Webs & Blogs
in Misc Vintage Computer Ads That Will Make Your Day 05 Apr, 2014 Written by Alexandru
Top Design Magazine - Web Design and Digital Content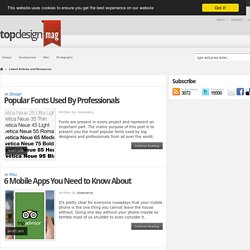 Gear : Design Magazine
CCambrea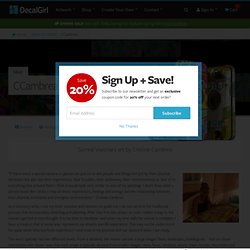 Surreal Visionary art by Cristine Cambrea "If there were a special camera or glasses we put on to see people and things not just by their physical attributes but also see their experiences, their troubles, their sicknesses, their connectedness or lack of to everything else around them I think it would look very similar to one of my paintings. I don't draw what a person looks like I draw a map of those experiences, feelings and energy and the relationship between their physical, emotional and energetic environments." -Cristine Cambrea
Some people have a lot of ideas . Inventor and chemical engineer David Edwards chronicles the ones he makes happen on his personal website—everything from text books he's written to new companies he's started. In the past, he figured out a way to make and sell "breathable" food , but his latest idea, and the startup he founded to commercialize it, is one that actually may change the way we eat. WikiCells is a form of edible packaging that will attempt to eliminate society's wasteful addiction to packaging—millions of tons worth end up in landfills each year, according to the EPA . According to the new venture's website, the idea for WikiCells is rooted in the way nature has always delivered nutrients: in a digestible skin "held together by healthy ions like calcium." Apples, potatoes, tomatoes: they all have an edible exterior that protects the treat within.
Packaging Never Tasted So Good: The Brave, New World of Edible Wrappers - Lifestyle
Residue. - 46 - Garçon - - myspace.com/artresidue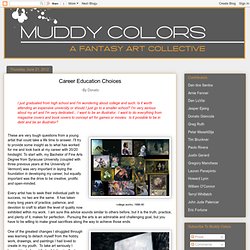 Career Education Choices
These are very tough questions from a young artist that could take a life time to answer. I'll try to provide some insight as to what has worked for me and look back at my career with 20/20 hindsight. To start with, my Bachelor of Fine Arts Degree from Syracuse University (coupled with three previous years at the University of Vermont) was very important in laying the foundation in developing my career, but equally important was the drive to be creative, prolific and open-minded. Every artist has to seek their individual path to success, no two are the same. It has taken many long years of practice, patience, and devotion to craft to attain the level of quality now exhibited within my work.
Feng Zhu Design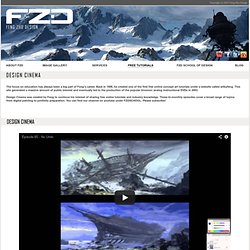 The focus on education has always been a big part of Feng's career. Back in 1998, he created one of the first free online concept art tutorials under a website called artbyfeng. This site generated a massive amount of public interest and eventually led to the production of the popular Gnomon analog instructional DVDs in 2003.
, I want to be conscious until I'm gone, I want to...
categories
Grosvenor Brandstory Let's Go Get Lost
With a hands on approach Ziesche Modern Apothecary is an exceptional bath and body products by Sherri Ziesche and designed by Noise 13. Click to read more Hovard recently launched Hudson Made Scullery Soap. A locally harvested soap made from all natural ingredients. The design reflects utilitarian and simplicity with a modern twist. "The Hudson Made Scullery Soap packaging is a recent product launch for the brand and highlights modern utility and simplicity.
The Dieline: The World's #1 Package Design Website -
You should follow Designspiration on Twitter and Facebook for site news. — Shelby Designspiration Search Color mediumsmalllarge Discover
Design Inspiration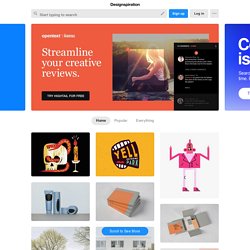 Inspiration
Inflatable Ceramics by Brett Kern American Artist Brett Kern creates impressive detailed... Driftwood Horse Sculptures by James Doran-Webb Artist James Doran-Webb created these incredible life-size... Breathtaking Light and Shadow Art by Fabrizio Corneli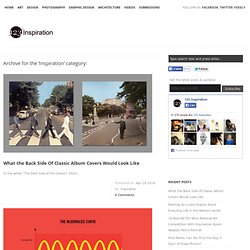 Abduzeedo | Graphic Design Inspiration and Photoshop Tutorials
I am in the testing phase of some new VisualSundae Process sketchbooks and you could be one of the first to own one. Opinions! Everyone's got 'em and I want yours. I am looking for ways improve VisualSundae.com in 2014 and would like your constructive feedback. Who knows what a site needs more than the people who use it?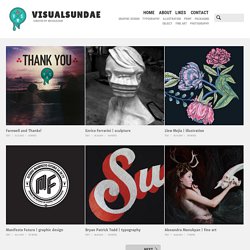 visual sundae
Beverly Semmes Beverly Semmes is an internationally recognized artist who has been showing her work since 1990. Her first exhibitions were two concurrent project rooms at PS1 and Artist's Space in New York City. Other early exhibitions included a large installation at the Southeastern Center for Contemporary Art in Winston-Salem, N.C. and a room-scaled work made for the Institute of Contemporary Art in Philadelphia.
Sweet Station
The Art of Negative Space. on the Behance Network
Happy World: Burma
manystuff.org — Graphic Design daily selection
Art-Information: Editorial Strategies, Text-based Formats, Publishing Contexts April 4th, 2014 Inside box for Aspen, #4, Marshall McLuhan & Quentin Fiore. Spring 1967, Roaring Fork Press, NYC The one-day event Art-Information: Editorial Strategies, Text-based Formats, Publishing Contexts, April 26, at ICA in London, looks at acts of publishing within contemporary art and curatorial practice. Guest contributors Stuart Bailey, Dr Ruth Blacksell, Dr Jo Melvin, Dr Lucy Mulroney, and Alun Rowlands will draw on a rich variety of engagements, setting current practices against the alternative lineages of Pop and Conceptual Art.
Dreamfarm | Tapi | tap squeeze drink fountain
LOVERS TOWN
Dark Mind Bright Future
For some reason I thought it would be a good idea to quit my job, move out of my house, leave everything and travel again. So on August 21, 2013 I pushed a canoe packed full of gear into the headwaters of the Mississippi River in Lake Itasca, Minnesota, along with four of my best friends. Exactly 100 days later, I arrived at a marina near the Gulf of Mexico in a sailboat. For weeks before our departure date I became terribly depressed. I had heard countless warnings and cries from very concerned friends and family members about how dangerous the Mississippi River is, and how many lives it claims each year. Everyone had his or her doubts that we would make it; either we'd give up somewhere down the line, or someone would die.
Fecal Face - HOME
Home | Causes of Color
Shopify Tattly is run by swissmiss with help from Yoko, Julia, Natalie, Sarah, Nic, Kate, Corbin, and Karen. Built by oak.
Tattly™ Designy Temporary Tattoos — Welcome
The Jealous Curator
Creators - Dedicated to inspiring designers, inventors & the creative spirit in all of us.
Plazm
22 Coolest and Creative Watch designs | The Design Inspiration
GizMag - Design Magazine
Main
Crayons to Concept
Espirales de tinta - Fernando Martínez - Ilustrador: 39 | Ouróboros
Ever So Lovely: A design, inspiration, wedding, fashion and illustration blog by Brandi Moody
http://graffica.info/
Don't Fear the Internet
Monográfica.org
1000 journals - Splash
For your eyes only – Special Collection on the Behance Network
GizMag - Design Magazine
Life Hacks
Quipsologies
Freshcharacters | Fresh & Unique Character Designs Inspiration Gallery
Creativity Fuse
Juxtapoz Magazine
Carbonmade : Your online portfolio
distinctive design to ripen minds
Awesome 3D Characters
Hello You Creatives
Threadless graphic t-shirt designs: cool & funny t-shirts weekly! Tees designed by the community.
Lacailloux | Graphisme handmade, photographie, print
Network :: Gallery
Eight Hour Day » Blog
The Creative Finder - Search portfolios and images for networking, collaboration, and inspiration.
InspireFirst - Sharing the inspiration with the World
LES IMPREVISIBLES
Simple Desktops
45 Awesome Abstract Textures | [Re]Encoded.com
Inspiration
Abduzeedo
CMYBacon
FaceCam
More Design Please - MoreDesignPlease
any4sia
Theo Inglis
aesthetics
Booooooom
Gallery of Computation - StumbleUpon
glurkys_graphiks
nokturnal > switch | mint
Coverjunkie
The Design Blog
Creativos Sin Ideas
La Criatura Creativa
Hello You Creatives
cataloging inspiration daily
Achieving a Vintage Look Through Color Tones in Photoshop CS
Web Design and Development Tips, Tutorials and Related Resources - [Re]Encoded.com
From up North
Fri, 07/08/2011 | Co.Design
NiceFuckingGraphics!
Sharona Design
Sophie Blackall
Fuck Yeah Illustrative Art!: Archive
Top 10 Websites for Designers - April 2012
Art Project by Cirque du Soleil | SAFEWALLS
Simplevector - Illustration - Web Design - Animation
High Quality Texture 4 Fresh Green Leafs
TRECOOL :: Diseño, Arte, Tecnología, Arquitectura, Gadgets, Ecología, Internet y más.