Design Webs & Blogs
Top Design Magazine - Web Design and Digital Content
Gear : Design Magazine
CCambrea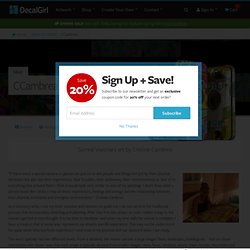 Surreal Visionary art by Cristine Cambrea
Some people have a lot of ideas . Inventor and chemical engineer David Edwards chronicles the ones he makes happen on his personal website—everything from text books he's written to new companies he's started.
Packaging Never Tasted So Good: The Brave, New World of Edible Wrappers - Lifestyle
Residue. - 46 - Garçon - - myspace.com/artresidue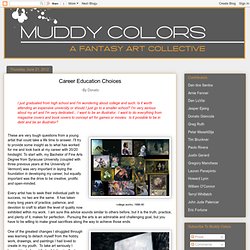 Career Education Choices
These are very tough questions from a young artist that could take a life time to answer.
Feng Zhu Design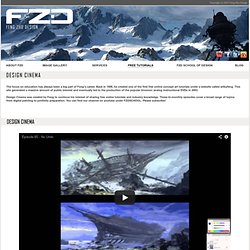 The focus on education has always been a big part of Feng's career. Back in 1998, he created one of the first free online concept art tutorials under a website called artbyfeng. This site generated a massive amount of public interest and eventually led to the production of the popular Gnomon analog instructional DVDs in 2003.
, I want to be conscious until I'm gone, I want to...
categories
Grosvenor Brandstory Let's Go Get Lost
The Dieline: The World's #1 Package Design Website -
Design Inspiration
Inspiration
Inflatable Ceramics by Brett Kern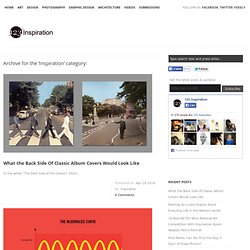 Abduzeedo | Graphic Design Inspiration and Photoshop Tutorials
visual sundae
Beverly Semmes
Sweet Station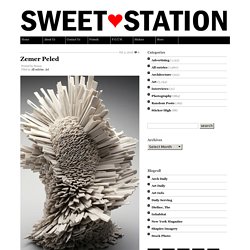 The Art of Negative Space. on the Behance Network
Happy World: Burma
manystuff.org — Graphic Design daily selection
Dreamfarm | Tapi | tap squeeze drink fountain
LOVERS TOWN
Dark Mind Bright Future
Fecal Face - HOME
Home | Causes of Color
Tattly™ Designy Temporary Tattoos — Welcome
The Jealous Curator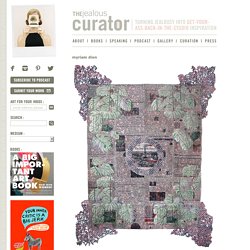 These arrived in my inbox the other day. Yep, I love this "job"!
August 22, 2013 Artist's Work Paints a Beautiful Picture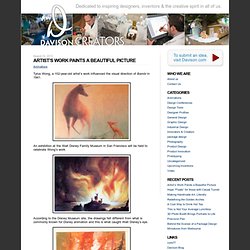 Creators - Dedicated to inspiring designers, inventors & the creative spirit in all of us.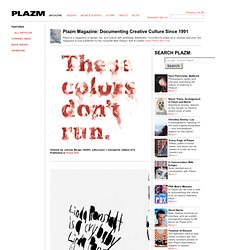 Plazm
Harri Pälviranta: BatteredPhotography series and interview examining the culture of violence in Finland. More>>
22 Coolest and Creative Watch designs | The Design Inspiration
GizMag - Design Magazine
Main
Crayons to Concept
Espirales de tinta - Fernando Martínez - Ilustrador: 39 | Ouróboros
Microrrelato con el que participé en el certamen Artgerust | On The Road, y que ha resultado seleccionado entre los 200 que formarán parte del libro. La versión que os dejo aquí es la primera que escribí.
Ever So Lovely: A design, inspiration, wedding, fashion and illustration blog by Brandi Moody
http://graffica.info/
Don't Fear the Internet
Monográfica.org
1000 journals - Splash
For your eyes only – Special Collection on the Behance Network
GizMag - Design Magazine
Life Hacks
• Quipsologies, is a division of UnderConsideration, chronicling the most curious, creative, and notable projects, stories, and events of the graphic design industry on a daily basis. • Quipsologies uses TypeKit to render P22 Underground, Skolar Web by TypeTogether, and Coquette by Mark Simonson. • Quipsologies is run with Six Apart's MovableType 4.32-en
Quipsologies
Freshcharacters | Fresh & Unique Character Designs Inspiration Gallery
Creativity Fuse
Juxtapoz Magazine
Carbonmade : Your online portfolio
distinctive design to ripen minds
Awesome 3D Characters
Hello You Creatives
Threadless graphic t-shirt designs: cool & funny t-shirts weekly! Tees designed by the community.
Lacailloux | Graphisme handmade, photographie, print
Network :: Gallery
Eight Hour Day » Blog
The Creative Finder - Search portfolios and images for networking, collaboration, and inspiration.
InspireFirst - Sharing the inspiration with the World
LES IMPREVISIBLES
Simple Desktops
A design and usability blog: Signal vs. Noise (by 37signals)
45 Awesome Abstract Textures | [Re]Encoded.com
Inspiration
Abduzeedo
CMYBacon
FaceCam
More Design Please - MoreDesignPlease
any4sia
Theo Inglis
aesthetics
Booooooom
Gallery of Computation - StumbleUpon
glurkys_graphiks
nokturnal > switch | mint
Coverjunkie
The Design Blog
Creativos Sin Ideas
La Criatura Creativa
Hello You Creatives
cataloging inspiration daily
Achieving a Vintage Look Through Color Tones in Photoshop CS
Web Design and Development Tips, Tutorials and Related Resources - [Re]Encoded.com
From up North
Fri, 07/08/2011 | Co.Design
NiceFuckingGraphics!
Sharona Design
Sophie Blackall
Fuck Yeah Illustrative Art!: Archive
Top 10 Websites for Designers - April 2012
Art Project by Cirque du Soleil | SAFEWALLS
Simplevector - Illustration - Web Design - Animation
High Quality Texture 4 Fresh Green Leafs
TRECOOL :: Diseño, Arte, Tecnología, Arquitectura, Gadgets, Ecología, Internet y más.