Recipes
Cruftbox
When Intelligentsia Coffee opened in Pasadena recently, I was intrigued the lasagna cupcakes they served. The cupcakes are made by Heirloom LA, a catering business. About the size of a muffin, a single lasagna cupcake was a delicious meal.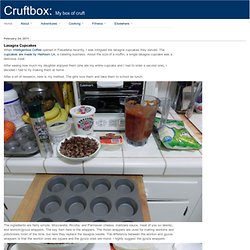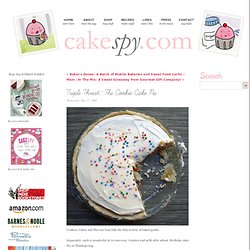 Seeking Sweetness in Everyday Life - Triple Threat: The Cookie Cake Pie
Cookies, Cakes and Pies are basically the holy trinity of baked goods. Separately, each is wonderful in its own way. Cookies and milk after school. Birthday cake. Pie at Thanksgiving.
Banana Split Bites
Banana Split Bites ~ A classic ice cream dessert gets mini for some bite size fun. And yes, there is actually a tiny scoop of ice cream tucked inside and underneath the whip cream of those little darlings. Banana Split Mini Bites For once I made something mini for portion control and not just for the cute factor.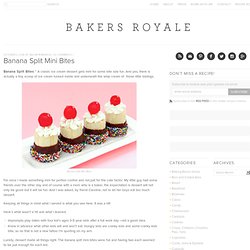 HERSHEY'S Kitchens Home Page Recipes
Calories in Various Foods
Brazilian Lemonade
This is my most favorite drink. Ever. Maybe I'd feel differently if I drank (as in alcohol), but there is nothing I love more than a warm, breezy afternoon and a pitcher of Brazilian lemonade. I didn't try it for a long, long time because I was very put off by putting sweetened condensed milk in with citrus fruit. It seemed very wrong. And then I had some at Tucano's and my life has not been the same since.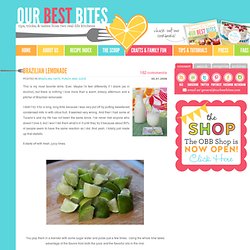 foodgawker | feed your eyes
One Bowl Vanilla Cupcakes For Two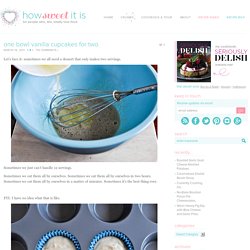 Let's face it: sometimes we all need a dessert that only makes two servings. Sometimes we just can't handle 12 servings. Sometimes we eat them all by ourselves. Sometimes we eat them all by ourselves in two hours. Sometimes we eat them all by ourselves in a matter of minutes.
Okay, I've got a confession to make. I don't really celebrate Easter. I don't really know why it's celebrated either but please feel free to educate me in the comments below. What I know is that it's associated with rabbits, chocolates and eggs. I like rabbits, chocolates and eggs so I guess that makes me like Easter too! In conjunction with Easter Friday, I've decided to pimp up my eggs.
How to make surprise marbled Easter eggs. | NARCISSISM IS NECESSARY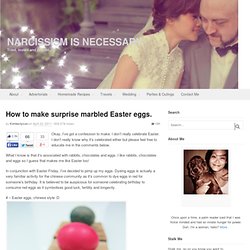 Let us be clear: Baking soda is not going to permanently cure your acne or turn back the cruel hand of time. But if you're looking to detoxify your body and your household, this multitasking ingredient will make your life easier (and more beautiful) without denting your coffers. Mom may have taught you that baking soda will make your bread rise and your fridge smell better, but did you know of its many cosmetic applications? Even the ancient Egyptians—and what beauty post would be complete without them?—used a compound similar to baking soda as soap.
Seven Surprising Uses for Baking Soda - Lifestyle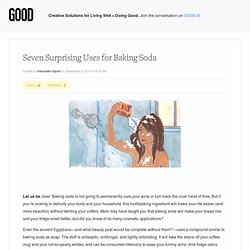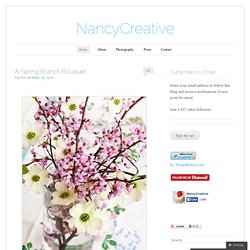 I wasn't quite sure what to call these when I got done making them. My goal was to make sugar cookies, but to make it easier and quicker, I decided to spread the batter in a 10 x 15″ pan and make sugar cookie bars. But after I cut some of them into squares and took a bite, it kind of tasted like a sugar cookie sheet cake. I put the rest in the refrigerator, and the next day I finished cutting them into squares. Guess what? After these were refrigerated, they tasted more like sugar cookies–very thick sugar cookies!
NancyCreative | Food and recipes, home and garden, faith and encouragement.
Hi Hat Cupcakes
I did it. I finally made them. Hi Hat Cupcakes have consumed my cupcake thoughts since I first saw their tall chocolate dipped tops online after I started blogging. But, I have to tell you, I've been nervous to make them. They scare me. I knew for sure I would screw them up and end up with a melted mess.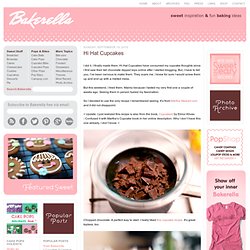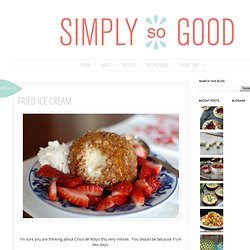 Fried Ice Cream
I'm sure you are thinking about Cinco de Mayo this very minute. You should be because it's in two days. We look for any excuse to celebrate.
Eating out is becoming a more and more popular phenomenon. With fast food taking only minutes out of a day and costing a few dollars, it can be convenient. Likewise, fine dining is also on the rise and can put a considerably larger dent in your wallet.
100 Famous Restaurant Recipes You Can Replicate at Home |
Meet the Personal Chef of Pot
Jonesing for some gourmet tri-tip and a solid buzz? Check out Cannabis Catering, a San Francisco-based outfit that specializes in marijuana cuisine. The brainchild of Chef Frederick Nesbitt, a California Culinary Academy-trained chef who has worked as personal chef for Jerry Rice and John Madden, Cannabis Catering offers four and five-course meals laced with ganja. The idea for Cannabis Catering came to Nesbitt when he learned that his friend's diabetic mother had been diagnosed with cancer.
How To Peel A Banana Like A Monkey
Happy Wednesday, beautiful people.Factoid for you: Getting my car serviced stresses me.To deal, I totally made Churro Tots. Throw in stress eating and calls to dad, and it some how made everything okay. I encourage it!Last week I went to a cookbook release party at Border Grill and they had churros…in tot form! I was blown away by their cuteness–had to replicate it stat for you all.I basically made a tweaked and adjusted version of this pate a choux recipe.
Churro Tots
most gawked all-time - page 20
Twix Cheesecakes
Finger FoodAsian Meatballs with Tomato ChutneyAvocado and Radish CrostiniAvocado Quesadillas BBQ Chicken SataysBlack Bean CakesBruschetta with Fresh Homemade Ricotta and Three Herb PestoCaprese SkewersCilantro Succotash Quesadillas Crab Cakes Creamed Corn CrostiniCorn Cakes with Lemon Chive Crème FraicheCorn and Leek Flautas Curried Sweet Potato Quesadillas Deviled EggsGreen Market Crudités with Lemon Paprika AioliGuacamoleEggplant BruschettaEggplant Caponata with Pomegranate-Balsamic DrizzleHeirloom Tomato BruschettaJill's Sweet Pea CrostiniLime-Marinated Chicken Skewers with Carrot-Miso Dipping SauceManchurian Cauliflower Mexican Dip
Big Girls, Small Kitchen: A Guide To Quarter-Life Cooking
Two Minute Chocolate Peanut Butter Cake
Mixes in a Jar Recipes
Cinnamon Toast Rolls
Italian Grilled Cheese
Crazy Domestic: Melted Snowman Cookies
Pizza Braid
Pizza Swirl Bread
Chocolate Nutella Scotcheroos
The Infamous Jacques Torres Chocolate Chip Cookies
A brownie by any other name…
Global Food Disparity: A Photo Diary
Get Off Your Butt and BAKE! » Impressive recipes made simple.
Chocolate Chip Cookie Dough Dip
Two Tiny Kitchens
Correcting The World's Wrongs With Campfire Bananas - Home - burgh baby
Whats 4 Dinner Tonite | Recipes and Restaurant Reviews
10 Recipes Everyone Should Know How To Make
The Ultimate Strawberry Lemonade
Banana Milkshake
Blue-Eyed Bakers - Blue Eyed Bakers
World Hearth Recipe Collection