Country Reference Info
Daylight Saving Time Around the World 2013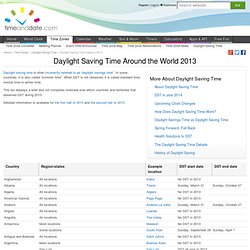 +1 this page: Follow us on Google+: Like/share this page: Follow us on facebook: Daylight saving time is often incorrectly referred to as "daylight savings time". In some countries, it is also called "summer time".
Loading... What the hell is "bhoogolvidya"? It means Geography in Hindi/Sanskrit. Wanted a crazy name. What is this about?
Algeria - HSBC Country Guides
Electricity around the world: everything about plugs, sockets, voltages, converters, etc.
Last update: 9 January 2014 There are 15 types of electrical outlet plugs in use today, each of which has been assigned a letter by the U.S. Department of Commerce International Trade Administration (ITA), starting with A and moving through the alphabet.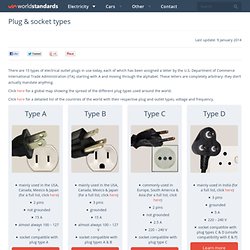 World Standards - Everything you always wanted to know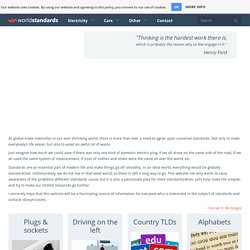 As global trade intensifies in our ever shrinking world, there is more than ever a need to agree upon universal standards. Not only to make everybody's life easier, but also to avoid an awful lot of waste. Just imagine how much we could save if there was only one kind of domestic electric plug, if we all drove on the same side of the road, if we all used the same system of measurement, if sizes of clothes and shoes were the same all over the world, etc. Standards are an essential part of modern life and make things go off smoothly.
A major project to precisely catalog every mountain in the world with 1,500 meters (4,921') of prominence. Prominence is the relative elevation of a mountain summit. Prominence is the elevation difference between a summit and the highest point (saddle) that separates that summit from any higher summit. About the Ultras Project In 2004-2006, the authors of the Ultras Project researched and mapped every summit on earth believed to have 1,500 meters (4,921') or more of prominence. In total, we have calculated 1,524 such peaks (as of June 10, 2007).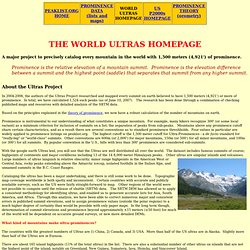 The Ultra-Prominences Page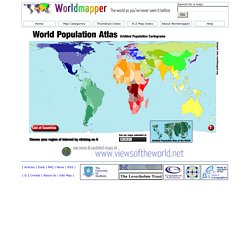 © 2013 Benjamin D HennigWorldmapper Project The map shows a population cartogram where each country is resized to its total population in 2013 (approximately 7.1 billion). The data for the population development covering the years from 1950 to 2100 were derived from the United Nations World Population Prospects (2012 Revision, http://esa.un.org/wpp/).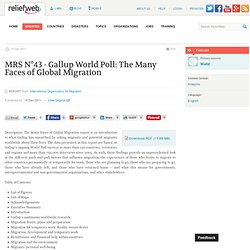 The Many Faces of Global Migration
Description: The Many Faces of Global Migration report is an introduction to what Gallup has unearthed by asking migrants and potential migrants worldwide about their lives. The data presented in this report are based on Gallup's ongoing World Poll surveys in more than 150 countries, territories and regions and more than 750,000 interviews since 2005. As such, these findings provide an unprecedented look at the different push-and-pull factors that influence migration, the experiences of those who desire to migrate to other countries permanently or temporarily for work, those who are planning to go, those who are preparing to go, those who have already left, and those who have returned home – and what this means for governments, intergovernmental and non-governmental organizations, and other stakeholders. Table of Contents
World by Map: Statistics, Maps and Charts
How big was the world's population when you were born? | Environment
UN Information Centres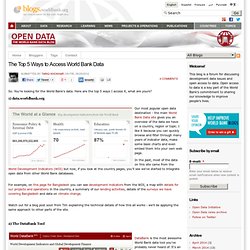 So. You're looking for the World Bank's data. Here are the top 5 ways I access it, what are yours? 1) data.worldbank.org
Access World Bank Data
Global Adaptation Index
The launch of the Global Adaptation Index (GaIn) literally puts a powerful open data browser into the hands of anyone with a connected mobile device. The index rates a given country's vulnerability to environmental shifts precipitated by climate change, its readiness to adapt to such changes, and its ability to utilize investment capital that would address the state of those vulnerabilities. The Global Adaptation Index combines development indicators from 161 countries into a map that provides quick access to thousands of open data records. All of the data visualizations at gain.globalai.org are powered by indicators that are openly available and downloadable under a Creative Commons license. "All of the technology that we're using is a way to bring this information close to society," said Bruno Sanchez-Andrade Nuño, the director of science and technology at the Global Adaptation Institute (GAI), the organization that launched the index. Open data, open methodology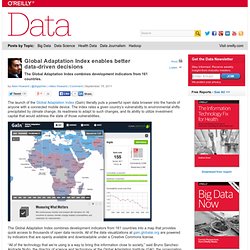 Global Adaptation Index enables better data-driven decisions
Ministries of Foreign Affairs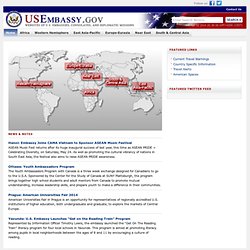 Hanoi: Embassy Joins CAMA Vietnam to Sponsor ASEAN Music Festival ASEAN Music Fest returns after its huge inaugural success of last year, this time as ASEAN PRIDE > Celebrating Diversity, on Saturday, May 24. As well as promoting the cultural vibrancy of nations in South East Asia, the festival also aims to raise ASEAN PRIDE awareness. Ottawa: Youth Ambassadors Program The Youth Ambassadors Program with Canada is a three week exchange designed for Canadians to go to the U.S.A. Sponsored by the Center for the Study of Canada at SUNY Plattsburgh, the program brings together high school students and adult mentors from Canada to promote mutual understanding, increase leadership skills, and prepare youth to make a difference in their communities.
MFA Kingdom of Cambodia
E-Visa Make Your Trip Happen To The Kingdom Of Wonder! The Ministry of Foreign Affairs and International Cooperation has launched e-Visa, which enables you to apply for a Cambodia tourist visa online. Instead of applying through Cambodian Embassy, all you need to do is to complete the online application form and pay with your credit card.
Directory of Canadian Government Offices Abroad
intercultural understanding
Intercultural Communication
Geert Hofstede on Culture
Geopolitics. Cross-culture awareness and competence, Steven Matejovsky,ISIT
Key words: steven matejovsky, cross-culture awareness and competence, erasmus, institut supérieur d'interprétation et de traduction, isit, institut catholique de paris, icp, ambiguity, appropriate response, arbitrary, artefacts, assumptions, attribution, awareness, beliefs, chronemics, communicative competence, context, convergence, cross-culture, culture, decode, divergence, encode, ethnocentric, expected behaviour, haptics, iceberg, individual preference, intent, filter, kinesics, no avoidance culture, oculesics, olfactics, norm, parochial, perception, perceptual patterns, prejudices, proxemics, relationship, semiotics, stereotypes, universalistic, value, vocalics, yes avoidance culture. Developing Cross Culture Awareness This article is the result of a workshop designed for students participating in the Erasmus student exchange programme.
Climate - Weather - Extreme