Reference Materials
Ever wonder what the colors of the tie tags on loaves of bread represent? They're a code designating the day of the week on which a loaf was baked: * Blue: Monday * Green: Tuesday * Red: Thursday * White: Friday * Yellow: Saturday[...]An easy way to remember it, though, is to simply recall the alphabet. The colors run in alphabetical order, so the earlier they appear in the alphabet, the earlier in the week the bread was baked. And it's true.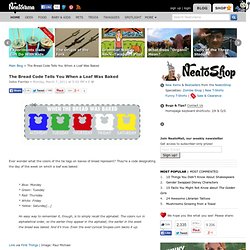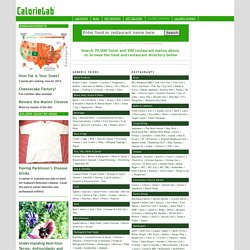 Calorielab supplies a calorie calculator for generic foods, nutrition facts for brand name foods, a calorie counter for fast food chains, and nutritional information for table service restaurants. In addition to calorie content, you'll find carbohydrate information for low carb diets, and, for many foods, trans fat, sodium, sugar, and other food composition data to help you plan a weight loss or fitness diet. The values in the "Pts" column are computed by CalorieLab from our nutrient database, and are not endorsed by or connected with Weight Watchers International, Inc.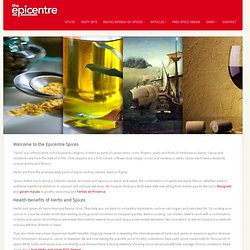 Welcome to the Epicentre Spices "Spice" is a culinary term, not a botanical category. It refers to parts of certain trees, roots, flowers, seeds and fruits of herbaceous plants. Cassia and cinnamon are from the bark of a tree. Chile peppers are a fruit.
Flour type 00 amounts conversion | Convert to units and culinary measures.
Convert flour type 00 for culinary cooking. Tool for converting flour for making pizza and pasta from any amount into other common units generally used in recipes for measuring flour type 00 portions. The flour type 00 conversion tools allows making translations between Metric and US unit measuring systems. The calculator deals with any flour type 00 amount or unit found in recipes with flour type 00 content.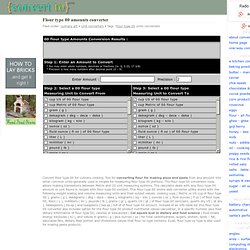 Semolina amounts conversion calculator | Cups | Grams | Ounces | Pounds | Kilograms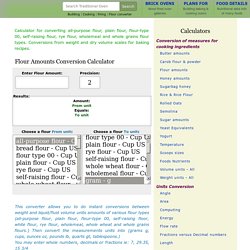 Flour volume vs weight conversions | Grams | Ounces | Cups | Pounds | Kilograms | Quarts
Enter Flour Amount: From unit To unit This converter allows you to do instant conversions between weight and liquid/fluid volume units amounts of various flour types (all-purpose flour, plain flour, flour-type 00, self-raising floor, white flour, rye flour, wholemeal, whole wheat and whole grains flours.)