Dev Ops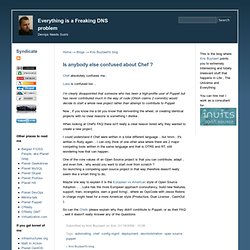 Is anybody else confused about Chef ? | Everything is a Freaking DNS problem
Chef absolutely confuses me.. Luke is confused too .. I'm clearly disappointed that someone who has been a high-profile user of Puppet but has never contributed much in the way of code (Ohloh claims 2 commits) would decide to start a whole new project rather than attempt to contribute to Puppet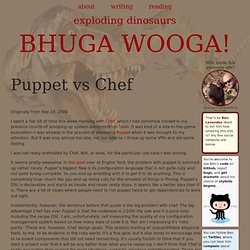 I spent a fair bit of time this week messing with Chef, which I had somehow missed in my previous rounds of scooping up system administration tools. It was kind of a late-in-the-game evaluation--I was already in the process of deploying Puppet when it was brought to my attention. But it was only almost too late, not too late, so I threw up some VMs and did some testing. I was not really enthralled by Chef. Not, at least, for the particular use case I was solving.
Puppet vs Chef | BHUGA WOOGA!
rhel5 - Puppet vs Chef, pro and contra from users and use cases
Chef is based on a key insight: You can model your evolving IT infrastructure and applications as code. Chef makes no assumptions about your environment and the approach you use to configure and manage it. Instead, Chef gives you a way to describe and automate your infrastructure and processes. Your infrastructure becomes testable, versioned and repeatable. It becomes part of your Agile process. Chef relies on reusable definitions known as cookbooks and recipes that are written using the the Ruby programming language.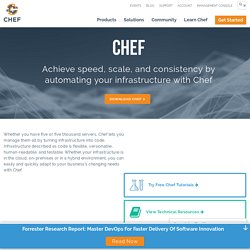 If you have one Linux system to administer, you need a good working knowledge of scripting, command line utilities, and a trusty text editor. If you have two or more, it may be time to add Puppet to that list. Every good system administrator strives to automate repetitive tasks so that they can free up their time to focus on more important matters. It's the difference between spending a work day running the same set of commands on 20 different systems, or spending a work day improving a piece of infrastructure or testing a new open source tool that might be useful for your organization. Also, it's just plain fun to know you can run a single command and accomplish what it would have taken half a day to finish. In this piece, we'll take a look at what Puppet is and some basics of installing and using Puppet on a single machine.
Introduction to Puppet: Streamlined System Configuration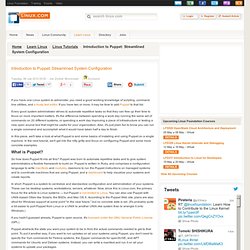 Puppet, Chef, cfengine, and Bcfg2 are all players in the configuration management space. If you're looking for Linux automation solutions, or server configuration management tools, the two technologies you're most likely to come across are Puppet and Opscode Chef. They are broadly similar in architecture and solve the same kinds of problems. Puppet, from Reductive Labs, has been around longer, and has a large user base.
Puppet versus Chef: 10 reasons why Puppet wins | Bitfield Consulting