Dev Ops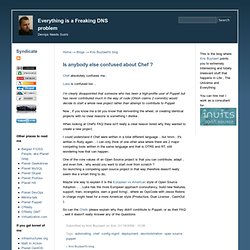 Is anybody else confused about Chef ? | Everything is a Freaking DNS problem
Chef absolutely confuses me.. Luke is confused too .. I'm clearly disappointed that someone who has been a high-profile user of Puppet but has never contributed much in the way of code (Ohloh claims 2 commits) would decide to start a whole new project rather than attempt to contribute to Puppet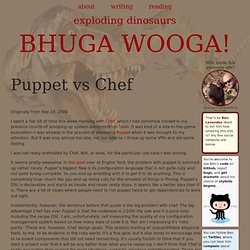 I spent a fair bit of time this week messing with Chef , which I had somehow missed in my previous rounds of scooping up system administration tools.
Puppet vs Chef | BHUGA WOOGA!
rhel5 - Puppet vs Chef, pro and contra from users and use cases
Chef is an open-source automation platform built to address the hardest infrastructure challenges on the planet. Chef gives you the power and flexibility you need to move faster in a complex world - from rapid provisioning and deployment of servers to the automated delivery of applications and services—at any scale.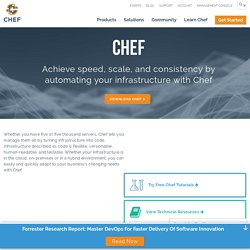 If you have one Linux system to administer, you need a good working knowledge of scripting, command line utilities, and a trusty text editor . If you have two or more, it may be time to add Puppet to that list.
Introduction to Puppet: Streamlined System Configuration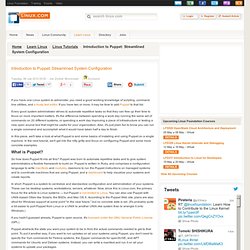 Puppet, Chef, cfengine, and Bcfg2 are all players in the configuration management space.
Puppet versus Chef: 10 reasons why Puppet wins | Bitfield Consulting