Faire ses chaussures
I say medieval-type, because it's just supposed to invoke a sense of the medieval era. I didn't do extensive research on ancient garb for feet (though I did browse through hundreds of pictures on google) but I did want it to seem like it came from a time similar to the dark ages. One last thing. I know I mentioned it twice in the tutorial already, but I really would love to know what you guys think and how your own shoes turn out. I will favorite whatever you guys make with this and put links to it here in the description so everyone else can see what you've done, too. I also love comments, anything that will help me do better.
Medieval-Type Shoe Tutorial by ~Autnott on deviantART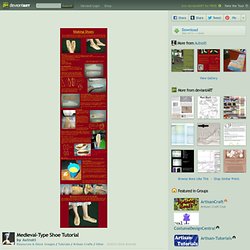 Medieval-Type Shoe Tutorial by ~Autnott on deviantART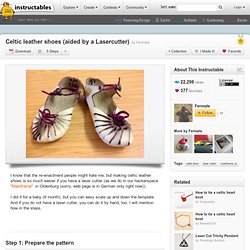 Celtic leather shoes (aided by a Lasercutter)
Since I already had celtic shoes with I wanted to use as a pattern, I opened the laces and laid a shoe flat on the table. Then I took a picture. I imported the picture into a graphics tool (I used CorelDraw, but OpenSource Inkscape should also work). First I tried to vectorize it automatically, but the result didn't look good. Then I put the picture in the background and draw the outline with the mouse; I only placed a point at each corner, and then smoothed the lines (there is a option for line objects; sorry that I cannot give the correct technical terms, since I'm using the German version of the software). The second picture shows a screenshot of the pattern drawing with the line option symbols.
Summer shoes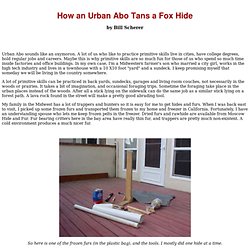 How An Urban Abo Tans a fox Hide
How an Urban Abo Tans a Fox Hide by Bill Scherer Urban Abo sounds like an oxymoron. A lot of us who like to practice primitive skills live in cities, have college degrees, hold regular jobs and careers. Maybe this is why primitive skills are so much fun for those of us who spend so much time inside factories and office buildings.
La matière première, le tannage et les outils... - La structure de la… - Histoire des… - Du parchemin au… - Procédé de… - Quelques outils… - Quelques métiers du… - essais de reconstitution d'objets medievaux en cuir.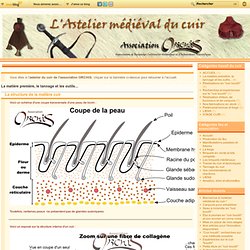 Les statuts des corporations de métiers de la ville de Paris au 13ème siècle sont soigneusement consignés dans "Le livre des métiers" de Boileau. Les notes sont ajoutées ultérieurement, j'ai modifié leur ordre d'origine pour que la lecture soit plus aisée. Lien google books : http://books.google.fr/books?
le tannage des peaux
Make Your own Tire SandalsAdapted from Participating in Nature: Wilderness Survival and Primitive Living Skills I'm hard on shoes. It's not uncommon for me to go through half a dozen pairs of shoes, or more, each year. I maintain an active lifestyle, hiking, playing, camping, and working. Water wears out a shoe quicker than anything else. A few trips in and out of the creeks, puddles, and swamps, and they just come unglued.
Tire Sandals: Innovative footwear recycled from old tires.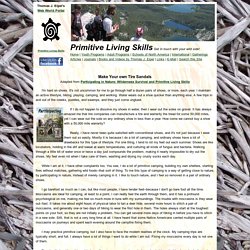 Edited to add: Due to alle the comments regarding the title of this instruction, I've changed the name to 'iron age shoes' which might be more historycally correct. I learned to make these by using my own foot as a template. Therefore, all the measures given here are highly approximate.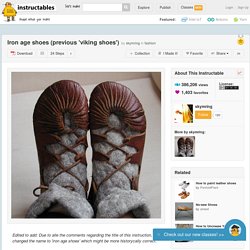 Footwear of the Middle Ages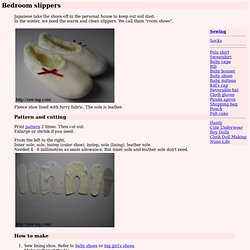 Japanese take the shoes off in the personal house to keep out soil dust. In the winter, we need the warm and clean slippers. We call them "room shoes".
Les beaux jours arrivent, ils sont déjà là ! Ne reste plus qu'à peaufiner notre équipement avant d'aller se ruer sur les catumagos* toujours plus grands, toujours plus loin. Mais pour bien courir, voilà, il faut être bien chaussé. Nous vous proposons donc aujourd'hui de découvrir les quelques étapes qui vous permettront de réaliser vos beaux souliers gaulois : les carbatinae. Les carbatinae ont cette particularité d'être réalisées en une seule pièce de cuir.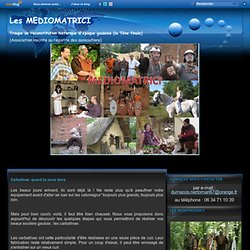 Carbatinae, quand tu nous tiens - Les Mediomatrici