Instrucción, Competencias y otros temas
Learning Theories
www.universidadfutura.org/wp-content/uploads/2012/08/Innovating_Pedagogy_report_July_2012.pdf
Bloom's Digital Taxonomy
This is the introduction to Bloom's Digital Taxonomy. The different taxonomical levels can be viewed individually via the navigation bar or below this introduction as embedded pages. This is an update to Bloom's Revised Taxonomy which attempts to account for the new behaviours and actions emerging as technology advances and becomes more ubiquitous.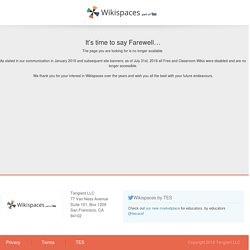 21st Century Learning / 21st Century Learning: Bloom's Taxonomy and Socratic Seminar
Teoría de la Complejidad y aprendizaje: algunas consideraciones necesarias para la enseñanza y la evaluación
Estándares UNESCO de competencia en TIC para docentes
Descargue los Estándares UNESCO de Competencia en TIC para Docentes en formato PDF (650 KB; 28 páginas) Consulte los Recursos en EDUTEKA que ayudan a cumplir con los Estándares de Competencia en TIC para Docentes.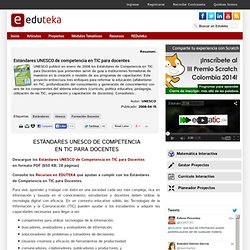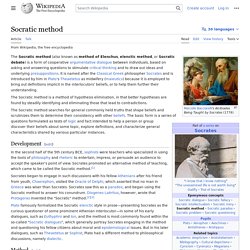 Socratic method
Socratic method (also known as method of elenchus, elenctic method, or Socratic debate), named after the classical Greek philosopher Socrates, is a form of inquiry and discussion between individuals, based on asking and answering questions to stimulate critical thinking and to illuminate ideas.
Cómo reinventar la Educación Superior desde lo Abierto
El último número de la Revista Telos, de cuyo Comité Científico tengo el honor de ser miembro, incluye un Dossier dedicado a la Cultura Digital con los siguientes artículos. Uno de ellos es el que he dedicado a la Educación Superior en relación con las estrategias de apertura de contenidos, tecnologías y personas desde lo digital. Más abajo incluyo el texto completo del mismo.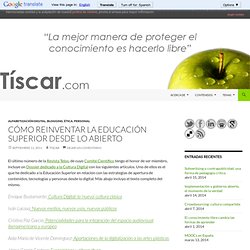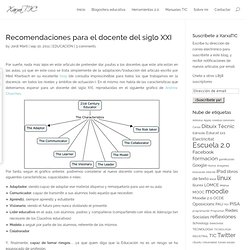 Recomendaciones para el docente del siglo XXI
Por suerte, nada más lejos en este artículo de pretender dar pautas a los docentes que este año están en las aulas, ya que en este caso se trata simplemente de la adaptación/traducción del artículo escrito por Med Kharbach en su excelente blog (de consulta imprescindible para todos los que trabajamos en la docencia -en todos los niveles y ámbitos de actuación-). En el mismo, nos habla de las características que deberíamos esperar para un docente del siglo XXI, reproducidas en el siguiente gráfico de Andrew Churches. Por tanto, según el gráfico anterior, podremos considerar al nuevo docente como aquel que reúna las siguientes características, capacidades o roles:
Formación por Competencias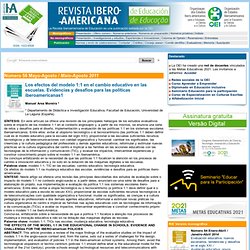 Manuel Area Moreira * * Departamento de Didáctica e Investigación Educativa, Facultad de Educación, Universidad de La Laguna (España).
Los efectos del modelo 1:1 - Area Manuel
TheCritical Thinking Community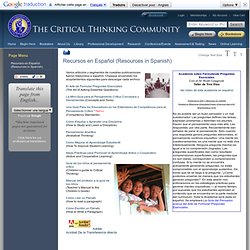 Entre nuestro equipo de presentadores contamos con Rush Cosgrove, quien puede desarrollar los Talleres sobre el Pensamiento Crítico, en español. Rush es una persona capacitada para hablar en español, sin embargo, aún no lo domina con fluidez y puede cambiar del español al inglés al estar presentando.
Competencias-LE BOTERF CONSEIL