Jokes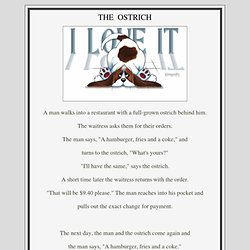 A man walks into a restaurant with a full-grown ostrich behind him. The waitress asks them for their orders. The man says, "A hamburger, fries and a coke," and
You know, just because copyright is much more difficult to enforce on the internet, doesn't mean it's not still illegal for good reason. The whole point of copyright is for the original artist to be able to control their work's distribution, particularly in commercial channels. And while nobody has tried to commercialize that particular image from this meme, if left unaddressed by the artist, eventually somebody would try to do just that. This would have almost been a borderline case in non-commericial areas, though, since it could be taken as parody/satire, which often falls under Fair Use. HOWEVER…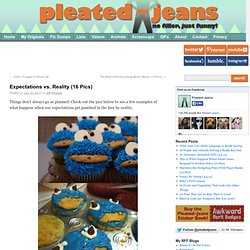 General Motors doesn't have a "help line" for people who don't know how to drive, because people don't buy cars like they buy computers - but imagine if they did... Helpline: "General Motors Helpline, how can I help you?" Customer: "I got in my car and closed the door, and nothing happened!"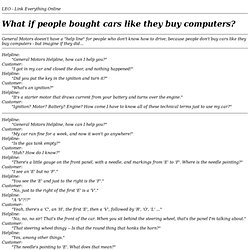 Cars like computers?
Strings Woodwinds Brass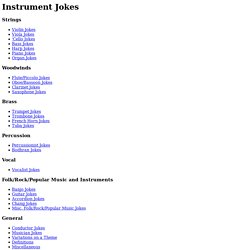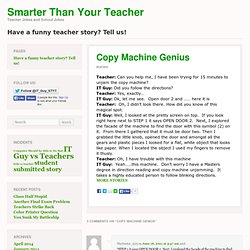 Copy Machine Genius - Smarter than your Teacher
Teacher: Can you help me, I have been trying for 15 minutes to unjam the copy machine? IT Guy: Did you follow the directions? Teacher: Yes, exactly… IT Guy: Ok, let me see. Open door 2 and …… here it is Teacher: Oh, I didn't look there.
Racism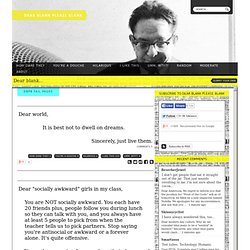 You survived the Holocaust in Germany when you were young. You stayed strong, even when they took your mom. You moved to New York, where you were safer but all alone. You stayed strong then, too. You raised your two kids and worked when grandpa wasn't well.
Dear blank, please blank.
TWO LITTLE BOYS from Joe Burton
Suitcase Stickers
Dear friends, It is with the saddest heart that I pass on the following. Please join me in remembering a great icon. The Pillsbury Doughboy died yesterday of a yeast infection and complications from repeated pokes in the belly.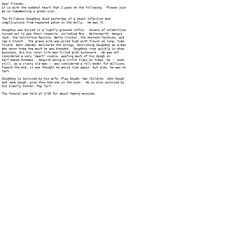 Pregnancy tips for Dummies | Dizzy Dee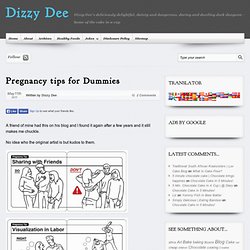 A friend of mine had this on his blog and I found it again after a few years and it still makes me chuckle. No idea who the original artist is but kudos to them. Part II over at http://www.dizzy-dee.com/comedy/funny-childcare-for-dummies <a rel="nofollow" href="http://www.yesads.com" onclick="javascript:_gaq.push(['_trackEvent','outbound-article','http://www.yesads.com']);">online marketing</a>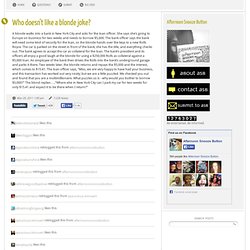 A blonde walks into a bank in New York City and asks for the loan officer. She says she's going to Europe on business for two weeks and needs to borrow $5,000. The bank officer says the bank will need some kind of security for the loan, so the blonde hands over the keys to a new Rolls Royce. The car is parked on the street in front of the bank; she has the title, and everything checks out. The bank agrees to accept the car as collateral for the loan.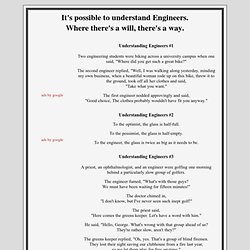 Understanding Engineers #1 Two engineering students were biking across a university campus when one said, "Where did you get such a great bike?" The second engineer replied, "Well, I was walking along yesterday, minding my own business, when a beautiful woman rode up on this bike, threw it to the ground, took off all her clothes and said, "Take what you want." The first engineer nodded approvingly and said, "Good choice, The clothes probably wouldn't have fit you anyway." Understanding Engineers #2