SPIRITUAL WARFARE
FREE DELIVERY (DELIVERANCE) END-TIME DELIVERANCE MINISTRY - DEMONBUSTER.COM DELIVERANCE MANUAL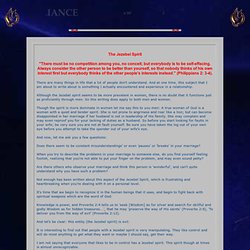 The Jezebel Spirit
The individual, operating under the jezebel spirit, begins to secretly spin his/her web by winning the trust and confidence of those he/she wants to control. He/She works undercover and does not want to be exposed. Once acceptance is established, he/she begins to use truth, seasoned with well placed lies, to clandestinely spin a web of deception and entanglement. Clever methods induce fear in others.
A Love I Could Not Deny - by Diane Dew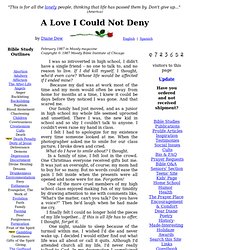 February 1987 in Moody magazine Copyright © 1987 Moody Bible Institute of Chicago I was so introverted in high school, I didn't have a single friend – no one to talk to, and no reason to live. If I did kill myself, I thought, who'd even care?
Spiritual Warfare Matrix « Spiritual Warfare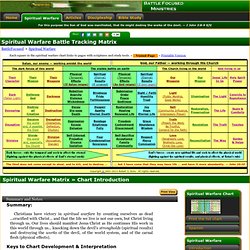 Summary and Notes: Summary: Christians have victory in spiritual warfare by counting ourselves as dead ...crucified with Christ... and that the life we live is not our own, but Christ living through us. Our lives should manifest Jesus Christ as He continues His work in this world through us... knocking down the devil's strongholds (spiritual results) and destroying the works of the devil, of the world system, and of the carnal flesh (physical effects). Notes: A battle tracking matrix is a chart used by military commanders to convey multifaceted information in a comprehensive, yet compact form - in order to enhance situational awareness and to facilitate the decision making process. The spiritual warfare matrix is an attempt to represent a NONLINEAR, multi-dimensional battlefield on a LINEAR, two-dimensional frame within a limited amount of space.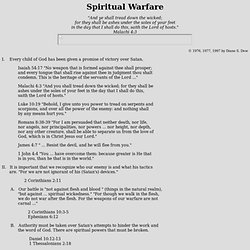 Spiritual Warfare: A Study in the Scriptures
Spiritual Warfare "And ye shall tread down the wicked; for they shall be ashes under the soles of your feet in the day that I shall do this, saith the Lord of hosts." Malachi 4:3
Spiritual warfare, deliverance, casting out demons, strongholds and more!
You are here: Home » Spiritual Warfare Written by Mike Bradley on · Leave a Comment If You Would Like To Be Updated With New Articles and Videos and Get a FREE Ebook, The Lord's Prayer, You Can Sign Up For Our FREE Newsletter .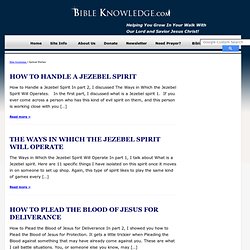 Spiritual Warfare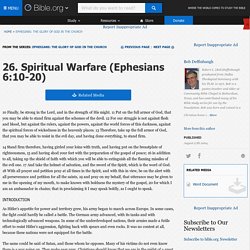 10 Finally, be strong in the Lord, and in the strength of His might. 11 Put on the full armor of God, that you may be able to stand firm against the schemes of the devil. 12 For our struggle is not against flesh and blood, but against the rulers, against the powers, against the world forces of this darkness, against the spiritual forces of wickedness in the heavenly places. 13 Therefore, take up the full armor of God, that you may be able to resist in the evil day, and having done everything, to stand firm.
Spiritual Warfare (Ephesians 6:10-20