Dart & Go (Google Languages & Projects)
Dart 1.5 makes it easier to develop for the mobile web. It's important for web experiences to work great on mobile devices.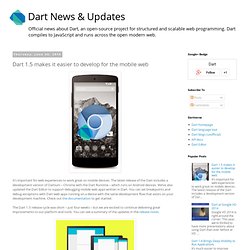 The latest release of the Dart includes a development version of Dartium – Chrome with the Dart Runtime – which runs on Android devices. We've also updated the Dart Editor to support debugging mobile web apps written in Dart. You can set breakpoints and debug exceptions with Dart web apps running on a device with the same development flow that exists on your development machine. Check out the documentation to get started. Dart : l'alternative à JavaScript de Google bientôt standardisée. Le langage de script de Google a été retenu par l'ECMA.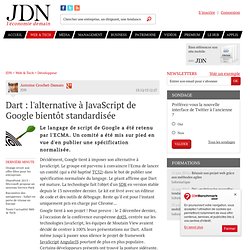 Un comité a été mis sur pied en vue d'en publier une spécification normalisée. Décidément, Google tient à imposer son alternative à JavaScript. Le groupe est parvenu à convaincre l'Ecma de lancer un comité (qui a été baptisé TC52) dans le but de publier une spécification normalisée du langage. Le géant affirme que Dart est mature.
La technologie fait l'objet d'un SDK en version stable depuis le 13 novembre dernier. New Asynchronous APIs for Dart. The latest Dart SDK now provides a cohesive API for asynchronous programming.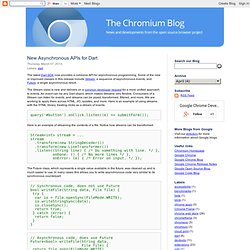 Some of the new or improved classes in this release include Stream, a sequence of asynchronous events, and Future, a single asynchronous result. The Stream class is new and delivers on a common developer request for a more unified approach to events. An event can be any Dart object, which makes Streams very flexible. Consumers of a Stream can listen for events, and streams can be piped, transformed, filtered, and more. Dart Tips: Short Video Tutorials about Dart. Sometimes, you only have 5 minutes.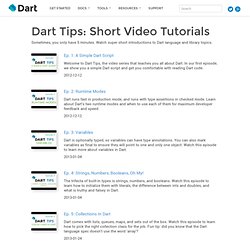 Watch super short introductions to Dart language and library topics. Ep. 1: A Simple Dart Script Welcome to Dart Tips, the video series that teaches you all about Dart. In our first episode, we show you a simple Dart script and get you comfortable with reading Dart code. 40' video sur Dart, Google "evil plot to make it easier for you to build web apps." Google, the company whose code of conduct begins with the words "Don't be evil," has uploaded a new video to its developer channel talking about its programming language Dart, which Google calls its "evil plot to make it easier for you to build web apps."
It's a 40-minute video that talks about the programming language and its features. "When we announced Dart, it kicked up a bit of a dust storm," says Dart engineer Bob Nystrom in the YouTube description for the video. "In this talk, I discuss the challenges that Google and others face when building web apps today. I introduce Dart and show how its features were designed specifically to address some of those challenges."
2 Google I/O Videos Teach You All About The Dart Programming Language. Google has been uploading tons of videos of sessions from Google I/O, and these two deal specifically with the Dart programming language, so if you're looking to learn more about it, and were unable to attend the event, you're in luck.
The first video is from the session: Dart – A Modern Web Language. Here's the video's description: The two creators of Dart will discuss the rationale behind Dart's design and its impact on web scalability and performance. They'll also present how Dart helps developers innovate by increasing their productivity without breaking backwards compatibility.
Google Dash/Dart, Go, a Cloud IDE "Brightly" and the future of Javascript | Code-Inside Blog International. Since a few days an embellished (?)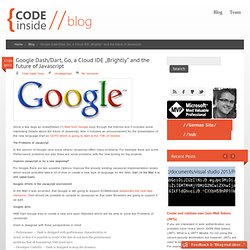 Mail from Google buzz through the Internet and it includes some interesting Details about the future of Javascript. Also it includes an announcement for the presentation of the new language Dart on GOTO which is going to start at the 10th of October. LMI 28/03/2012 Les projets de Google pour développer des applications sur le web | 1000 petits liens de Lilliputiens. Lors de la conférence EclipseCon Alex Russell, ingénieur logiciel chez Google a donné 2 exemples illustrant comment sa société envisageait de développer des technologies avancées en matière de programmation web pour faciliter la réutilisation du code et les test de mise au point Extraits de l'aticle de Jacques Cheminat avec IDG NS.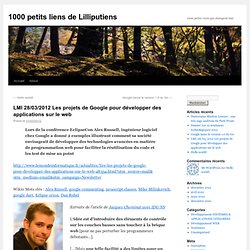 Goto Conference 2011. Gilad Bracha: Dart - A Well Structured Web Programming Language | Lang.NEXT 2012. Dart is a new programming language being developed at Google, designed to support web programming.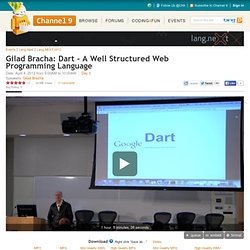 Dart is a purely object-oriented, class-based single inheritance optionally typed language with actor based concurrency. The design of Dart is subject to two challenging constraints: efficient compilation to JavaScript and instant familiarity to mainstream programmers. Dart (langage informatique) Un article de Wikipédia, l'encyclopédie libre.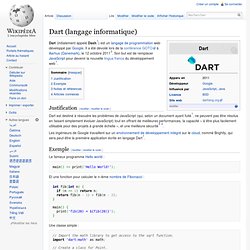 Dart (initialement appelé Dash[1]) est un langage de programmation web développé par Google. Il a été dévoilé lors de la conférence GOTO à Aarhus (Danemark), le 12 octobre 2011[2]. A language for structured web programming. By Lars Bak, Software Engineer, Dart Team Cross-posted on the Chromium Blog Today we are introducing an early preview of Dart, a class-based optionally typed programming language for building web applications. Dart's design goals are: Create a structured yet flexible language for web programming.Make Dart feel familiar and natural to programmers and thus easy to learn.Ensure that Dart delivers high performance on all modern web browsers and environments ranging from small handheld devices to server-side execution.Dart targets a wide range of development scenarios: from a one-person project without much structure to a large-scale project needing formal types in the code to state programmer intent.
Dart Synonym: Translations from JavaScript. Dart: A language for structured web programming. Cross-posted on the Google Code Blog Today we are introducing an early preview of Dart, a class-based optionally typed programming language for building web applications. Dart's design goals are: Create a structured yet flexible language for web programming.Make Dart feel familiar and natural to programmers and thus easy to learn.Ensure that Dart delivers high performance on all modern web browsers and environments ranging from small handheld devices to server-side execution.Dart targets a wide range of development scenarios: from a one-person project without much structure to a large-scale project needing formal types in the code to state programmer intent.
To support this wide range of projects, Dart has optional types; this means you can start coding without types and add them later as needed. Dart - Dart - Structured Web Programming. Welcome to Dart, the structured web programming platform. Dart is a new web programming language with libraries, a virtual machine, and tools. Dart helps developers build structured modern web apps, and it compiles to JavaScript to run across the entire modern web. Just want to use Dart? Go to the main Dart site: www.dartlang.org Dart is open source, so you can download the binaries, get the source and file feature requests and bugs. Dart Language Specification (0.10) The Dart Team The Dart Programming Language Specification Licensing Notation Overview. Dart: Structured web apps | DartLang.org. Dart Language Specification (0.07) Www.dartlang.org/docs/spec/latest/dart-language-specification.pdf.
Go (programming language) Go, also called golang, is a programming language initially developed at Google[6] in 2007 by Robert Griesemer, Rob Pike, and Ken Thompson.[2] It is a statically-typed language with syntax loosely derived from that of C, adding automatic memory management, type safety, some dynamic-typing capabilities, additional built-in types such as variable-length arrays and key-value maps, and a large standard library. The language was announced in November 2009 and is now used in some of Google's production systems.[7] Go's "gc" compiler targets the Linux, Mac OS X, FreeBSD, OpenBSD, Plan 9, and Microsoft Windows operating systems and the i386, amd64, and ARM processor architectures.[8] A second compiler, gccgo, is a GCC frontend.[9][10] Ken Thompson states that initially, Go was purely an experimental project.
Referring to himself along with the other original authors of Go, he states:[11] When the three of us [Thompson, Rob Pike, and Robert Griesemer] got started, it was pure research. Go (langage) The Go Runtime Environment - Google App Engine. The Go Programming Language. The Go Programming Language Blog. Go - The Go Programming Language. The Go Programming Language. Chrome Frame: Developer Guide.
---
bouche42 Apr 3 2012

DART langage de développement d'application WEB (frontend) pour succéder à Javascript

GO langage de développement robuste, pour construire des applications SYSTEME muti-thread et des Applications intégrées sur des plateformes Cloud, pour succéder à C, C++, Pascal, et Java, Python dans Google Apps...
---