Administrer ses installations Windows
Créer une clé USB bootable pour installer Windows
Par Korben
Par Korben Lorsqu'on désinstalle un logiciel sous Windows, en général il reste des tas de petites cochonneries, aussi bien sur le disque (répertoires, logs, paramètres...etc.) que dans la base de registres. Il se passe aussi à peu près la même chose sous OSX.
Pour une désinstallation efficace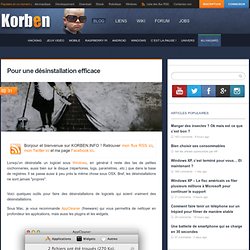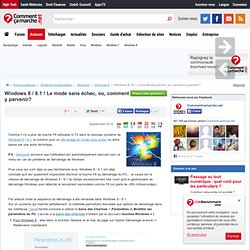 Plus de touche F8 ni F2 dans le nouveau système de Windows 8.
Windows 8 ! Le mode sans échec, ou, comment y parvenir?
Windows 8 - dépannez votre PC avec le démarrage avancé
WSCC is a free, portable program that allows you to install, update, execute and organize the utilities from various system utility suites. WSCC can install and update the supported utilities automatically. Alternatively, WSCC can use the http protocol to download and run the programs.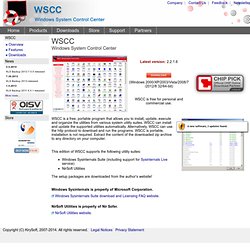 KLS SOFT - WSCC - Windows System Control Center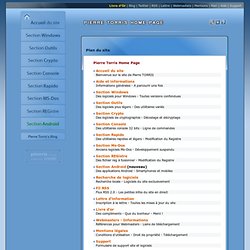 Livre d'Or | Blog | Twitter | RSS | Lettre | Webmasters | Mentions | Plan | Aide | Support
OUTILS Pierre Doris Home Page
Downloads
Remote Execute Allows you to remotely execute a process across your lan.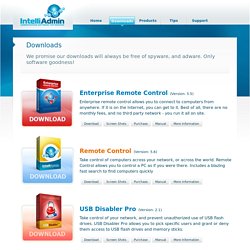 Top 4 Tools to Have On a Recovery USB Drive For Windows
Comment bloquer le lancement d'un programme
Par Korben Si vous souhaitez bloquer le lancement d'un exécutable sous Windows... Par exemple Battlefield3 que vos enfants mal élevés téléchargent encore et toujours sur votre ordinateur de boulot, il existe une solution pour vous débarrasser du problème.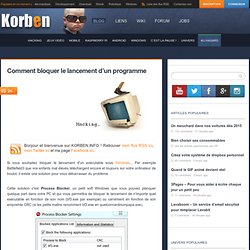 Booter_sur_la_cle_USB_meme_si_le_BIOS_ne_le_permet_pas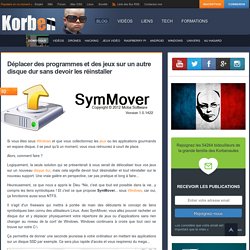 Déplacer des programmes et des jeux sur un autre disque dur sans devoir les réinstaller
Par Korben Si vous êtes sous Windows et que vous collectionnez les jeux ou les applications gourmands en espace disque, il se peut qu'à un moment, vous vous retrouviez à court de place.
Moba Software
SymMover helps you move a folder from one disk to another, and keep its "location" in Windows Explorer.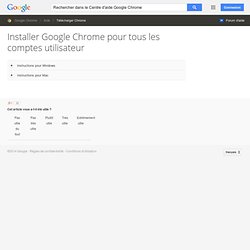 Instructions Windows
Installation de Google Chrome pour plusieurs comptes d'utilisateurs - Centre d'aide Google Chrome
Pour que CHROME aille dans "Program Files" et non AppData utilisateur. Contrainte ChromeStandaloneSetup installe une version qui pourrait ne pas se mettre à jour automatiquement. by bouche42 Jan 17
Standalone Offline Installer for Google Chrome
When you download the setup for Google Chrome's site , you're only downloading the installer for Google Updater. The updater downloads Google Chrome's full setup and then installs the software. Here's an excerpt from a Squid report:
Éteindre automatiquement son ordinateur, ce n'est pas très compliqué. Il suffit d'avoir les bons outils. Voici comment faire pour automatiquement arrêter, redémarrer, mettre en veille...etc. un ordinateur sous Windows, Linux et Mac OSX.
Programmer l'arrêt de son ordinateur
Par Korben
3 alternatives gratuites à Partition Magic
If you're having problems downloading Chrome using the standard installer at http://www.google.com/chrome , try downloading the browser using an alternate installer, available through the links below.
Programme d'installation alternatif (hors connexion) de Google Chrome (Windows) - Centre d'aide Google Chrome
100 extensions et astuces pour faire de Google Chrome un navigateur à votre goût
Après le succès des deux articles vous permettant de découvrir ou redécouvrir quelques dizaines d'astuces pour faire de Twitter et Facebook des réseaux sociaux à votre goût, j'ai décidé cette fois-ci de m'attaquer au célèbre navigateur Google Chrome en vous offrant pas moins de 100 extensions et astuces pour en faire un navigateur d'exception …
Google Chrome : 12 extensions que j'utilise au quotidien
Accèder à distance à un ordinateur avec Chrome
fspsa Dépannages Windows
Sauvegarder et restaurer l'activation de Microsoft Office
Formater un disque de plus de 32 Go en FAT32 - Zebulon.fr
Deployment Toolkit
Unleash the power of MDT 2010/2012 – Part 1 : Présentation
MDT 2010 : Installer DaRT 7/WinRE dans votre image Windows 7
Capture écran Skitch en version gratuite
WebSiteSniffer
Media Transfer Protocol
Install multiple apps at once without toolbars or clicking Next by bouche42 May 14
Sfc /scannow - vérifier les fichiers systèmes
CAPICOM Reference (Windows)
Google Cloud Print – Mon petit test
Comment créer des CD-Roms démarrable (CD bootable)
Divisez par 3 la taille de Microsoft Office !!!
Liens NTFS : Jonctions, Liens Symboliques, Liens Réels ; Junctions, Symbolic Links, Hard Links
Indispensable pour récupérer un fichier chargé par un browser qui reste vérouillé et inacessible et qui est détruit à fin d'utilisation.

Une fois identifié le fichier (par ex avec procexp de Sysinternal), créer un lien sur ce fichier, interdit au système d'exploitation de le détruire.

fsutil hardlink create <chemin_fichier_lien> <chemin_fichier_réel_pointé> by bouche42 Oct 13
Piriform
Portail Intranet - Alfresco wiki
Liferacy - Portal, Content & Collaboration for the Enterprise
Les solutions françaises de portails intranet collaboratif au crible - Journal du Net Solutions