Food Recipes
2-Minute Chocolate Chip Cookie For One & Recipe & Zoom Yummy. This is one of those 'I-need-a-cookie-right-now-or-I-die' recipes that can be prepared in almost no time.We all know that kind of situation, don't we?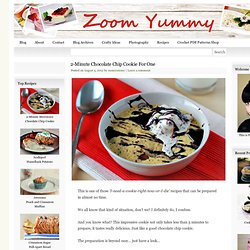 I definitely do, I confess.And you know what? This impressive cookie not only takes less than 5 minutes to prepare, it tastes really delicious. Just like a good chocolate chip cookie.The preparation is beyond easy… just have a look… 1 (30).jpg. Pizza Braid | Busy Mommy: An Iowa Mom Blog - StumbleUpon. Healthy Homemade Pizza Recipes - Homemade Pizza Recipes - The Daily Green - StumbleUpon.
Slow Cooker Loaded Baked Potato Soup - StumbleUpon. Mac-and-cheese-o-matic - The Washington Post - StumbleUpon. Culture Connoisseur Badge Culture Connoisseurs consistently offer thought-provoking, timely comments on the arts, lifestyle and entertainment.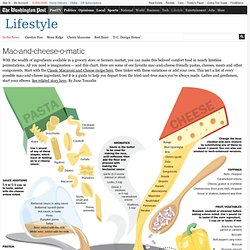 More about badges | Request a badge Washingtologist Badge. Mac and Cheese Cups - Cupcakes and Cashmere - StumbleUpon. Share this image Share It Pin It When I first graduated from college, and was living in a dreary little apartment, mac and cheese was one of my few specialties.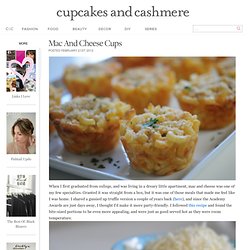 Granted it was straight from a box, but it was one of those meals that made me feel like I was home. I shared a gussied up truffle version a couple of years back (here), and since the Academy Awards are just days away, I thought I'd make it more party-friendly. Kitchen Helpers - StumbleUpon. I found these helpful charts last week and just had to share!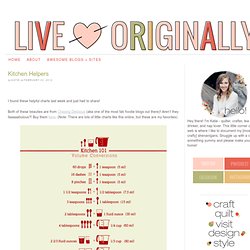 Both of these beauties are from Chasing Delicious (aka one of the most fab foodie blogs out there)! Aren't they faaaaabulous?! Buy them here. (Note: There are lots of little charts like this online, but these are my favorites). I love tea, but I'm no expert. Cruft: Lasagna Cupcakes - StumbleUpon. When Intelligentsia Coffee opened in Pasadena recently, I was intrigued the lasagna cupcakes they served.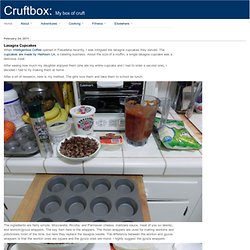 The cupcakes are made by Heirloom LA, a catering business. About the size of a muffin, a single lasagna cupcake was a delicious meal. After seeing how much my daughter enjoyed them (she ate my entire cupcake and I had to order a second one), I decided I had to try making them at home. After a bit of research, here is my method. The Infamous Jacques Torres Chocolate Chip Cookies - StumbleUpon. Now, I have a chocolate chip cookie recipe that I swear by.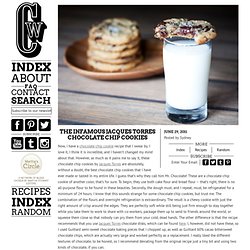 I love it, I think it is incredible, and I haven't changed my mind about that. However, as much as it pains me to say it, these chocolate chip cookies by Jacques Torres are absolutely, without a doubt, the best chocolate chip cookies that I have ever made or tasted in my entire life. I guess that's why they call him Mr. Chocolate! Snickerdoodle Muffins | Sweet Pea's Kitchen - StumbleUpon. Snickerdoodle Muffins I have been obsessed with Pinterest lately!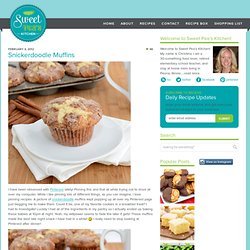 Pinning this and that all while trying not to drool all over my computer. While I like pinning lots of different things, as you can imagine, I love pinning recipes. A picture of snickerdoodle muffins kept popping up all over my Pinterest page just begging me to make them. Could it be, one of my favorite cookies in a breakfast treat? Make-Ahead Muffin Melts | The Pioneer Woman Cooks | Ree Drummond - StumbleUpon. This is another recipe from my mother's recipe collection.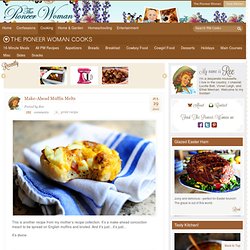 It's a make-ahead concoction meant to be spread on English muffins and broiled. And it's just…it's just… Cheesy, oozy guacamole bean dip - The Kind Life - StumbleUpon. I first had this at a party about 10 years ago.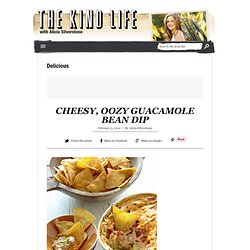 That recipe was my inspiration for this healthier version. We like to make this for football games. My husband Christopher is a huge Cleveland Browns fan. Chocolate Chip Lava Cookies | Kevin & Amanda - StumbleUpon. I am so in love with these darn chocolate lava cookies!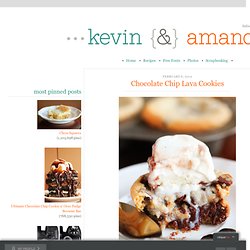 What is it about a warm, gooey chocolate chip cookie stuffed with decadent, rich, melted chocolate that makes it so irresistible?? Especially when topped with vanilla ice cream. These are one of Kev's favorite homemade treats, and he usually asks me to make them at least once a week. The best new recipes from The Kitchn | punchfork.com - StumbleUpon. Saucy Greek Baked Shrimp | Fresh Tastes Blog | PBS Food - StumbleUpon. This is one of my favorite quick and tasty dinners. I come from the camp that feta makes anything better, and this baked shrimp is full of it. An easy, flavorful sauce is thrown together with sautéed garlic, canned diced tomatoes and spices and baked with the shrimp.
You'll definitely want a loaf of chewy sourdough bread to sop up all the sauce on your plate! Orzo pasta or angel hair are other nice accompaniments to this dish. Baked Eggs with Bacon and Spinach. Do y'all remember the scene in Runaway Bride (that's an Oscar contender if I've ever seen one…) where Julia Roberts realizes that she doesn't know how she likes her eggs? You know, because she's always turning herself into the girl that the guy she's marrying wants to be with? Yeah. That's not me. I know how I like my eggs, although I will say that it depends on the day. Homemade Snickers Bars | How Sweet It Is - StumbleUpon. Insanity.
That's what this is. Pure In.San.It.TEEEEE. You know those days when you're in desperate need of sugar and you've already downed more gummy vitamins than recommended while seriously considering how many more you can ingest without causing severe harm to your internal organs? They're just so gooooood. Well… in that case you should make some homemade snickers bars. Death By Oreo Cupcakes - StumbleUpon. They are probably the best Oreo cakes I have ever tried. A lot of cake's that I have experimented with before are like a vanilla cake with bits of Oreo in them, which didn't really give them enough Oreo flavor. But these were a lot better. 2 AM Chili | Comics | Nert.Me - StumbleUpon. Better-Than-Crack-Brownies | How Sweet It Is - StumbleUpon. I'm sorry for doing this to you. I really am. But see, last Friday while I was on a 10-hour road trip heading for vacation, I received this recipe from a reader named Liz. Valentine Cookies + PrintableThirty Handmade Days - StumbleUpon.
Easy Light Broccoli Cheese Stuffed Chicken Recipe - StumbleUpon. Baked Tomato, Garlic, and Basil Bruschetta Bites | PETA.org - StumbleUpon. Brownie Cookies. Bacon Wrapped Jalapenos Recipe | Free Online Recipes | Free Recipes - StumbleUpon. Chocolate Cheesecake Cake | RecipeGirl.com - StumbleUpon. Baked Egg Boat recipe - StumbleUpon. Top 10 Things Every Budding Foodie Should Know - StumbleUpon. Caramelized Chicken with Jalapeno Cream | How Sweet It Is - StumbleUpon. Man-approved spicy oven fries | MNN - Mother Nature Network - StumbleUpon. Now youre cooking with comics. - StumbleUpon. How to Pair Mixers with Alcohol : Recipes and Cooking : Food Network - StumbleUpon.
---