Poetry
New Apps for Help Reading Shakespeare
Still, pure text from more than 400 years ago can be a bit bewildering to a modern audience looking to explain lines like "Prithee, keep up thy quillets." But good cheer! It's the 21st century, and modern technology has made wonderful advances in making Shakespeare's plays and poems more accessible — even enticing — for an audience equipped with iPads and smartphones.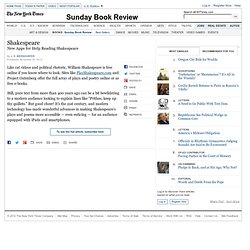 William Blake: Auguries of Innocence – An Analysis (Part I) « Johanistan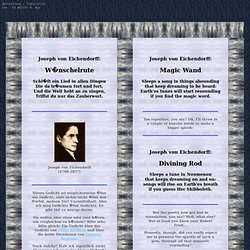 Joseph von Eichendorff:   Wünschelrute > Magic Wand   (Translation / Uebersetzung)
But the poetry now got lost in translation, you say?
Was Busch describing a famous painting by Carl Spitzweg (1808-1885)? Der Arme Poet dates from 1835 and exists in more than one version/museum.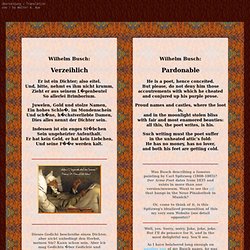 Wilhelm Busch:   Verzeihlich > Pardonable   (Translation / Uebersetzung)
Love is all... Poems straight from the heart by Wendy Cope
Valentine My heart has made its mind up And I'm afraid it's you. Whatever you've got lined up, My heart has made its mind up And if you can't be signed up This year, next year will do.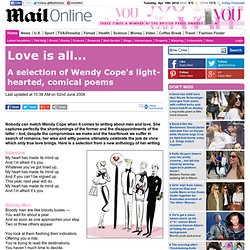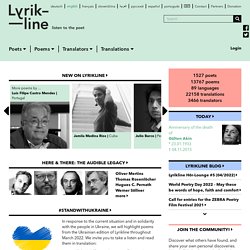 Homepage]
Gedichte sollte man laut sprechen, und Gedichte wollen gehört werden. Laut vorgetragen offenbaren sie ihre Musikalität. Wo auch immer auf der Welt und in welcher Sprache auch immer gesprochen, ist das Gedicht als Gedicht erkennbar, als geformte Sprache, als Wortkonzert.
What is poetry? - What is poetry?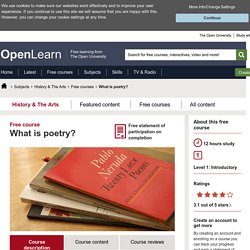 This unit introduces common techniques underlying free verse and traditional forms of poetry, and how it is necessary to use these techniques in order to harness what T.S. Eliot called the 'logic of the imagination' (Eliot, 1975, p. 77). We discuss the possibility of using your own experience, but also the power of imagination, and of utilising different personae in your poems.
Poetry Bombing bei Glaserei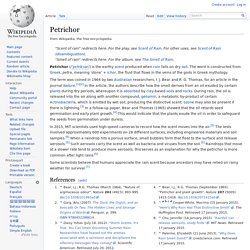 "Scent of rain" redirects here.
Heinrich Heine - Mein Herz, mein Herz ist traurig (Interpretation #41)
Das vorliegende Gedicht von Heinrich Heine wurde 1827 im "Buch der Lieder" veröffentlicht.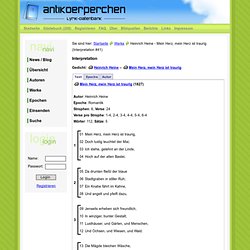 Homepage]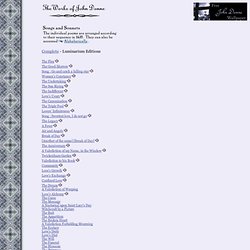 Complete - Luminarium Editions The Flea
The Works of John Donne
WENDY COPE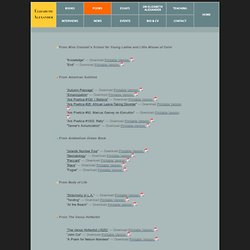 Neonatology Is funky, is leaky, is a soggy, bloody crotch, is sharp jets of breast milk shot straight across the room, is gaudy, mustard-colored poop, is postpartum tears that soak the baby's lovely head.
Elizabeth Alexander | Poems
Walt Whitman's Watering Hole: Pfaff's Cellar, NYC - The Rumpus.n
Whitman became a regular at Pfaff's after getting fired from the Brooklyn Daily Times in 1859. The years before the Civil War were a decadent period where Whitman played the bon vivant, finding friends and lovers among the New York counterculture. "The Two Vaults" an unfinished poem c. 1861