Cuisine
On hearing the word "henna", most people think about body art. However, henna is also commonly used as natural alternative to chemical hair dyes. Henna hair dye is worlds apart from the chemical hair dye that you would find on the supermarket shelves. Henna is completely free of chemicals and rather than simply dying the surface of the hair, it completely penetrates the hair, changing the colour on the inside as well as the outside. When dying your hair with henna, the process initially takes longer, however, it also lasts longer.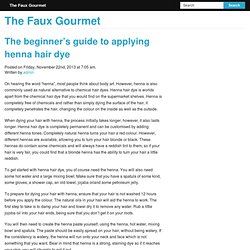 The Faux Gourmet
Bagelmonster's Blog
Best Smoothie Ever! 23 Oct It's a hot day in Oakland, California and what's better than a smoothie to cool you off? NOTHING!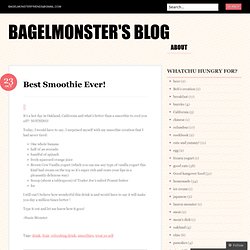 Peel and cut the onions into thin wedges. Create little mounds of onions. In a mixing bowl, stir together the chickpea flour, baking powder, chili, turmeric powder, cumin seeds, curry leaf (if used) and salt. Add a little cold water to the dry ingredients and whisk until incorporated.
Onion Bhajis (Indian Pakora Recipe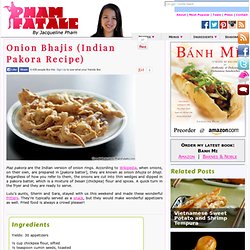 Indian food Recipes Indian curry recipes INDIAN RECIPE COLLECTION - Easy to cook Indian dishes, Indian food recipes, fat free Indian recipes, Indian snacks, vegetarian recipes, meaning of Indian spices.... Indian Vegetarian food recipes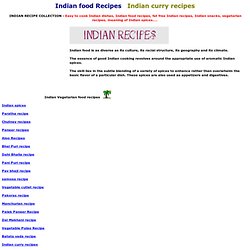 Indian food recipes, indian currey recipes
Ethnic Indian Cuisine - A Complete Guide To Cooking Delicious Indian Food - FREE Recipes
This past weekend I saw coastal wildflowers blooming purple and yellow, misty morning vistas, colorful buoys and wave-whipped fishing boats. I saw a friendly covey of quail, flashy red-winged blackbirds, sleek, needle-nosed blue herons, and a single jack rabbit with ears tall and straight. There was crystallized honey the color of creamy butterscotch, and seals bobbing amidst the rocks at the surf line. I was visiting friends in Bolinas - the perfect overnight.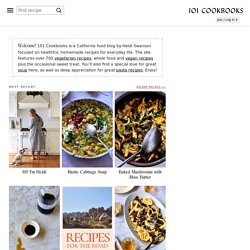 Wednesday, April 16, 2014 baked eggs with spinach and mushrooms My brunch arsenal, the dishes I've made enough times that they no longer cause any furrowed brows — a core entertaining principle here at House Smitten Kitchen (sigil: cast-iron skillet) — is as follows: bacon (always roasted in the oven, I mean, unless you were hoping to mist yourself with eau de pork belly*); some sort of fruit salad (either mixed berries and vanilla bean-scented yogurt or mixed citrus segments, sometimes with mint and feta); buttermilk biscuits; a pitcher of Bloody Marys, a bottle of champagne and a couple carafes of freshly-squeezed grapefruit or orange juice, blood orange whenever available; something sweet (our current favorite) and eggs. As I dictated years ago, everything that can be made in advance should be, thus pancakes, individually fried slices of French toast, omelets and even eggs baked in ramekins, adorable as they may be, are verboten.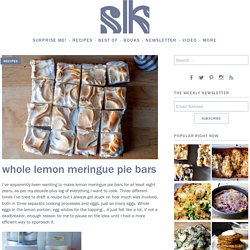 Recently there has been some discussion about pastry chefs and their importance in restaurant kitchens. You know by now that I consider dessert to be the most important part of any meal, and I stand in solidarity with pastry chefs and their kin. I want to spend some time this year highlighting my favorite pastry makers and bakers in Chicago, because they are amazing and have a lot to teach home bakers. I'm always shocked when people don't order dessert—are they ill? is this a sign of mental illness? do they not understand what dessert is?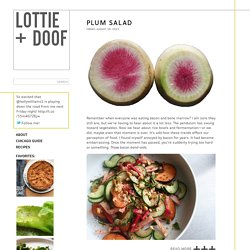 The Wednesday Chef
(Before the photo police come a-calling, let me just put a disclaimer right up here at the front: I took this photo with my phone on Sunday evening, just before dinner, and I know it's sort of hideous, but I had absolutely no intention of blogging about it and so didn't think to pull out my real camera and anyway, even if I had, it is a proven fact of life that shooting meat is, shall we say, challenging and leave it at that.) There! Now let's get down to brass tacks. THIS CHICKEN. It may have the worst name in recipe-naming history (I'm renaming it Slow-Roasted Chicken), but that doesn't even matter, not one little bit, because OMG THIS CHICKEN.
Conversion Tables @ Cook Advice
My Sister's Kitchen