Cuisine
The Faux Gourmet. Bagelmonster's Blog. Onion Bhajis (Indian Pakora Recipe. Peel and cut the onions into thin wedges.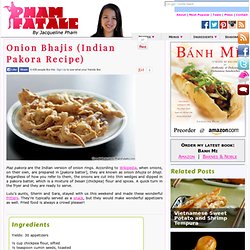 Create little mounds of onions. In a mixing bowl, stir together the chickpea flour, baking powder, chili, turmeric powder, cumin seeds, curry leaf (if used) and salt. Add a little cold water to the dry ingredients and whisk until incorporated. Indian food recipes, indian currey recipes. Indian food Recipes Indian curry recipes INDIAN RECIPE COLLECTION - Easy to cook Indian dishes, Indian food recipes, fat free Indian recipes, Indian snacks, vegetarian recipes, meaning of Indian spices....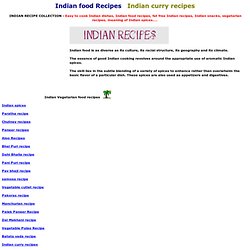 Indian Vegetarian food recipes. Ethnic Indian Cuisine - A Complete Guide To Cooking Delicious Indian Food - FREE Recipes. 101 Cookbooks - Healthy Recipe Journal. Smitten kitchen. Cuisine. Recipes, Menus, Cooking Articles & Food Guides. Lottie + Doof. The Wednesday Chef. Conversion Tables @ Cook Advice. Food. My Sister's Kitchen. Marmiton : 50000 recettes de cuisine ! Recettes commentées et notées pour toutes les cuisines. Recette de cuisine. - Accueil - Marmiton.org.
---