Cuisine
On hearing the word "henna", most people think about body art. However, henna is also commonly used as natural alternative to chemical hair dyes. Henna hair dye is worlds apart from the chemical hair dye that you would find on the supermarket shelves. Henna is completely free of chemicals and rather than simply dying the surface of the hair, it completely penetrates the hair, changing the colour on the inside as well as the outside. When dying your hair with henna, the process initially takes longer, however, it also lasts longer.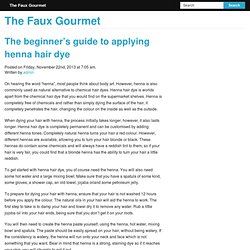 The Faux Gourmet
Bagelmonster's Blog
Best Smoothie Ever! 23 Oct It's a hot day in Oakland, California and what's better than a smoothie to cool you off? NOTHING!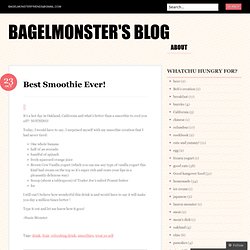 Peel and cut the onions into thin wedges. Create little mounds of onions. In a mixing bowl, stir together the chickpea flour, baking powder, chili, turmeric powder, cumin seeds, curry leaf (if used) and salt. Add a little cold water to the dry ingredients and whisk until incorporated.
Onion Bhajis (Indian Pakora Recipe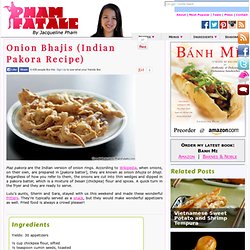 Indian food Recipes Indian curry recipes INDIAN RECIPE COLLECTION - Easy to cook Indian dishes, Indian food recipes, fat free Indian recipes, Indian snacks, vegetarian recipes, meaning of Indian spices.... Indian Vegetarian food recipes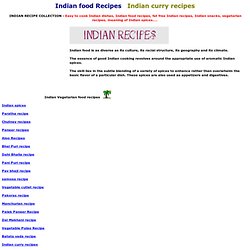 Indian food recipes, indian currey recipes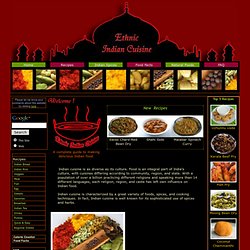 Please let me know your comments about this website by clicking here ... Indian cuisine is as diverse as its culture. Food is an integral part of India's culture, with cuisines differing according to community, region, and state.
Ethnic Indian Cuisine - A Complete Guide To Cooking Delicious Indian Food - FREE Recipes
This soup is built on a monster white pepper broth. White pepper with jolts of ginger, and stabs of garlic. I like it just shy of scalding, racing down my throat, sweeping through my sinuses in one boisterous, fragrant swoop. This is a soup I make often, particularly when I need a boost.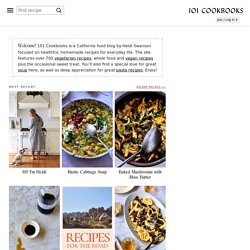 Thursday, January 16, 2014 pear and hazelnut muffins We all know that muffins teeter precariously on a razor-thin line that divides the food categories of "Acceptable for Breakfast" and "Nope, This Is Dessert" and one must maintain firm boundaries during the breakfast hours lest the day that follows devolve into a full-on bacchanal of Resolution decompensation that ends with one passed out amid scatters of Cheetos, ketchup packets and French fry grease with a side of cronut. Thus, when I come upon a new muffin recipe — or in this case, when my son is told to pick a recipe for us to make from a new book, and he predictably chooses the thing that most resembles cake — I immediately assess the list of ingredients and label them accordingly: Continued after the jump » Monday, January 13, 2014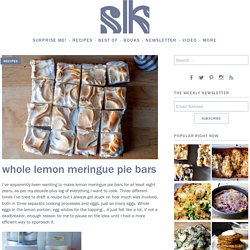 One thing you probably don't know about me is that I am very interested in the occult. I've been this way since I was a kid. I would have been Goth, if I was capable of taking myself more seriously (and was willing to give up wearing navy). Instead, I was a preppy and fairly cheerful kid, drawn to the dark, supernatural, and mysterious. I would read books on vampires, freemasons, and the history of witchcraft. I liked the idea of secret rituals and magical powers.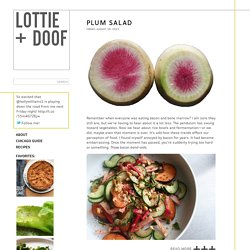 The Wednesday Chef
(Before the photo police come a-calling, let me just put a disclaimer right up here at the front: I took this photo with my phone on Sunday evening, just before dinner, and I know it's sort of hideous, but I had absolutely no intention of blogging about it and so didn't think to pull out my real camera and anyway, even if I had, it is a proven fact of life that shooting meat is, shall we say, challenging and leave it at that.) There! Now let's get down to brass tacks. THIS CHICKEN. It may have the worst name in recipe-naming history (I'm renaming it Slow-Roasted Chicken), but that doesn't even matter, not one little bit, because OMG THIS CHICKEN.
Conversion Tables @ Cook Advice
My Sister's Kitchen