Cuisine recette
Le Salé.
VEGGIE
Les "Empadas de Frango com Catupiry" Première recette de ces empadas brésiliennes !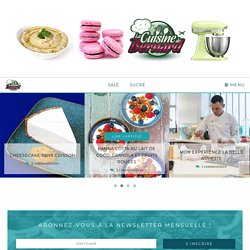 Mais qu'est-ce donc?? Ce sont des petites tourtes salées, généralement farcies de crevettes, de cœurs de palmiers ou encore de poulet. J'ai choisi, pour cette première version sur mon blog, celles au poulet crémeux, mes préférées ! "Empadas de frango com catupiry" veut dire: empadas au poulet et catupiry, le catupiry étant un fromage industriel très connu au Brésil. Pumpkin Cream Cheese Muffins.
We were at soccer practice when a storm rolled in.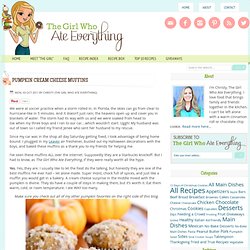 In Florida, the skies can go from clear to hurricane-like in 5 minutes. And it doesn't just rain; the heavens open up and cover you in blankets of water. The storm had its way with us and we were soaked from head to toe when my three boys and I ran to our car…which wouldn't start. Uggh!
Roost - Roost: A Simple Life. Velouté de fèves & chèvre frais. L'été dernier je me suis dis que manger des aliments verts -oui vous savez, les trucs qu'on appelle « légumes » – ça ne nous ferait pas de mal…enfin je crois… bon ok je triche c'est un féculent :P Alors j'ai fait ce petit velouté (oui chez moi les « légumes », ça passe toujours mieux mixé, allez savoir pourquoi…) Du coup, je me suis dis que par ces journées froides et pluvieuses d'hiver, il serait idéal pour vous réchauffer.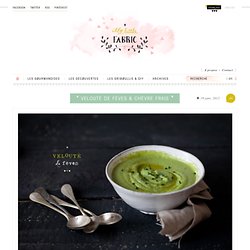 Et puis l'alliance fève et chèvre frais est délicieuse ! N'hésitez pas à utiliser des fèves surgelées, c'est (presque) aussi bon et les nutriments sont conservés ! C'est l'occasion aussi de vous montrer les photos que j'ai faites cet été (pendant un shooting). Styled Eats: Mini Grilled Cheese + Tomato Soup. Apr 2 I'm so happy to introduce a new column today I've wanted to do for a long time, called Styled Eats.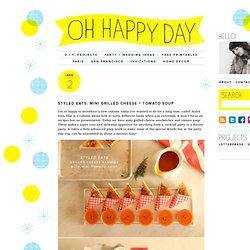 This is a column about how to serve different foods when you entertain. It won't focus on recipes but on presentation.
Cannelle et vanilles
Make Your Own Salad Dressing. Making your own salad dressings at home is one of those skills that's super easy and delicious.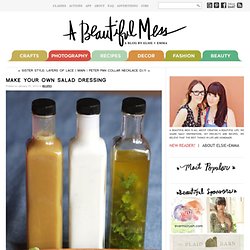 This time of year is an excellent time to start eating more greens in your diet, so here's three easy salad dressing recipes to help spruce up your veggies. We're going to make: homemade ranch dressing, cilantro lime vinaigrette, and our own homemade honey mustard dressing. Keep in mind that you can add any herbs or spices you prefer. Ranch Dressing makes around 4 cups (twice as much as pictured) Needed: 3/4 cup mayo, 3/4 cup greek yogurt, 1 tablespoon olive oil, 1-2 tablespoons lemon juice, 1 cup buttermilk, a handful of chopped green onions or chives, 1 tablespoon minced garlic, salt and pepper to taste. A Beautiful Mess. Hi!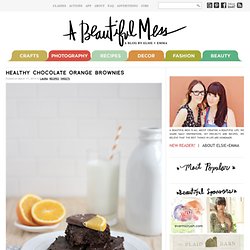 It's Mandi from Making Nice in the Midwest. As I've learned more about not killing my houseplants, I've gained the courage to fill my home with more and more of them (so much so that I'm running out of room!). My one-and-a-half-year-old kiddo has finally learned how to "no touch" the houseplants, which has given me the guts to employ the use of a plant stand, with minimal fear of potentially having to clean up dirt from the floor. (I'm hoping we're completely past that stage! Please don't burst my bubble!) Pumpkin Pie Milkshake Recipe. This milkshake brings all the boys to the yard.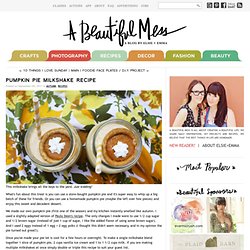 Just kidding! What's fun about this treat is you can use a store-bought pumpkin pie and it's super easy to whip up a big batch of these for friends. Or you can use a homemade pumpkin pie (maybe the left over few pieces) and enjoy this sweet and decadent dessert. A Beautiful Mess. 3 Pie Inspired Pop-Tart Recipes. One morning I woke up with a real hankering (yes, hankering) for a slice of pie.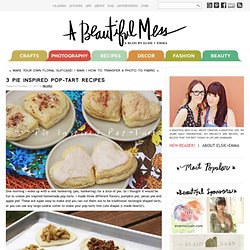 So I thought it would be fun to create pie inspired homemade pop-tarts. I made three different flavors; pumpkin pie, pecan pie and apple pie! Homemade peanut butter cups. Everybody likes getting candy, even if they are (ahem) maybe a bit too old to be Trick or Treating.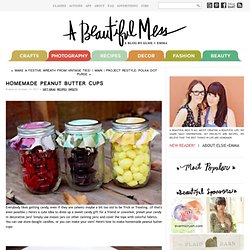 (If that's even possible.) Here's a cute idea to dress up a sweet candy gift for a friend or coworker, preset your candy in decorative jars! Simply use mason jars (or other canning jars) and cover the tops with colorful fabrics. You can use store-bought candies, or you can make your own! Here's how to make homemade peanut butter cups: We love soft pretzels! Elsie and I always loved going to the mall with our mom growing up, even before we loved fashion.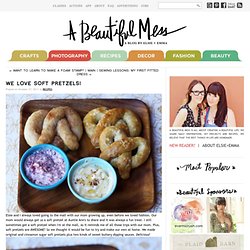 Our mom would always get us a soft pretzel at Auntie Ann's to share and it was always a fun treat. I still sometimes get a soft pretzel when I'm at the mall, as it reminds me of all those trips with our mom. Plus, soft pretzels are AWESOME! So we thought it would be fun to try and make our own at home. We made original and cinnamon sugar soft pretzels plus two kinds of sweet buttery dipping sauces.
Pumpkin Pie Recipe : Paula Deen. Directions Preheat the oven to 350 degrees F. Place 1 piece of pre-made pie dough down into a (9-inch) pie pan and press down along the bottom and all sides. Pinch and crimp the edges together to make a pretty pattern. Put the pie shell back into the freezer for 1 hour to firm up. Fit a piece of aluminum foil to cover the inside of the shell completely. Pumpkin Pie Cupcakes. I think about food a lot. Maybe too much?
Is that possible? I cook food, I eat food, I read about food, I take pictures of food - I think it really consumes my life. Sometimes I come across people who think of food as sustenance only and I get so confused.
---