Youtube
It all begins at the Zoo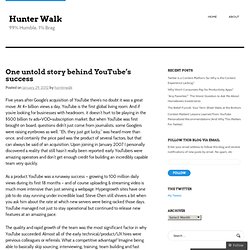 One untold story behind YouTube's success
Five years after Google's acquisition of YouTube there's no doubt it was a great move. At 4+ billion views a day, YouTube is the first global living room. And if you're looking for businesses with headroom, it doesn't hurt to be playing in the $500 billion tv ads+VOD+subscription market.
Are teens in the South watching the same videos as middle-aged folks in New England?
Introducing the YouTube Trends Map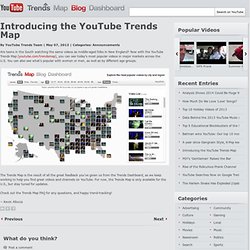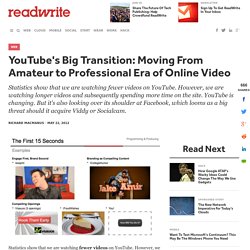 Statistics show that we are watching fewer videos on YouTube.
YouTube's Big Transition: Moving From The Amateur to Professional Era of Online Video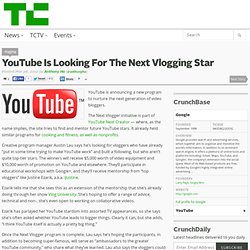 YouTube Is Looking For The Next Vlogging Star
YouTube is announcing a new program to nurture the next generation of video bloggers. The Next Vlogger initiative is part of YouTube Next Creator — where, as the name implies, the site tries to find and mentor future YouTube stars. It already held similar programs for cooking and fitness, as well as nonprofits. Creative program manager Austin Lau says he's looking for vloggers who have already "put in some time trying to make YouTube work" and built a following, but who aren't quite top-tier stars.
YouTube Finds a Way Off Schools' Banned List
Science and Technology News and Commentary: Aardvark Daily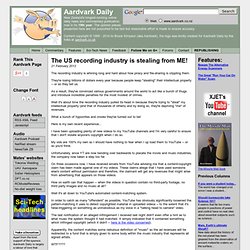 21 February 2012 The recording industry is whining long and hard about how piracy and file-sharing is crippling them. They're losing billions of dollars every year because people keep "stealing" their intellectual property -- or so they tell us. As a result, they've convinced various governments around the world to act like a bunch of thugs and introduce incredible penalties for the most modest of crimes. Well it's about time the recording industry pulled its head in because they're trying to "steal" my intellectual property (and that of thousands of others) and by doing so, they're depriving *me* of revenues.
YouTube could introduce a subscription service of its own — Online Video News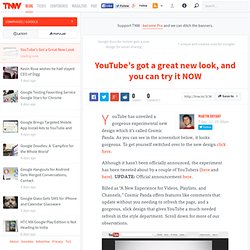 YouTube has unveiled a gorgeous experimental new design which it's called Cosmic Panda. As you can see in the screenshot below, it looks gorgeous. To get yourself switched over to the new design click here. Although it hasn't been officially announced, the experiment has been tweeted about by a couple of YouTubers (here and here). UPDATE: Official announcement here. Billed as "A New Experience for Videos, Playlists, and Channels," Cosmic Panda offers features like comments that update without you needing to refresh the page, and a gorgeous, slick design that gives YouTube a much-needed refresh in the style department.
YouTube's got a great new look, and you can try it NOW
Yup, YouTube Counts Video Ads As Regular Views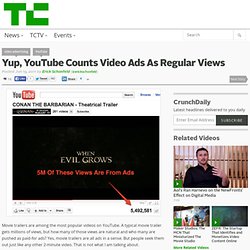 Movie trailers are among the most popular videos on YouTube. A typical movie trailer gets millions of views, but how many of those views are natural and who many are pushed as paid-for ads? Yes, movie trailers are all ads in a sense. But people seek them out just like any other 2-minute video. That is not what I am talking about.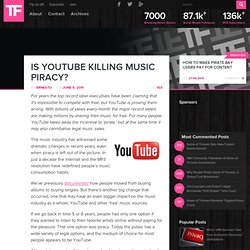 For years the top record label executives have been claiming that it's impossible to compete with free, but YouTube is proving them wrong. With billions of views every month the major record labels are making millions by sharing their music for free. For many people YouTube takes away the incentive to 'pirate,' but at the same time it may also cannibalise legal music sales. The music industry has witnessed some dramatic changes in recent years, even when piracy is left out of the picture.
Why YouTube Adopting Creative Commons Is a Big Deal Online Video News