Super Angel collusion
The secret hell of tech industry angel investors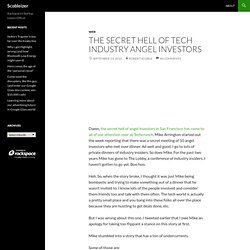 Damn, the secret hell of angel investors in San Francisco has come to all of our attention over at Techcrunch. Mike Arrington started out the week reporting that there was a secret meeting of 10 angel investors who met over dinner. All well and good.
So A Blogger Walks Into A Bar…
Yesterday I was tipped off about a "secret meeting" between a group of "Super Angels" being held at Bin 38, a restaurant and bar in San Francisco. "Do not come, you will not be welcome," I was told. So I did what any self respecting blogger would do – I drove over to Bin 38, parked my car and walked in. in the back of the restaurant in a private room was a long oval table.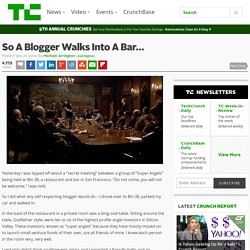 I was there. But, apparently, I was at a very different investor dinner than the one Mike wrote about. The dinner I was at didn't have agreement on anything, let alone agreements and pacts as outlined in his article.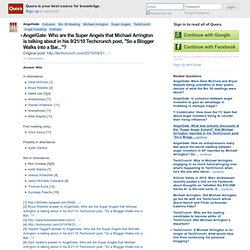 Who are the Super Angels that Michael Arrington is talking about in his 9/21/10 Techcrunch post, "So a Blogger Walks into a Bar..."
Mike Arrington threw a grenade into the center of the Valley brain-trust last night, when he accused a group of high-profile angel investors of holding a secret meeting at Bin 38 to screw entrepreneurs on deal-pricing (and other unpleasant topics). Mike didn't name names, but immediately the Valley became consumed with figuring out who was there. One attendee, Dave McClure, has come clean in an awesome blog post of his own, defending the event, and blasting Arrington for sexing it up as retaliation for not having been invited. Another attendee, Sundeep Peechu, has been outed after erasing a Tweet to try to cover his tracks (the hazards of 24-hour monologuing on Twitter). (UPDATE: Sundeep has now denied attending the dinner and says he erased the Tweet because so many people were jumping to the wrong conclusion).
Here's Who Was At That Secret Valley Super-Angel Collusion Meeting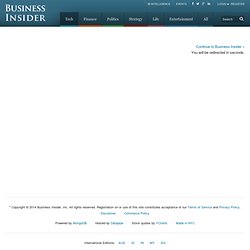 If you haven't already, go read Mike Arrington's story about how he barged into a secret meeting of Silicon Valley's super-angels and discovered that the angels were discussing how to screw traditional venture capitalists and entrepreneurs, the latter by pushing down the prices of early-stage deals. As Mike rightly points out, in other industries, such behavior is known as "price fixing" and "collusion" -- and it's illegal. Mike does an excellent job body-slamming these folks on his own, however, so we won't steal his thunder.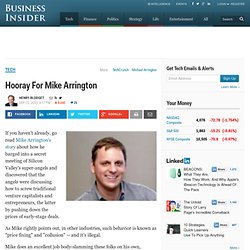 Hooray For Mike Arrington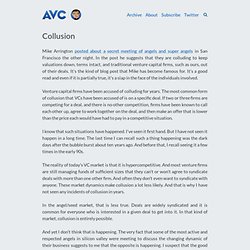 Collusion
Mike Arrington posted about a secret meeting of angels and super angels in San Francisco the other night. In the post he suggests that they are colluding to keep valuations down, terms intact, and traditional venture capital firms, such as ours, out of their deals. It's the kind of blog post that Mike has become famous for. It's a good read and even if it is partially true, it's a slap in the face of the individuals involved.
Fire in The Valley, Fire in My Belly... and Yes, Mike, I Have Stopped Beating My Wife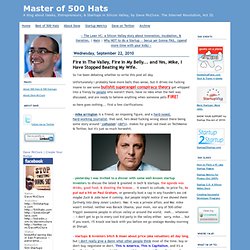 So i've been debating whether to write this post all day. Unfortunately i probably have more balls than sense, but it drives me fucking insane to see some bullshit superangel conspiracy theory get whipped into a frenzy by people who weren't there, have no idea what the hell was discussed, and are ready to believe anything when someone yells FIRE! so here goes nothing... first a few clarifications:
Last night, TechCrunch's Michael Arrington reported that on Monday night, a group of high-profile Silicon Valley angels met at a San Francisco restaurant, where, Arrington said he later learned, "collusion" and "price fixing" were on the menu. The story has been refuted by at least one angel who was at the dinner, but Arrington told me his blog post was "100 percent accurate." And the story is being taken seriously enough that, according to one source, law firm Wilson Sonsini sent out a note this morning, advising recipients that if they had clients who were in attendance at Monday night's dinner, they'd be hearing from the FBI this morning.
AngelGate Is "100 Percent Accurate," Says Michael Arrington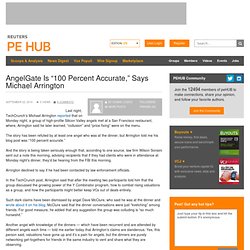 Can we trust Michael Arrington? (AngelGate) « Derek Andersen
Like everyone else I've been reading and watching Mike's latest 'AngelGate' story unfold for the last few days. It's interesting to see lines so clearly and predictably divided on who is to be believed. If you're an entrepeneur you believe Arrington. If you're an Angel/VC you believe the attendees responses like that of Dave McClure and Chris Yeh and laugh the whole thing off.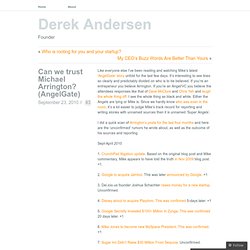 Michael Arrington, the TechCrunch founder and blogger, threw a bombshell into Silicon Valley with a blog post on Tuesday night, accusing the Valley's top angel investors of colluding to reduce the price of investing in tech start-ups and keep competitors from investing. Now, a few of the angel investors are firing back. In his post, Mr. Arrington said he was tipped off about a secret meeting of the Valley's most prominent angel investors at a San Francisco restaurant.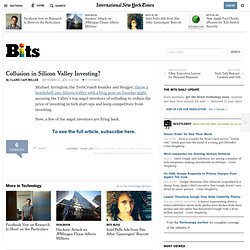 Collusion in Silicon Valley Investing?
Angelgate is overblown!
I like a good conspiracy theory as much as the next guy and some of the Hitler Angelgate parodies are really funny, but the alleged attempted collusion is a nonissue if only because even if the super angels tried to collude they would be bound to fail. One of the main allegations is that the colluders would agree to keep valuations low on deals they want to invest in in order to maximize returns. Collusion can work in a number of circumstances. The biggest incentive to collude is in oligopolistic markets with high barriers to entry where few players control the market.
chris dixon: where's my invite! :) RT @
Here in Europe we've been fascinated by what has become known as AngelGate. But after talking all day to many contacts today across the tech scene in Europe, I've reluctantly come to the conclusion that I'm not about to blow the lid on anything similar in Europe. Leave aside the arguments about what happened at Bin 38, and taking on the hypothetical situation that "Super Angels" (and there are handful) might be colluding in Europe, I'm afraid there is no evidence for this (at least that I can find). Here's why. There is clearly enough competition over deals in the US to lead some people to feel the need to organise a dinner to work all this out (as I say, leaving aside all the accusations about why and for what purpose).
#AngelGate in Europe? We should be so lucky
Finger-Pointing, Emails, Deleted Tweets, Rage. AngelGate Is Far From Over
On the surface, it seemed like the situation that has come to be known as AngelGate was dying down. Since we broke the news about the secret meetings between angel investors where they supposedly agree to agree on things, a lot has been said on both sides. Mike said what he knew, and one of the angel investors present at the meeting he crashed, Dave McClure, came out in opposition to the allegations. But things have gotten more interesting this evening.
It's a bombshell. No, it's a nuclear bomb. It speaks for itself.
Ron Conway Drops A Nuclear Bomb On The Super Angels [Email]
If angel investor Ron Conway wants us to post something here on TechCrunch, we're going to post it. This morning he asked us to do just that. This is a clarification, he says, to the private email slamming investors over "AngelGate." That private email became significantly less private last week when we posted it here on TechCrunch.
Ron Conway Would Like To Clarify His Nuclear Attack On Fellow Angels
AngelGate: Chris Sacca Responds To Ron Conway
How AngelGate Affects You...Yes, You
Adolf Hitler Finds Out Bin 38 AngelGate