Social Network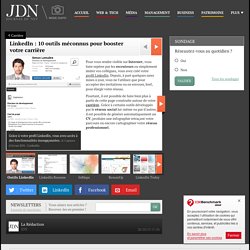 Pour vous rendre visible sur Internet, vous faire repérer par les recruteurs ou simplement imiter vos collègues, vous avez créé votre profil LinkedIn. Depuis, à part quelques rares mises à jour, vous ne l'utilisez que pour accepter des invitations ou en envoyer, bref, pour élargir votre réseau. Pourtant, il est possible de faire bien plus à partir de cette page construite autour de votre carrière. Grâce à certains outils développés par le réseau social lui-même ou par d'autres, il est possible de générer automatiquement un CV, produire une infographie retraçant votre parcours ou encore cartographier votre réseau professionnel.
LinkedIn : 10 outils méconnus pour booster votre carrière : LinkedIn : 10 outils méconnus pour booster votre carrière - JDN Management
Non, le célèbre réseau social professionnel LinkedIn n'est pas qu'une vaste galerie de CV de salariés attendant le coup de fil d'un chasseur de têtes. A côté des millions de profils de pros, des pages spéciales permettent aux entreprises, qui sont aussi les employeurs des membres de LinkedIn, de gérer leur image sur Internet.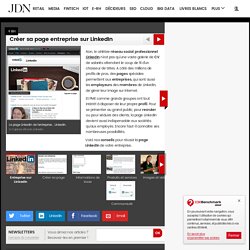 Créer sa page entreprise sur LinkedIn - Journal du Net Management
Le Top des réseaux sociaux pour débuter et augmenter votre visibilité sur le web... | Création Site Internet | Blog Wordpress
Buffer et ifttt automatisent vos publications sur Twitter et Facebook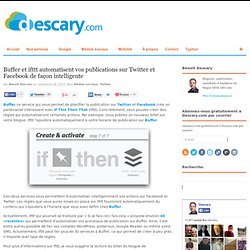 Buffer ce service qui vous permet de planifier la publication sur Twitter et Facebook crée un partenariat intéressant avec If This Then That (ifttt). Concrètement, vous pouvez créer des règles qui automatiseront certaines actions. Par exemple, vous publiez un nouveau billet sur votre blogue, ifttt l'ajoutera automatiquement à votre horaire de publication sur Buffer .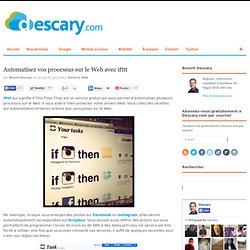 ifttt qui signifie If This Than That, est un service gratuit qui vous permet d'automatiser plusieurs processus sur le Web.
Automatisez vos processus sur le Web avec ifttt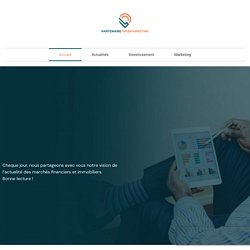 Outils référencement social / Veille
La page que vous cherchez ne semble pas présente dans nos menus.
Pour juger du succès d'une stratégie marketing des médias sociaux, il est nécessaire de bâtir un processus d'évaluation à suivre de manière constante et rigoureuse.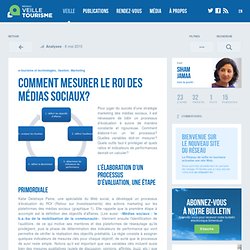 Do you read every single "Terms of Service" you come across before clicking "I Agree" to? If you're anything like me, the answer is no. In fact, I've agreed to hundreds since I first started using AOL 14 years ago, but I haven't read one.
10 risky default settings in social media that you need to check - TNW Social Media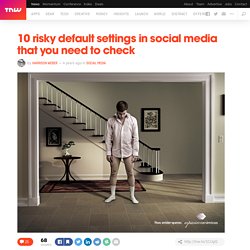 Update: 'No third party' in Berezovsky death probe David Churchill Police have found no evidence of third party involvement in the death of troubled oligarch Boris...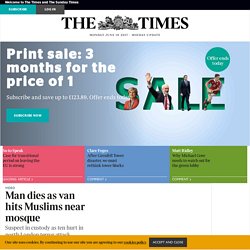 Everything you need to know about creating a foursquare page
Foursquare today launched their new automated brand tool. It replaces the old manual process for creating a brand page with a sleek new process that allows brands to sign up within a matter of minutes and offers a number of other new features for brands, including Facebook page integration and new ways to check in to locations. Brand pages — which currently number around 2,500 — are expected to skyrocket now that the process is simpler and doesn't require foursquare approval.