Rpg podcasts
Machines of Loving Grace is a new campaign using the Fate Accelerated system. Set in the near future, it follows a group called FIREWALL, a special team brought together by the International Center for Infectious diseases to combat unique or especially virulent biothreats. In this episiode, FIREWALL attempts to determine the spread of a unique, wholly artificial pathogen, and are shocked by what their search uncovers. FIREWALL is: Dr. Corrie Buskirk, played by Bambi.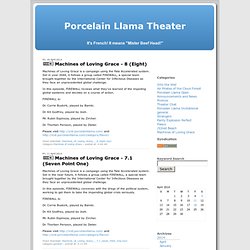 Porcelain Llama Theater
Role Playing Public Radio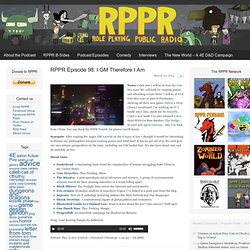 RPPR Episode 96: Conversion Conversation News: RPPR is now on Tumblr! Follow us for random stuff! Ross works for Pixelscopic on their new video game, Delver's Drop. It is also quite awesome.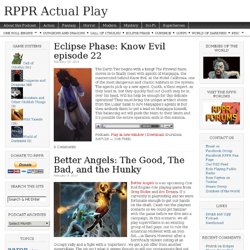 RPPR Actual Play | Role Playing Public Radio's recorded RPG sessions
: Don't forget to support RPPR by backing our Kickstarter, Base Raiders! If you like this scenario, please support Pagan Publishing by buying their excellent books! : At Gencon 2012, we were fortunate enough to play and record the playtest of a World War 1 scenario written by Mr. Glancy and Frank Frey. In the Blegian city of Leuven, a man is murdered in an impossible manner – taken out of a locked room and thrown from a great height, his body dashed across the street a great distance away.
RPPR Community AP Podcast | Actual play recordings from the expanded RPPR community | Page 8
A small group of six had been hired by the government of Truane's Star to carry out a preliminary exploration of a newly discovered planet. The group included two Dralasites: short, rubbery aliens that had no bones nor hard body parts. The one who called himself William the Dralasite was an environmentalist while the other, named Autobot, was a psycho-social specialist. The lone Yazirian in the group, Cornelius, was a tall, thin biped with a simian face and two large flaps of skin growing on either side of his body. He was the computer specialist.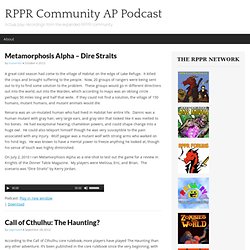 Home - The Alexis Dragon Tavern Webcasts
RPGMP3 - Dungeon ON!
The Gutter Skypes ! -
Session 128 Released Christmas Day 2013Game Mastered by the Whimsy of Fate! THE GUTTER SKYPES ! " 2013 Christmas Spesh!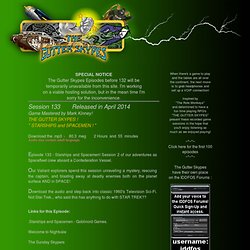 Hi, everyone. This is just a quick announcement post to let you all know what's happening around here in MTMJ-land. First off, I know some of you have sent in comments and are probably wondering why the hell they aren't posted to the blog yet. Well, as it happens, Word Press is being wonky, and I can't log in. Therefore, I can't approve your posts.
Monkeys Took My Jetpack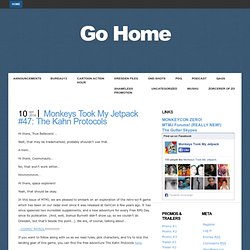 Hi, gang. Here we are again, with another fun-filled issue! This time, we resume right where we left off at the end of ISsue #10, with Princess Zephyr, Thomas Quinn, Hickory and Jarrod Stanwick trying to determine the fate of Dickory. To say more would be to spoil things, so I shan't.
Monkeys Took My Jetpack » Blog Archive » Monkeys Took My Jetpack #11: Shattered