Rpg podcasts
Machines of Loving Grace is a new campaign using the Fate Accelerated system. Set in the near future, it follows a group called FIREWALL, a special team brought together by the International Center for Infectious diseases to combat unique or especially virulent biothreats. In this episiode, FIREWALL attempts to determine the spread of a unique, wholly artificial pathogen, and are shocked by what their search uncovers. FIREWALL is: Dr. Corrie Buskirk, played by Bambi.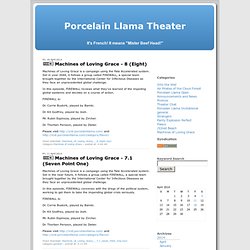 Porcelain Llama Theater
Role Playing Public Radio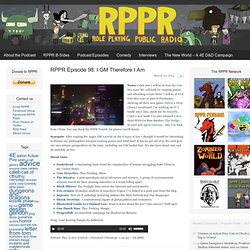 RPPR Episode 98: I GM Therefore I Am News: Caleb and I will be at Fear the Con this year! We will both be running games and attending events there. I will be at PAX East this year, as part of Pixelscopic, showing off their new game, Delver's Drop. (Have I mentioned I'm working on it?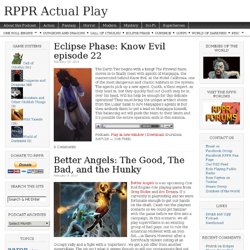 RPPR Actual Play | Role Playing Public Radio's recorded RPG sessions
: Don't forget to support RPPR by backing our Kickstarter, Base Raiders! If you like this scenario, please support Pagan Publishing by buying their excellent books! : At Gencon 2012, we were fortunate enough to play and record the playtest of a World War 1 scenario written by Mr. Glancy and Frank Frey. In the Blegian city of Leuven, a man is murdered in an impossible manner – taken out of a locked room and thrown from a great height, his body dashed across the street a great distance away.
RPPR Community AP Podcast | Actual play recordings from the expanded RPPR community | Page 8
A great cold season had come to the village of Habitat on the edge of Lake Refuge. It killed the crops and brought suffering to the people. Now, 20 groups of rangers were being sent out to try to find some solution to the problem. These groups would go in different directions out into the world, out into the Warden, which according to maps was an oblong circle perhaps 50 miles long and half that wide. If they could not find a solution, the village of 150 humans, mutant humans, and mutant animals would die.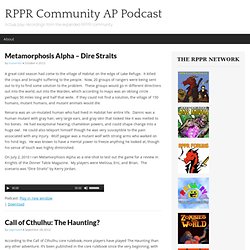 Home - The Alexis Dragon Tavern Webcasts
RPGMP3 - Dungeon ON!
The Gutter Skypes ! -
SPECIAL NOTICEThe Gutter Skypes Episodes before 132 will betemporarily unavailable from this site. I'm workingon a viable hosting solution, but in the mean time I'msorry for the inconvenience. Session 133 Released in April 2014Game Mastered by Mark Kinney!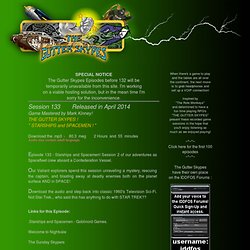 Hi, everyone. This is just a quick announcement post to let you all know what's happening around here in MTMJ-land. First off, I know some of you have sent in comments and are probably wondering why the hell they aren't posted to the blog yet. Well, as it happens, Word Press is being wonky, and I can't log in. Therefore, I can't approve your posts.
Monkeys Took My Jetpack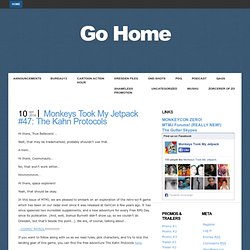 Hi, gang. Here we are again, with another fun-filled issue! This time, we resume right where we left off at the end of ISsue #10, with Princess Zephyr, Thomas Quinn, Hickory and Jarrod Stanwick trying to determine the fate of Dickory. To say more would be to spoil things, so I shan't.
Monkeys Took My Jetpack » Blog Archive » Monkeys Took My Jetpack #11: Shattered