Others
Local Milk | buttermilk beignets + chicory crème pâtissière. I remember New Orleans as if from a fever dream.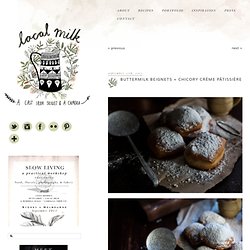 I ran away from home at seventeen, all the way to Bourbon Street. I blamed it on an existential crisis. I still do. Well that and an unholy fear of a preordained life. Buttermilk Beignets. Apparently one is not allowed to have a pity party upon returning from vacation.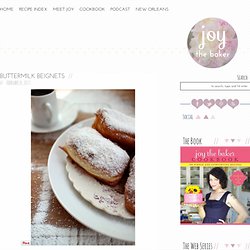 Such pathetic events are extravagant, really… and one should just buck up and answer her dang emails and do her dang laundry. Just because one is several hundred miles away from the sweet doughy pastries of Cafe du Monde does not a pity party justify. It turns out that vacation can feel closer to home when you decide to, you know… throw powdered sugar and fried dough around the house.
It's pretty much that easy. Honey Yogurt Berry Pops. Happy 4th of July folks!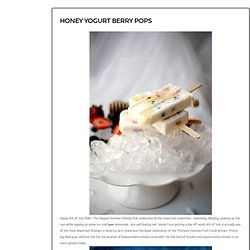 The biggest Summer holiday that celebrates all the important essentials-- swimming, BBQing, soaking up the rays while sipping on some ice cold beer lemonade. Are yall feeling me? Aside from getting a day off work, 4th of July is actually one of the most important holidays in America as it celebrates the legal celebration of the Thirteen Colonies from Great Britain. Pretty big deal guys, without the the Declaration of Independence America wouldn't be the land of dreams and opportunities known to so many people today. Sweet Corn & Cardamom Popsicles. I know what you must be thinking.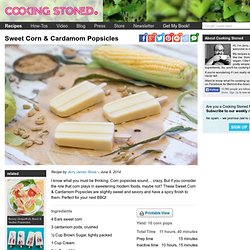 Corn popsicles sound… crazy. But if you consider the role that corn plays in sweetening modern foods, maybe not? These Sweet Corn & Cardamom Popsicles are slightly sweet and savory and have a spicy finish to them. 100% Homemade Mint Chocolate Chip Ice Cream. You may be wondering why I specified that this is 100% homemade ice cream.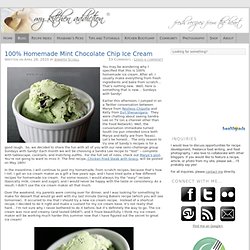 After all, I usually make everything from fresh ingredients and bake from scratch… That's nothing new. Well, here is something that is new… Sundays with Sandy! Earlier this afternoon, I jumped in on a Twitter conversation between Marye from Restless Chipotle and Kelly from Evil Shenanigans. They were chatting about seeing Sandra Lee on TV (on a channel other than the Food Network).
La receta de Dorayaki de Ochiai. El maestro Takashi Ochiai ofreció un curso de pastelería japonesa el pasado mes de octubre.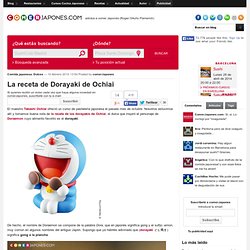 Nosotros estuvimos allí y tomamos buena nota de la receta de los dorayakis de Ochiai, el dulce que inspiró el personaje de Doraemon cuyo alimento favorito es el dorayaki. De hecho, el nombre de Doraemon se compone de la palabra Dora, que en japonés significa gong y el sufijo -emon, muy común en algunos nombres del antiguo Japón. Supongo que ya habréis adivinado que (dorayaki どら焼き) significa gong a la plancha. Con una textura similar a un fino bizcocho, lo cierto es que la elaboración del (dorayaki どら焼き) es muy similar a la de los clásicos "pancakes" anglosajones, una especie de tortas hechas a partir de una masa semi líquida, que se cocinan a la plancha. Dorayaki (Japanese Red Bean Pancake) Recipe Video by ochikeron.
Serving size Calories 361 Calories from Fat 91 % Daily Value* Total Fat 10 g15.5% Saturated Fat 3.3 g16.7% Trans Fat 0 g.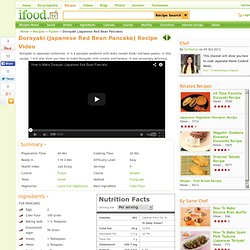 Cannoli Recipe. CANNOLI SHELLS:2 cups all-purpose flour1/2 teaspoon ground cinnamon2 teaspoons granulated white sugar pinch of salt2 Tablespoons shortening (or butter), melted3/4 cup sweet Marsala1 large egg white FILLING:3/4 cup whole milk ricotta cheese, drained overnight w/ cheesecloth & squeezed dry3/4 cup mascarpone cheese1/4 cup powdered sugar1/2 teaspoon Grand Marnier1/2 teaspoon ground cinnamon pinch of salt FOR FRYING: canola oil.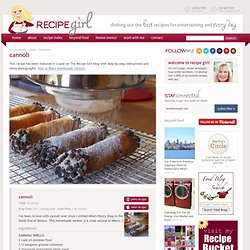 Holiday Bark Series: Mint Chocolate Chip Bark. Who wants more bark recipes?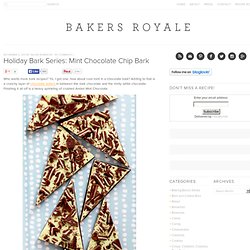 Yo, I got one, how about cool mint in a chocolate bark? Adding to that is a crunchy layer of chocolate wafers in between the dark chocolate and the minty white chocolate. Finishing it all off is a heavy sprinkling of crushed Andes Mint Chocolate. Mint Chocolate Chip Bark. How to Make Ice Cream Cones on a Panini Press. This one is worth screaming from the rooftops.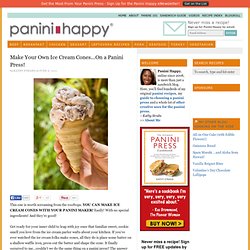 YOU CAN MAKE ICE CREAM CONES WITH YOUR PANINI MAKER! Easily! With no special ingredients! And they're good! Cookies and Cream Popcorn. I feel like this popcorn is just out of control. Am I right? I recently wandered past a gourmet popcorn shop, (and thank goodness for my jeans I didn't go in) and my eye's started bugging out when I saw cookies and cream popcorn. I freaking love cookies and cream ice cream and I love any kind of sweet popcorn, so what more could I ask for? A perfect combination. Vanilla Ice Recipe | How to Make Vanilla Ice Cubes. Buckeye Balls II Recipe. S'mores Dip. S'mores Dip How can you go wrong with a name like "s'mores dip"?? This dip is so good and exactly what you would expect from something made out of chocolate, marshmallows and graham crackers.
To be honest, I'm not really a s'mores fan for the most part. When we go camping, I will roast marshmallow after marshmallow, and I may even eat some chocolate and/or graham crackers. But for some reason the actual s'mores just never really appealed to me. No-Churn homemade icecream | The Wanna be Country Girl. This ice cream recipe has only four ingredients, takes less than 10 minutes to make, and will leave you wanting more every time. Grab 5 fresh strawberries. You can use any fruit you like, or add 1 teaspoon vanilla extract and top with hot fudge. Brickle. A few weeks ago, I went to a barbeque. On the table there was plate of what looked to be a chocolate type dish that was crumbled up.
I grabbed a piece, ate it, had eight more pieces, and then went on a mad hunt throughout the barbeque to see who brought the stuff and how much I would have to pay them for the recipe. After not too much work I tracked it down, and trust me. You want to make this. This will blow your mind. Brandy Snaps. These are incredible, lovely, and wonderful. And beautiful. And crisp, and textural, and creamy and dreamy. Convinced yet?
---