Illustration
Nagai Hideyuki. Kerry roper. Louise vormittag. Robert Rauschenberg. Robert Rauschenberg (October 22, 1925 – May 12, 2008) was an American painter and graphic artist whose early works anticipated the pop art movement.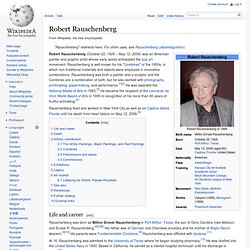 Rauschenberg is well known for his "Combines" of the 1950s, in which non-traditional materials and objects were employed in innovative combinations. Rauschenberg was both a painter and a sculptor and the Combines are a combination of both, but he also worked with photography, printmaking, papermaking, and performance.[1][2] He was awarded the National Medal of Arts in 1993.[3] He became the recipient of the Leonardo da Vinci World Award of Arts in 1995 in recognition of his more than 40 years of fruitful artmaking.[4] Rauschenberg lived and worked in New York City as well as on Captiva Island, Florida until his death from heart failure on May 12, 2008.[5] Life and career[edit]
Sigma polke. Andy Warhol. Andy Warhol (/ˈwɔrhɒl/;[1] August 6, 1928 – February 22, 1987) was an American artist who was a leading figure in the visual art movement known as pop art.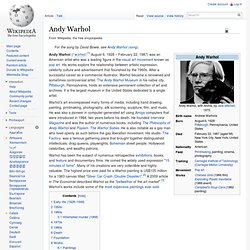 His works explore the relationship between artistic expression, celebrity culture and advertisement that flourished by the 1960s. After a successful career as a commercial illustrator, Warhol became a renowned and sometimes controversial artist. The Andy Warhol Museum in his native city, Pittsburgh, Pennsylvania, holds an extensive permanent collection of art and archives. It is the largest museum in the United States dedicated to a single artist. Edvard Munch. Edvard Munch (Norwegian: [ˈɛdvɑʈ muŋk] ( Life[edit] Childhood[edit] Edvard Munch was born in a rustic farmhouse in the village of Ådalsbruk in Løten, Norway, to Laura Catherine Bjølstad and Christian Munch, the son of a priest.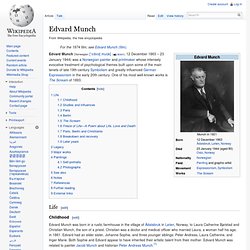 Christian was a doctor and medical officer who married Laura, a woman half his age, in 1861. Edvard had an elder sister, Johanne Sophie, and three younger siblings: Peter Andreas, Laura Catherine, and Inger Marie. Ernst Ludwig Kirchner. Ernst Ludwig Kirchner (6 May 1880 – 15 June 1938) was a German expressionist painter and printmaker and one of the founders of the artists group Die Brücke or "The Bridge", a key group leading to the foundation of Expressionism in 20th-century art.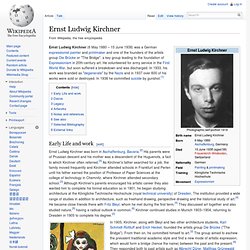 He volunteered for army service in the First World War, but soon suffered a breakdown and was discharged. In 1933, his work was branded as "degenerate" by the Nazis and in 1937 over 600 of his works were sold or destroyed. In 1938 he committed suicide by gunshot.[1] Early Life and work[edit] Mcknight kauffer. M.C. Escher.
Julian beever. Peter Blake. Eduardo Paolozzi. Sir Eduardo Luigi Paolozzi KBE RA (7 March 1924 – 22 April 2005) was a Scottish sculptor and artist.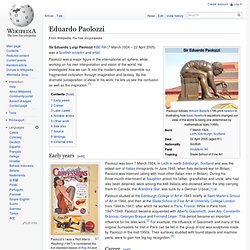 Paolozzi was a major figure in the international art sphere, while, working on his own interpretation and vision of the world. He investigated how we can fit into the modern world to resemble our fragmented civilization through imagination and fantasy. By the dramatic juxtaposition of ideas in his work, he lets us see the confusion as well as the inspiration.[1] Early years[edit] Richard long. Andy goldsworthy. BURNEVERYTHING. Buro destruct. All messed up by anna greber. eBoy. J. M. W. Turner. Joseph Mallord William Turner, RA (baptised 14 May 1775[a] – 19 December 1851) was a British Romantic landscape painter, water-colourist, and printmaker.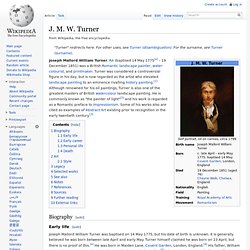 Turner was considered a controversial figure in his day, but is now regarded as the artist who elevated landscape painting to an eminence rivalling history painting.[1] Although renowned for his oil paintings, Turner is also one of the greatest masters of British watercolour landscape painting. He is commonly known as "the painter of light"[2] and his work is regarded as a Romantic preface to Impressionism. Leonardo da Vinci. Claude heath. Gary Baseman. Tom Gauld - latest. Yulia Brodskaya : Jen Stark. Jeff Nishinaka.
Michel Eugène Chevreul. Although he had no interest in understanding or treating colours in the same way as artists, it is unlikely that any other chemist has influenced the development of art as much as the Frenchman Michel Eugène Chevreul (1786-1889).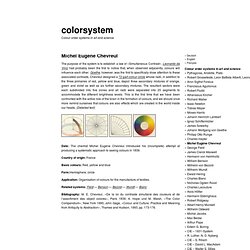 Chevreul trained as a chemist, and in 1824 was appointed as director of Gobelin, the famous carpet manufacturer. Here, he concentrated on the problems of dyeing, and therefore on the dyes themselves. As a chemist, Chevreul supervised the preparation of these dyes, and it occurred to him that the main problems had nothing to do with chemistry but were more related to optics. A colour frequently failed to achieve the desired effect. Faber birren.
---