Python Quick Hacks and Codes
The matplotlibrc file contains many useful parameters for tweaking your setup to your liking, and it's worth at least skimming through to get an idea of what it contains. Editing the file makes more permanent changes, while using the pylab rcParams dictionary or rc() and rcdefaults() functions lets you make and revert changes on the fly. View the rc parameters by using
Adjust settings for matplotlib using rc and matplotlibrc « scienceoss.com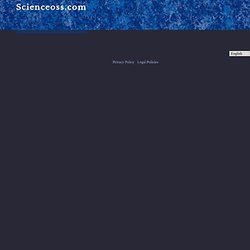 Py2Exe and MatPlotLib: Plot won't Appear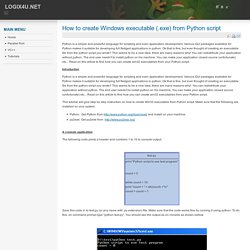 How to create Windows executable (.exe) from Python script
Python is a simple and powerful language for scripting and even application development.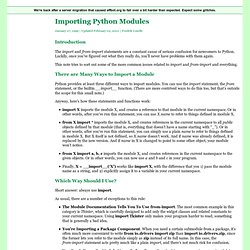 January 07, 1999 | Updated February 02, 2001 | Fredrik Lundh Introduction The import and from-import statements are a constant cause of serious confusion for newcomers to Python.
Importing Python Modules
A function is a block of organized, reusable code that is used to perform a single, related action. Functions provide better modularity for your application and a high degree of code reusing. As you already know, Python gives you many built-in functions like print(), etc. but you can also create your own functions.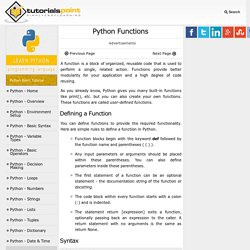 Python - Functions
Python for Scientific Computing