Spells
Speeduptime. Draw a Pentacle on your left hand using a blessed red pen.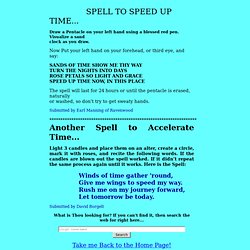 Visualize a sand clock as you draw. Now Put your left hand on your forehead, or third eye, and say: The spell will last for 24 hours or until the pentacle is erased, naturally or washed, so don't try to get sweaty hands. Submitted by Earl Manning of Ravenwood. Slow down time. To Slow Down Time Draw a Pentacle on your left hand using a blessed Blue pen.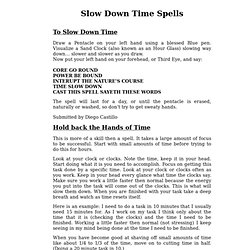 Visualize a Sand Clock (also known as an Hour Glass) slowing way down... slower and slower as you draw. Now put your left hand on your forehead, or Third Eye, and say: The spell will last for a day, or until the pentacle is erased, naturally or washed, so don't try to get sweaty hands. Likeme. Do you like me?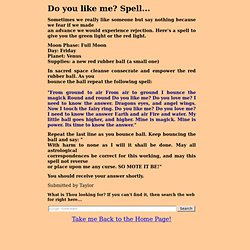 Spell... Sometimes we really like someone but say nothing because we fear if we made an advance we would experience rejection. Dream of me Spell. Materials Required: White cotton fabric Bedding or cotton to use as a stuffing Parchment paper Lavender Rosemary Needle and thread Method: You will need to make a small dream pillow in order to have this spell carried out.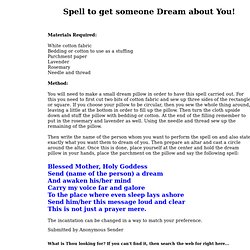 For this you need to first cut two bits of cotton fabric and sew up three sides of the rectangle or square. If you choose your pillow to be circular, then you sew the whole thing around, leaving a little at the bottom in order to fill up the pillow. Spells and Magic. spells, hexes, occult knowledge, black and white magic. Spell to Bring You What You Need - Free Spells. Free Witchcraft Downloads: ebooks, pictures, movies. Read Dr Ruickbie on witchcraft and magic in Paranormal magazine.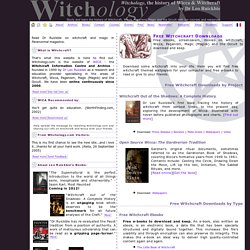 What is Witchcraft? That's what this website is here to find out. Witchology.com is the website of WICA - the Witchcraft Information Centre and Archive - founded in 1999 by Dr Leo Ruickbie as a research and education provider specialising in the areas of Witchcraft, Wicca, Paganism, Magic (Magick) and the Occult. We have been online continuously since 2000. WICA Recommended by: Spellcraft Menu. Spell to Bring Back Lost Love - Return to Me Spell - Get your Lover Back. An easy love spell for the uninitiated or inexperienced that is designed to bring back a lost love: Light the following candles: A red candle (South) A green candle (North) A yellow candle (East) A blue candle (West) Two pink candles Position the candles at the corresponding corners.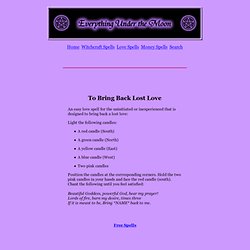 Rituals and Spells for Astral and Psychic Matters. Download Occult, Esoteric, Magic, Rare Books And Texts. Grimoires, Spellbooks, Manuscripts For Free. Spells and Magic. spells, hexes, occult knowledge, black and whi. Casting a Circle. The Purposes of a Circle A sacred circle has several purposes, the most significant of which is to define an area where formal ritual work can be performed.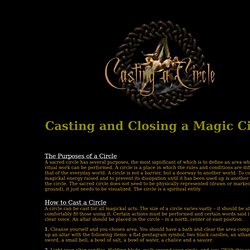 A circle is a place in which the rules and conditions are different to that of the everyday world. A circle is not a barrier, but a doorway to another world. To contain any magickal energy raised and to prevent its dissipation until it has been used up is another purpose of the circle. The sacred circle does not need to be physically represented (drawn or marked on the ground), it just needs to be visualized. The circle is a spiritual entity. Witchcraft Magic Love Spells! Learn & Reviews FREE. Free Spells, Witchcraft Spells, Wiccan Spells, Wicca Spells, SpellSpot. Free Spell Archive: Every month or so we add free spells, rituals and energy workings to the list below so check back soon!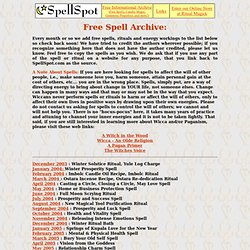 We have tried to credit the authors wherever possible; if you recognize something here that does not have the author credited, please let us know. Feel free to copy the spells as you wish. We do ask that if you use any part of the spell or ritual on a website for any purpose, that you link back to SpellSpot.com as the source. A Note About Spells: If you are here looking for spells to affect the will of other people, i.e., make someone love you, harm someone, attain personal gain at the cost of others, etc... you are in the wrong place. Gardnerian Book of Shadows Index. Sacred Texts Neopaganism Contents Start Reading This is the text of the Gardnerian Book of Shadows.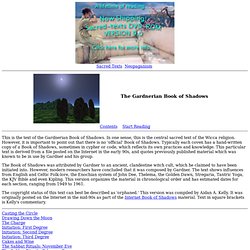 In one sense, this is the central sacred text of the Wicca religion. LOVE SPELLS Spell Casting Services Love Magic Love Spells Powerf. Love Spells – Spells who boost your love life.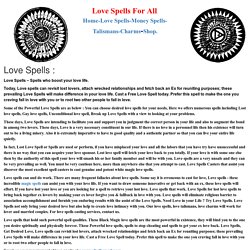 Today, Love spells can revisit lost lovers, attach wrecked relationships and fetch back an Ex for reuniting purposes; these prevailing Love Spells will make difference in your love life. Cast a Free Love Spell today. Prefer this spell to make the one you craving fall in love with you or to root two other people to fall in love. Some of the Powerful Love Spells are as below : You can choose desired love spells for your needs, Here we offers numerous spells including Lost love spells, Gay love spells, Unconditional love spell, Break up Love Spells with a view to looking at your problems. These days, Love Spells are intending to facilitate you and support you in judgment the correct person in your life and also to augment the bond in among two lovers. Wicca Spells Wiccan Spells Talismans Love Spells Magic Spells Ch. Chants, Blessings, Prayers and Charms. A Spell to Cast Away Darkness Belisama Fire 2001 In the center of the darkest storm, Is a brilliant rainbow, bright and warm.
Look past the darkness that you see, Bougaivillea's Book of Shadows : Member's Books of Shadows. White: A balance of all colors; Spiritual enlightenment, cleansing, clairvoyance, healing, truth seeking; Rituals involving lunar energy' May be substituted for any color candle. Yellow: Activity, Creativity, unity; brings power of concentration and imagination to a ritual; use in rituals where you wish to gain another's confidence or persuade someone, or in rituals that require solar energy. Gold: Fosters understanding and attracts the powers of cosmic influences; beneficial in rituals intended to bring about fast luck or money, or in rituals needing solar energy.
---