Chocolate, biscuits, cakes and desserts
During the holidays I made a lot of coconut macaroons.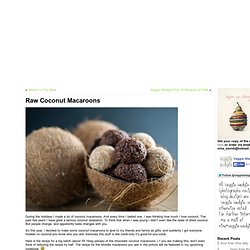 Raw Coconut Macaroons
cakes, brownies & muffins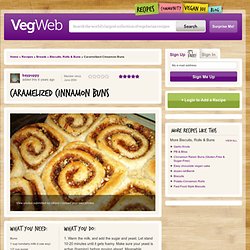 1. Warm the milk, and add the sugar and yeast. Let stand 10-20 minutes until it gets foamy. Make sure your yeast is active (foaming) before moving ahead. Meanwhile, prepare the rest of the ingredients. In a large bowl, place the flours and mix.
Caramelized Cinnamon Buns
Pumpkin Oat Bars | Vegan
Even your snack bars can be in-season when you incorporate fitting ingredients. For fall, we're adding pumpkin and warm spices to update this healthy on-the-go vegan snack. Pumpkin Oat Bars Serves 8 Ingredients:
Vegan Toffee | Vegan
If you ever envy non-vegans who crunch and munch away on toffee, you no longer have to watch them wishing you could have something as sweet and buttery melt in your mouth. As with so many butter- and dairy-based desserts, a few simple substitutions is all you need to sink your teeth into your very own vegan treats. This toffee recipe swaps in vegan butter with equally delicious results. Vegan Toffee Take a bite of toffee to satisfy a candy craving or crush it and sprinkle it on top of vegan cheesecake or ice cream.
Baklava – a dessert served in many countries around the world, all with their own personal touch. This is a very rich sweet, and therefore not one you will indulge in frequently. I make this once a year – maybe twice, at most.
Best-Ever Baklava - Mouthwatering Vegan Recipes™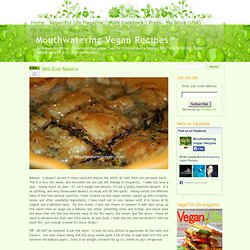 Oustanding Blueberry Zucchini Bread
Peppermint Patty Recipe | This Chick Cooks
Blueberry Squares Recipe
Stellar Coconut Macaroons
Homemade Mocha Nutella (Vegan, Refined-Sugar Free)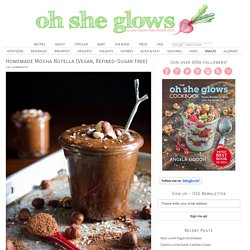 When I have great ambitions to re-create a favourite food product at home, it usually takes the right moment of inspiration to push me along. Or, it simply takes remembering to snap the photos before the husband and I eat the entire batch (such was the case with my vegan cookie recreation from Zephyr Café…doh). This time, my inspiration came from spotting a huge bag of raw hazelnuts at Costco. I knew it was time to try and re-create my beloved Rawtella!
Vegan Chocolate Dessert Vegetarian Recipes
After Late Dinner Mints - Mouthwatering Vegan Recipes™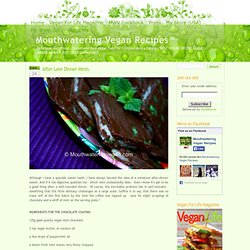 Jun 24 Although I have a sporadic sweet tooth, I have always fancied the idea of a miniature after-dinner sweet. And if it has digestive qualities too – which mint undoubtedly does – then I know it's got to be a good thing after a well-rounded dinner. Of course, the inevitable problem lies in self-restraint – something that this little delicacy challenges on a large scale.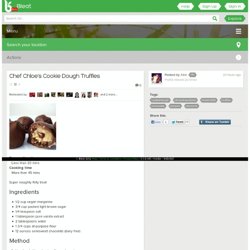 Rebleated by: and 2 more...
Chef Chloe's Cookie Dough Truffles - Bleat
Chocolate Chocolate
Love Chocolate? We've got your fix. Instructables is your hook up for mind blowing chocolate recipes and techniques. Whether your looking for chocolate cake, chocolate pie, chocolate mousse or chocolate breasts, we've got you covered. And if you can't find it here, you're sure to find the inspiration and some great suggestions to get you on the right path to making your own chocolate sensation.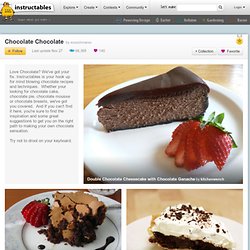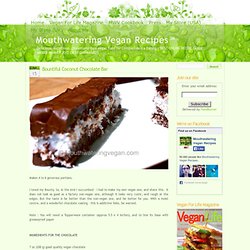 Bounty Coconut Chocolate Bar - Mouthwatering Vegan Recipes™
Apr 15 Makes 4 to 6 generous portions. I loved my Bounty. So, in the end I succumbed – I had to make my own vegan one, and share this. It does not look as good as a factory non-vegan one, although it looks very rustic, and rough at the edges.