Cakes
Cakespy: Birthday Cake French Toast. Jessie Oleson (aka Cakespy) drops by every Monday to share a delicious dessert recipe.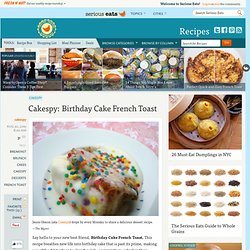 —The Mgmt. Say hello to your new best friend, Birthday Cake French Toast. This recipe breathes new life into birthday cake that is past its prime, making use of the dry texture to absorb a rich, eggy mixture, which is then pan-fried (frosting and all) to yield a new breed of French toast that's beyond decadent. Rainbow Donuts Recipe. Millionaire's Shortbread. Since one half of the blue-eyed baking squad is currently blogging from waaaay across the pond in London, we figured we'd bake you lovely duckies a British treat.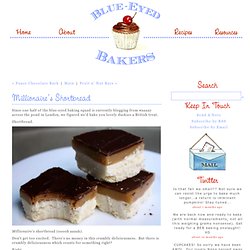 Shortbread. Millionaire's shortbread (ooooh aaaah). Don't get too excited. There's no money in this crumbly deliciousness. But there is crumbly deliciousness which counts for something right? Summer Recipe: No-Bake Strawberry Icebox Cake | Apartment Therapy The Kitchn. See this?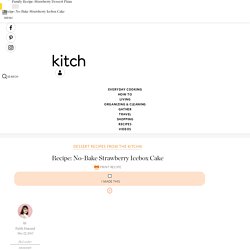 This is such an easy dessert. It looks a little fancy, doesn't it? Blueberry Cake Recipe With Picture. Blueberry Cake Recipe: Preheat oven to 350 degrees F (180 degrees C).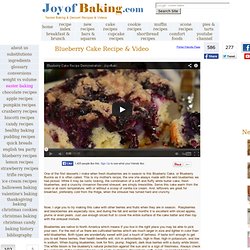 Butter, or spray with a nonstick vegetable spray, an 8 inch (20 cm) square baking pan. Streusel Topping: In a large bowl, mix together the flour, sugar, and ground cinnamon. Fast Food Fun & bakerella.com. Cupcake Buns + Brownie Burgers + Cookie Fries = One Happy Meal!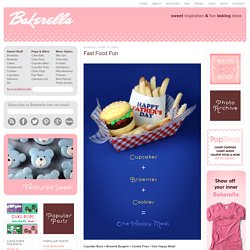 Or many… I can hardly stand how cute these little guys are. You've probably seen them around before. I know I have. Want To Learn How to Make Gordon Ramsay's Favourite Dessert?-Hot Chocolate Fondant. Posted by Grace Massa Langlois on Friday, 16th July 2010 Gordon Ramsay and his thoughts on Hot Chocolate Fondant – "Whenever I'm asked for my favourite recipe, this is the one.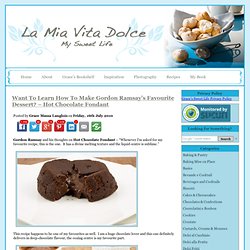 It has a divine melting texture and the liquid centre is sublime." This recipe happens to be one of my favourites as well. I am a huge chocolate lover and this one definitely delivers in deep-chocolate flavour, the oozing centre is my favourite part. Not martha - Leprechaun Trap Cake. This may look like a perfectly innocent cake meant to lure a leprechaun to the top but it has a few secrets.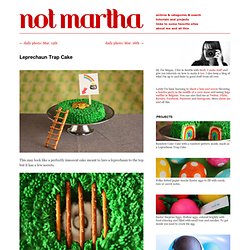 Secret #1: Beneath the pile of gold coins are fragile bars, when the leprechaun approaches to grab the coins he'll fall into the pit and be trapped. Secret #2: There is a rainbow hiding inside the cake. The leprechaun will discover this as he eats his way to freedom. Have you heard of Leprechaun traps? I hadn't encountered these until this year, and I am completely charmed by them. Rainbow Cake in a Jar | The Family Kitchen. I've always had a penchant for sunshine in a jar.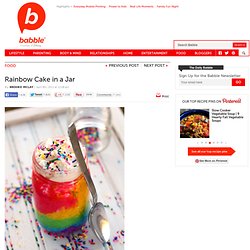 Doesn't the very phrase itself, "sunshine in a jar," roll off your tongue and fill your mouth with magic? While I've never yet found myself a sunshine in a jar, I think we may have just concocted it in our kitchen tonight. In this simple recipe, a basic white cake is turned into a slew of bright colors, baked to perfection, then topped with a creamy white frosting.
Cakes baked in jars can be topped with traditional metal canning lids and stored in the fridge for up to five days. TLC Cooking &Dulce de Leche Blondies& - StumbleUpon. The Little Teochew: Singapore Homecooking: Cotton Soft Japanese Cheesecake (For a Birthday) Related post: Tips & Tricks on how to get that perfect Cheesecake!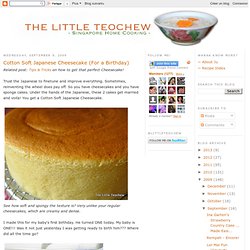 Trust the Japanese to finetune and improve everything. Sometimes, reinventing the wheel does pay off. So you have cheesecakes and you have sponge cakes. Under the hands of the Japanese, these 2 cakes get married and voila! You get a Cotton Soft Japanese Cheesecake. Martha Stewarts Cookies and Cream Cheesecakes Recipe | La Mia Vita Dolce - StumbleUpon. Posted by Grace Massa Langlois on Wednesday, 21st July 2010 I have yet to meet a person who doesn't like Oreo cookies or Cream Cheesecake Cupcakes.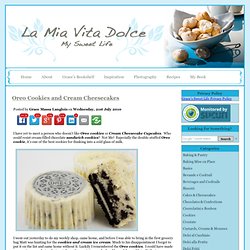 Who could resist cream-filled chocolate sandwich cookies?
---