Modules Packages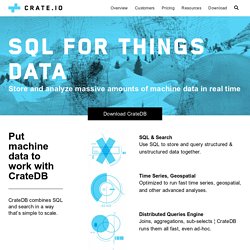 "After we ran into speed problems with traditional technology, we started to use Crate to store millions of events. now queries work superfast. We like Crate and will contribute a Ruby client soon." Hubert Łępicki@hubertlepickiRuby developer and owner of AmberBit Bialystok, Poland, amberbit.com "As a consultant engaged in an ambitious customer project I had the opportunity to experience the advantages of Crate technology, in particular regarding performance and scalability." Michael KügelerIT Consultant, Munich
Crate.io - new kind of Python package index
README.rst redis-py The Python interface to the Redis key-value store. Installation redis-py requires a running Redis server. See Redis's quickstart for installation instructions.
andymccurdy/redis-py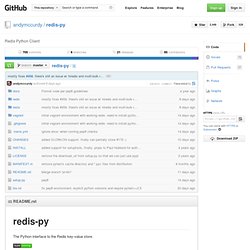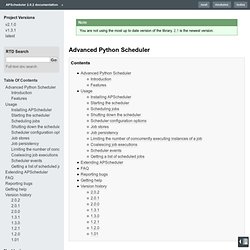 Advanced Python Scheduler — APScheduler 2.0.2 documentation
Starting the scheduler To start the scheduler with default settings: from apscheduler.scheduler import Scheduler sched = Scheduler()sched.start() The constructor takes as its first, optional parameter a dictionary of "global" options to facilitate configuration from .ini files. All APScheduler options given in the global configuration must begin with "apscheduler." to avoid name clashes with other software. The constructor also takes options as keyword arguments (without the prefix).
python-wikitools - Python scripts and modules to interact with the MediaWiki API and source code for some en.wikipedia bots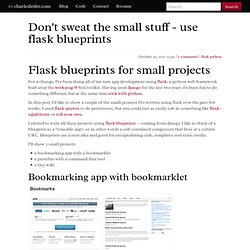 charles leifer | Don't sweat the small stuff - use flask blueprints
October 30, 2011 15:29/2 comments/ flask python For a change, I've been doing all of my new app development using flask, a python web framework built atop the werkzeug WSGI toolkit. Having used django for the last two years it's been fun to do something different, but at the same time stick with python. In this post I'd like to show a couple of the small projects I've written using flask over the past few weeks.
New in version 2.5. Source code: Lib/xml/etree/ElementTree.py The Element type is a flexible container object, designed to store hierarchical data structures in memory. The type can be described as a cross between a list and a dictionary.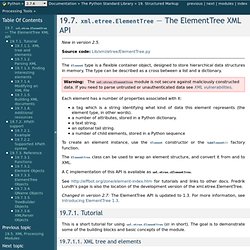 19.13. xml.etree.ElementTree — The ElementTree XML API — Python v2.7.2 documentation
Introduction python-xmltv is a Python module that provides access to XMLTV data. XMLTV is an XML format for storing TV listings. More information on XMLTV can be found at http://membled.com/work/apps/xmltv/ Requirements python-xmltv has no requirements on Python 2.5 and up.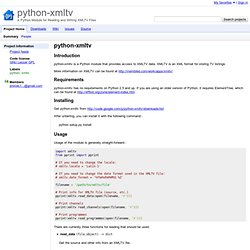 python-xmltv - A Python Module for Reading and Writing XMLTV Files
binarydud/pyres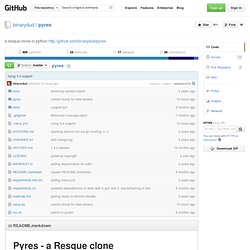 README.markdown Pyres - a Resque clone Resque is a great implementation of a job queue by the people at github. It's written in ruby, which is great, but I primarily work in python. So I took on the task of porting over the code to python and PyRes was the result
Delicious Python API @ Michael G. Noll
One of my research tasks required me to retrieve various information from Delicious.com, a well-known social bookmarking service. My programming language of choice is Python, and so I wrote a basic Python module for getting the data I needed. Figure 1: A tag cloud as seen on Delicious.com Important Note: It is strongly advised that you read the Delicious.com Terms of Use document before using this Python module.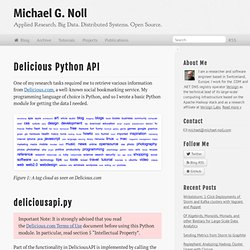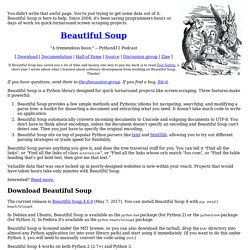 You didn't write that awful page. You're just trying to get some data out of it. Beautiful Soup is here to help. Since 2004, it's been saving programmers hours or days of work on quick-turnaround screen scraping projects. If you have questions, send them to the discussion group. If you find a bug, file it.
Package Index : BeautifulSoup 3.2.0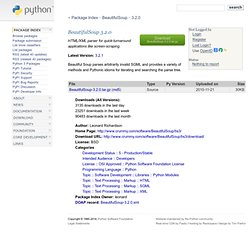 Package Index > BeautifulSoup > 3.2.0 Not Logged In Status Nothing to report
A nice thing about ElementTree is that it can be round-tripped. That is, you can read in an XML instance, modify fairly native-feeling data structures, then call the .write() method to re-serialize to well-formed XML. DOM does this, of course, but gnosis.xml.objectify does not. It is not all that difficult to construct a custom output function for gnosis.xml.objectify that produces XML -- but doing so is not automatic. With ElementTree, along with the .write() method of ElementTree instances, individual Element instances can be serialized with the convenience function elementtree.ElementTree.dump().
Process XML In Python With ElementTree Working with an XML document object
pil-handbook.pdf (application/pdf Object)
README.markdown Python Google Chart pygooglechart is a complete Python wrapper for the Google Chart API. pygooglechart works with Linux, Windows and Mac OS X.
Python Google Chart