Modules Packages
Crate.io - new kind of Python package index
andymccurdy/redis-py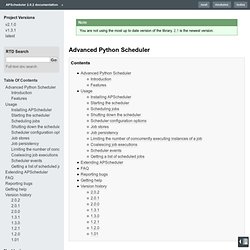 Advanced Python Scheduler — APScheduler 2.0.2 documentation
Starting the scheduler To start the scheduler with default settings:
python-wikitools - Python scripts and modules to interact with the MediaWiki API and source code for some en.wikipedia bots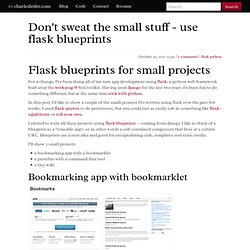 charles leifer | Don't sweat the small stuff - use flask blueprints
October 30, 2011 15:29/2 comments/ flask python
New in version 2.5.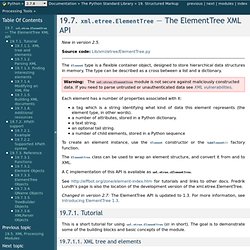 19.13. xml.etree.ElementTree — The ElementTree XML API — Python v2.7.2 documentation
Introduction python-xmltv is a Python module that provides access to XMLTV data.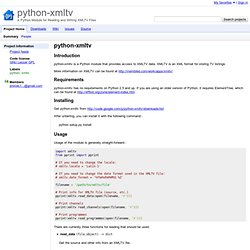 python-xmltv - A Python Module for Reading and Writing XMLTV Files
binarydud/pyres
Delicious Python API @ Michael G. Noll
One of my research tasks required me to retrieve various information from Delicious.com, a well-known social bookmarking service.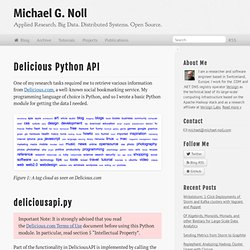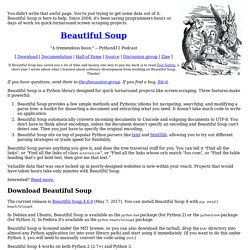 You didn't write that awful page. You're just trying to get some data out of it. Beautiful Soup is here to help. Since 2004, it's been saving programmers hours or days of work on quick-turnaround screen scraping projects. If you have questions, send them to the discussion group. If you find a bug, file it.
Package Index : BeautifulSoup 3.2.0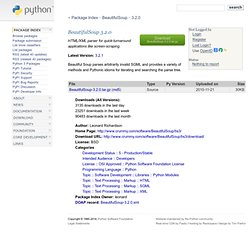 Package Index > BeautifulSoup > 3.2.0
A nice thing about ElementTree is that it can be round-tripped.
Process XML In Python With ElementTree Working with an XML document object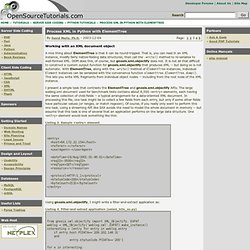 pil-handbook.pdf (application/pdf Object)
Python Google Chart