Best practice community management
J'ai déjà eu l'occasion de vous parler de social scoring et des indicateurs-clés des médias sociaux que l'IAB tente de standardiser.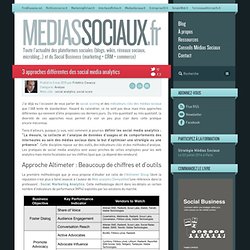 The differences between social media and social networking are just about as vast as night and day.
5 Differences Between Social Media and Social Networking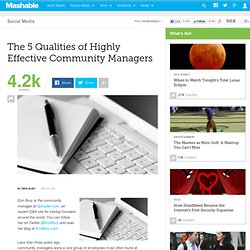 Erin Bury is the community manager at Sprouter.com, an expert Q&A site for startup founders around the world. You can follow her on Twitter @ErinBury and read her blog at ErinBury.com.
The 5 Qualities of Highly Effective Community Managers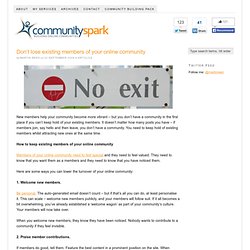 Don't lose existing members of your online community | Community
New members help your community become more vibrant – but you don't have a community in the first place if you can't keep hold of your existing members.
If you follow me on Twitter you know that I spent most of the day at the Social Media Business Forum .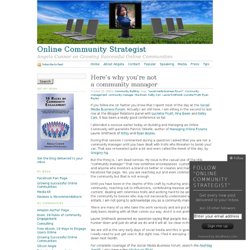 Here's why you're not a community manager « Online Community Str
A vital element of a successful online community is trust. Without it, your community won't be as strong as it could be – trust brings people together; it encourages people to share information and the more they share, the more others will share.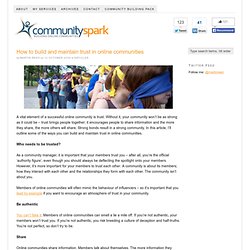 How to build and maintain trust in online communities | Communit
No online community is perfect – there will come a time (if it hasn't happened already) when a member becomes abusive or confrontational. Dealing with these bad apples can be a challenge – they will often stir up emotions and lead to a huge spike in member engagement and discussion.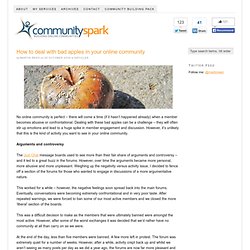 How to deal with bad apples in your online community | Community
Trolls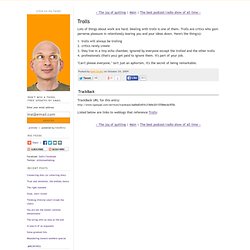 Lots of things about work are hard.
Inside the mind of an online community lurker | Community Buildi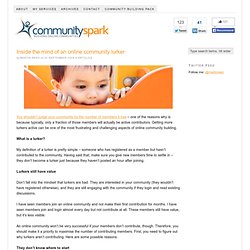 You shouldn't judge your community by the number of members it has – one of the reasons why is because typically, only a fraction of those members will actually be active contributors.
What makes social-media followers flee?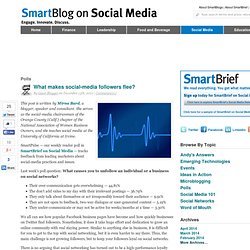 This post is written by Mirna Bard, a blogger, speaker and consultant. She serves as the social-media chairwoman of the Orange County (Calif.) chapter of the National Association of Women Business Owners, and she teaches social media at the University of California at Irvine. SmartPulse — our weekly reader poll in SmartBrief on Social Media — tracks feedback from leading marketers about social-media practices and issues.