Principaux labels
Another Record - Music for sensitive people
JAHTARI
Bad Panda Records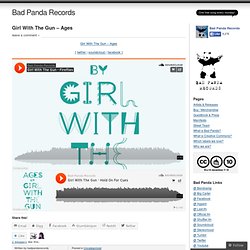 Leem – 404 Error EP '404 Error' is the debut EP from London based producer, Leem, aka Toby Leeming (previously known as ANON). Drawing on a broad range of influences, the EP plays with a variety of genres whilst focusing on crafting songs underneath. This 6 tracker is a taster ahead of the album, 'Rising More Slowly', due out later in 2013.
I've just uploaded the preview for Fade Runner's 1st album. F#cking lush funky electro with a strong Skweee influence but not only. You'll find influences from Luke Vibert, Eero Johannes, or even Tipper... some aquatic dubstep-ish loops, a lot of weird and dope analog synth stabs, crispy snares, brain occupying melodies, etc. And a sick artwork by our usual suspect: PIRATIO !! Words, words, words.... blablabla, Music here:
Bedroom Research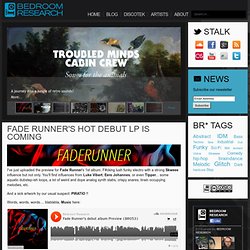 Digital Kunstrasen - Internetlabel
Irdial-Discs MMIX
Boltfish Recordings. Independent Electronic Music Label
- MIGA :: Netlabel ||| Crea y aprende - Create and learn
www.evenement0.net
EVENEMENT Duty and Copyright free music. The creation, manufacture and packaging of EVENEMENT Records is totally autonomous. It does in no way rely on the traditional means of production of the record industry. All of the musical works burned onto CD-R by EVENEMENT are obviously copyright free and can therefore be reproduced and broadcast by whoever feels like doing so, with or without the label's consent. The label shall never manufacture more than 99 copies of the same reference. EVENEMENT sometimes sends records for free to chosen addresses, the references are otherwise available for 25FF in certain chosen place.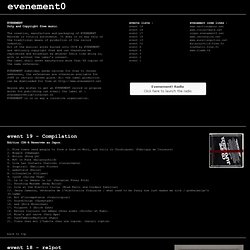 :: monotonik + friends
«Pallqa - 'where paths come together', in Quechua language. Panchasila's story so far: two Buenos Aires friends team up for a musical journey taken in between cultural influences from south-american folk to southern asian traditional music, all wrapped up in dub (of course). Musically it isn't very easy to define Panchasila past its obvious dub-flavored electronica. The music is heavily supported by sampling vinyl and mp3 from old and obscured folk records found all over the place, but also from synths and real instruments played by both musicians. Delay after added delay, the final result is a seductive yet inebriating mantra-like soundtrack.» - test tube - In heaven everything is fine because heaven is a place where nothing ever happens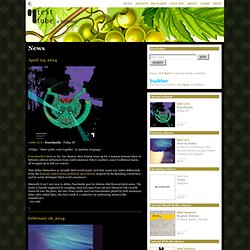 Clinical Archives
new releases news time out Posted: Wed, 15/02/12 08:25
chew-Z netlabel - electronic experimental free music distribution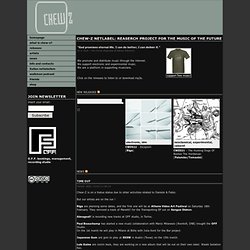 Comatronic
afmusic » Join the dark side of internet-music-revolution! » afmusic, Netlabel, Releases, News, Music, Downloads, Wave, New Wave, Darkwave, Goth, Gothic, Gothic Rock, Indie, Creative Commons, Industrial, Metal, Mp3, Torrent, Jamendo, Bandcamp, Soundcloud,
Kikapu