Graphic facilitation
VoiceMap - Transform voice into images
Sketcho Frenzy - Home
Infographics zijn tegenwoordig ontzettend populair op internet. Iedere gebeurtenis, film en populair product heeft wel een eigen infographic. Maar wat is een infographic eigenlijk? In dit artikel een overzicht van alles wat ik heb gevonden. Een ode in woord en beeld aan een fantastische designdiscipline, die met recht erg populair is.
Infographics en datavisualisatie in woord en beeld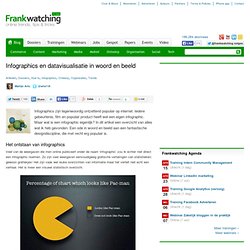 Need graphic facilitation or visual mapping? Are you bringing together a group of bright people to have a conversation — a really important conversation? It could be any kind of meeting, from a brainstorming strategy session to high level climate change talks at the UN. The kind of meeting where, if you could only break down personal defenses and old ways of thinking, if you could just unlock the creative potential in that room, you know great things will happen.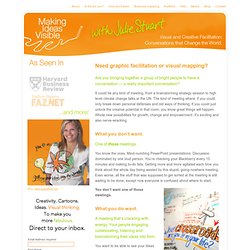 Been to a meeting in Atlanta with graphic facilitation or visual mapping?
How to use visuals for creativity, innovation, personal, professional and organizational development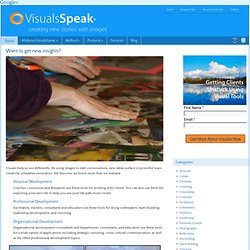 Visuals help us see differently. By using images to start conversations, new ideas surface in powerful ways. Creativity unleashes innovation.
SketchHatch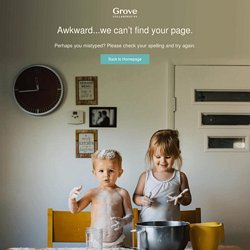 The Grove | The Leaders of Visual Planning, Team Performance, and Graphic Facilitation for over 30 Years.
Copyright Policy The Grove's models and templates are the intellectual property of The Grove Consultants International and are based on best practices drawn from more than thirty years of fieldwork. The Grove is committed to sharing its ideas, processes, and tools in order to foster collaboration, and while we strive to make these easily accessible, only authorized licensees may use our proprietary information and materials. Such licensees must acknowledge The Grove as their source by displaying a Grove copyright notice and may reproduce such proprietary information only with our express written permission. Any unauthorized reproduction or use of our copyrighted material without The Grove's express written permission is a violation of U.S. copyright law. If you wish to use our copyrighted material, we are happy to assist you with a purchase or discussion of an appropriate licensing arrangement.
On this site you'll find like-minded people who share your interest in graphic facilitation, graphic recording and other forms of visual practice. Looking for a Visual Practitioner? Perhaps someone in a particular country or region, or with a special expertise? You can search our list of experts by name, skill set or location: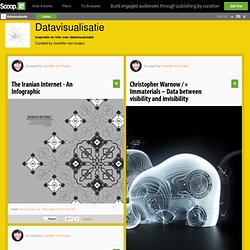 The images shown here are renderings of the metanetwork for the San Francisco Bay food web. The network consists of 163 nodes, each node being a guild. In total, they represent approximately 1,600 species of invertebrates and fish, as well as four nodes representing various types of autotrophic producers.
Datavisualisatie
international visual practitioners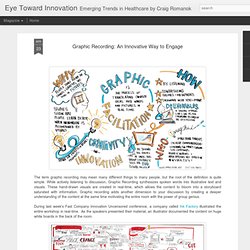 The term graphic recording may mean many different things to many people, but the root of the definition is quite simple. While actively listening to discussion, Graphic Recording synthesizes spoken words into illustrative text and visuals. These hand-drawn visuals are created in real-time, which allows the content to bloom into a storyboard saturated with information.
An Innovative Way to Engage | Eye Toward Innovation
VISUAL STRATEGY
Why graphic recording? Because we think in pictures, not just words! Consider these astounding facts: An estimated two thirds of all people are visual learners.A full one fourth of our brain is devoted to processing visual informationCombining images with text or speech increases retention by 40% By harnessing our innate visual literacy, graphic recording and graphic facilitation — either in a meeting or at an event — creates an active atmosphere and generates participant excitement and curiosity. Audiences sense instantly that something different and fun is about to happen that's worth paying attention to.
Home
Visual thinking is an essential executive skill today. If you want to keep up with the latest thinking on this fascinating topic, why not follow these 10 visual thinking experts on Twitter? Please click on the image above to load a clickable image map, where you can navigate to the Twitter feeds of these experts. Or navigate to them using the links in the descriptions below.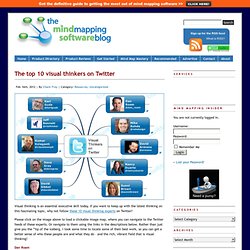 The top 10 visual thinkers on Twitter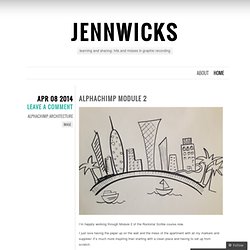 jennwicks
This symposium hosted by Ken Ryba, acting Director of the Centre for Teaching & Learning at University of Calgary – Qatar, was a treat upon my return to Qatar. The symposium, "Working together to enhance teaching effectiveness in Qatar higher education," was a timely opportunity for stakeholders to gather together, get some ideas and inspiration, and contribute to the critical discussion on this issue. Miss Hissa Al Aali, Associate Director, College of Nursing Project, opened the session with a few words of caution and hope. She recognized the pressure that Higher Education is under from various areas, and the complexity involved in pushing agendas of change and innovation.
ModelMinds | Company Netherlands
Register | Napkin Academy
As we reach the final countdown before the launch of my new book (pre-order Show and Tell now and join me for a secret webinar on April 10), I am reflecting on the many incredible presentation books I have relied on for inspiration, guidance, and reference. Scanning across the bookshelves in my office (I buy them all on paper because I like to draw in them), it dawns on me that my collection falls into three must-read categories. I'm going to say a few words about the books in the first two categories, then a lot about the last. 1) Must-read books about presentations
Visual Harvest workshop on talent - realtime during eventEntrepreneurship, Illustration, Storyboarding2013 Visual minutes workshop/symposium by Sara Pieters Entrepreneurship, Illustration, Storyboarding2013 Visual Harvesting key messages Make up your Mind conference - makeupyourmindevent.be - by Els VrintsIllustration, Journalism, Storyboarding2013 Realtime live visual harvest of conference by Axelle Vanquaillie and Martine Vanremoortele - 57th EOQ Congress Quality Renaissance – Co-creating a Viable Future Tallinn,Estonia http://www.quality2013.euEntrepreneurship, Illustration, Journalism2013 Live Visual Harvesting of advanced facilitation workshopIllustration, Journalism, Storyboarding2013 Live graphic recording aka visual harvesting done in real-time by team member Axelle Vanquaillie.
Visual Harvesting graphic facilitation graphic recording
visueel faciliteren: Wat ik NU zeg komt NU in beeld
Bigger Picture
Graphic Facilitation A blog by Stine Arensbach