Fantasy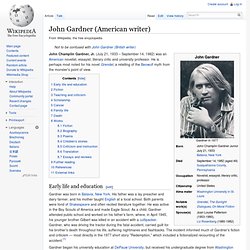 John Gardner (American writer)
Gardner was born in Batavia, New York. His father was a lay preacher and dairy farmer, and his mother taught English at a local school. Both parents were fond of Shakespeare and often recited literature together.
Peter V Brett, Author
Hi, I'm Peter V. Brett, author of the Demon Cycle series from Del Rey Books (The Warded Man, The Desert Spear, and the forthcoming Daylight War) as well as the writer of the Red Sonja: Blue comics from Dynamite Comics. Raised on a steady diet of fantasy novels, comic books, and Dungeons & Dragons, I've been writing fantasy stories for as long as I can remember.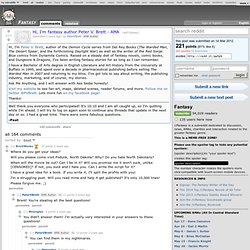 Hi, I'm fantasy author Peter V. Brett - AMA : Fantasy
Fantasy Magazine | From Modern Mythcraft to Magical Surrealism
The Official Terry Brooks Website | The website for New York Times bestselling author, Terry Brooks, devoted to his Shannara, Landover, Word/Void, and other works.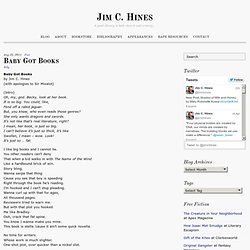 Baby Got Books by Jim C. Hines (with apologies to Sir Mixalot) (Intro)Oh, my, god.
Jim C. Hines » Baby Got Books
Epiphany 2.0 | Author N K Jemisin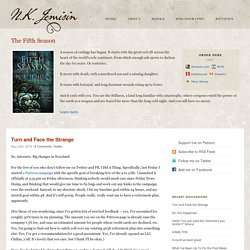 Ya'll, MedievalPoC is (hopefully) going to be at WisCon. By a funny chance, I will be, too! (Imagine that.) I am totes going to fangirl all over them. Posts like this are why: Seeing this post reminds me that someone I've known for years, and who has a rather expensive college degree, said these exact words to me in regard to ASOIAF/Game of Thrones this past Tuesday at a gaming tournament:"Things were just like that back then."There were not enough faces for me to palm.
Malazan Empire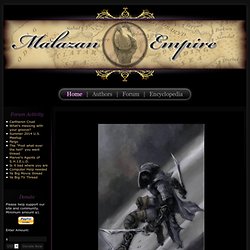 Image © slaine69/Onrack | Text © Steven Erikson Image © Spindrift | Text © Steven Erikson Image © Grimhilde | Text © Steven Erikson Image © Puck | Text © Steven Erikson Image © Kurt Montandon | Text © Steven Erikson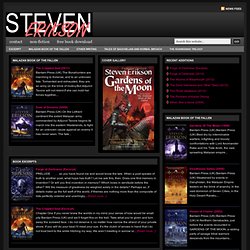 Malazan Book of the Fallen The Crippled God (2011) Bantam Press (UK) The Bonehunters are marching to Kolanse, and to an unknown fate. Tormented and exhausted, they are an army on the brink of mutiny.But Adjunct Tavore will not relent.If she can hold her forces together,... Dust of Dreams (2009)
Official Site of Steven Erikson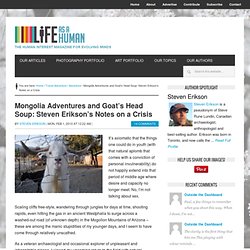 Adventures in Mongolia & Goat's Head Soup: Steven Erikson's Notes on a Crisis
It's axiomatic that the things one could do in youth (with that natural aplomb that comes with a conviction of personal invulnerability) do not happily extend into that period of middle age where desire and capacity no longer meet. No, I'm not talking about sex. Scaling cliffs free-style, wandering through jungles for days at time, shooting rapids, even hitting the gas in an ancient Westphalia to surge across a washed-out road (of unknown depth) in the Mogollon Mountains of Arizona – these are among the manic stupidities of my younger days, and I seem to have come through relatively unscathed. As a veteran archaeologist and occasional explorer of unpleasant and inhospitable places, I viewed my upcoming return to the field with natural confidence.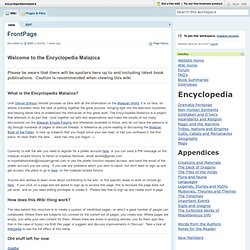 encyclopediamalazica / FrontPage
Please be aware that there will be spoilers here up to and including latest book publications. Caution is recommended when viewing this wiki What is the Encyclopedia Malazica? Until Steven Erikson himself provides us fans with all the information on the Malazan World, it is us fans, on whose shoulders rests the task of putting together the great puzzles, bringing light into the delicious mysteries and helping fellow fans to understand the intricacies of this great work.
Malazan Empire
Patrick Rothfuss - Official Website
Read more reviews THE POWERFUL DEBUT NOVEL FROM FANTASY'S NEXT SUPERSTAR Told in Kvothe's own voice, this is the tale of the magically gifted young man who grows to be the most notorious wizard his world has ever seen.The intimate narrative of his childhood in a troupe of traveling players, his years spent as a near-feral orphan in a crime-ridden city, his daringly brazen yet successful bid to enter a legendary school of magic, and his life as a fugitive after the murder of a king form a gripping coming-of-age story unrivaled in recent literature. A high-action story written with a poet's hand, The Name of the Wind is a masterpiece that will transport readers into the body and mind of a wizard.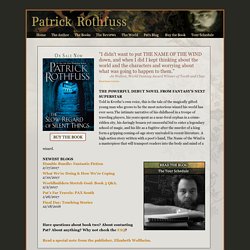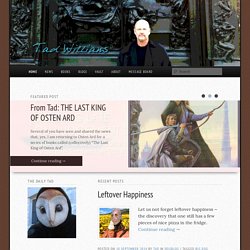 Tad Williams
There is more to me than horror clowns and monkeys and alien baby dolls, you guys. Sometimes I go outside by myself. Today I ate a sandwich. Continue reading Several of you have seen and shared the news that, yes, I am returning to Osten Ard for a series of books called (collectively) "The Last King of Osten Ard". Continue reading
Sam Sykes - Fantasy Author
From whence She fell, She shall rise again. The sky bleeds. The earth groans. The sea rises.
Welcome to Crydee1, the official website for New York Times and Times of London bestselling author, Raymond E. Feist. Now travel back with us to where it all began... "At Crydee, a frontier outpost in the tranquil Kingdom of the Isles, an orphan boy, Pug, is apprenticed to a master magician - and the destinies of two worlds are changed forever. Suddenly the peace of the Kingdom is destroyed as mysterious alien invaders swarm through the land. Pug is swept up into conflict but for him and his warrior friend, Tomas, an Odyssey into the unknown has only just begun.
Home | The Official Raymond E. Feist Website
Worldbuilders hit its goal, so we're going to give this write-a-thon thing a try. I've settled on this Friday, January 17th, from 2:00 p.m. Mountain time until 7:00 p.m.
Brandon Sanderson: The official site
Forums - 17th Shard, the Official Brandon Sanderson Fansite
<div class='message error'><strong>Javascript Disabled Detected</strong><p>You currently have javascript disabled. Several functions may not work. Please re-enable javascript to access full functionality.
Adonalsium - The Coppermind - 17th Shard
Cosmere - The Coppermind - 17th Shard
Shard - The Coppermind - 17th Shard
IAMA professional fantasy novelist named Brandon Sanderson. - AMA. : Fantasy
George R. R. Martin's Official Website
Project Aon: Main / Home (browse)
The Dork Lord, on His Dork Throne
Queen of the Iron Sands
Home | Dragonmount | A Wheel of Time Community
The Thirteenth Depository - A Wheel of Time Blog
http://encyclopaedia-wot.org/
WoT Interview Database - Theoryland of the Wheel of Time Forums
The Janny Wurts Official Webpage
Neil Gaiman's Journal
Neil Gaiman's photo "Portrait of Adam interviewing
blog « amanda palmer
post-tour and new Neil mailbox...