Bloggers-TICs
121 Blogs About Learning « The KnowledgeStar Blog
Innovación Docente - Lanzamos nuestro Blog de Innovación docente - Lanzamos nuestro Blog de Innovación docente
Es una traducción del inglés, pero vale la pena tenerlo en cuenta para cualquier docente y de cualquier etapa de la educación… http://www.clearvieweducation.com/blog/2009/100-best-blogs-for-teachers-of-the-future/ Recursos para la Enseñanza
Summify - 100 de los mejores Blogs de Profesores del Futuro
100 Best Blogs for Teachers of the Future | Clear View Education Blog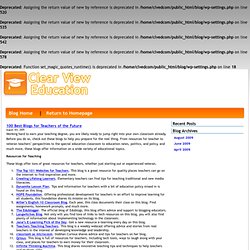 August 4th, 2009
La "Teacher of the Year Foundation" entrega el premio al mejor profesor del año (aunque a Bart le resulte extraño que se entreguen premios por enseñar). En el año 2003 la señorita Edna Krabappel fue nominada a tan preciado galardón. Los nominados, todos ellos profesores por supuesto, tienen una cara como la que tenemos al final del curso; pero cuando les comunican que el premio consiste en entregarles suficiente dinero para, específicamente, dejar de dar clase, todos ellos se ponen a bailar.
TRABAJO INVISIBLE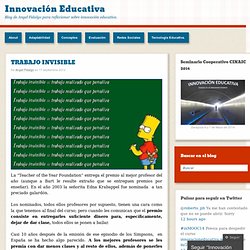 Un sexto y adictivo motivo para prestar atención a los blogs
Por Eduardo Larequi , el 8 de noviembre de 2007
SOMOS DIGITALES: ¡Sí quiero ser un profesor 2.0!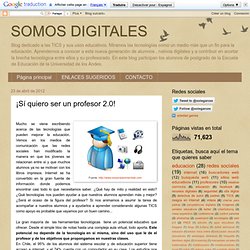 Mucho se viene escribiendo acerca de las tecnologías que pueden mejorar la educación.
366-días (escribiré solo 366 entradas)
Desde el Blog Las TIC en la Educación, una pausa y seguimos...
Rosa María Torres Imágenes y algunas citas.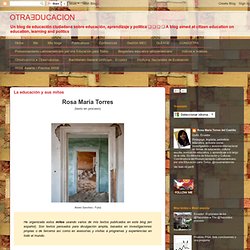 La educación y sus mitos
¿Por qué comparto informaciones y contenidos? | Contextos universitarios mediados
http://www.bultzlan.com/permalink.php?id=1764 Hacia el año 2000, cuando me hice cargo de la dirección de la Cátedra UNESCO de Educación a Distancia (CUED) , me planteé la duda sobre cómo podría cumplir uno de los objetivos que figuraban en el convenio de creación de la misma, el de la proyección, difusión, divulgación de conocimientos y experiencias, teniendo como foco destinatario principal el espacio geográfico de América Latina.
EDUCACIóN 2.0 y REDES SOCIALES
Sites For Educators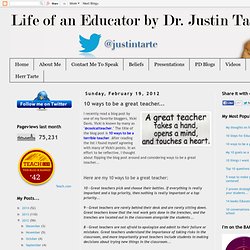 10 ways to be a great teacher...
I recently read a blog post by one of my favorite bloggers, Vicki Davis.
LA ESQUINA DEL SABER
Bocetos de pedagogía virtual #epedagogía
Para entender las complejas relaciones, dependencias y tensiones entre la educación, la sociedad, la cultura, y ahora Internet, podemos echar de un saber llamado pedagógico.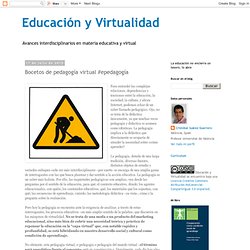 Thursday, August 16, 2012
Teaching Kids To Concentrate
Gone is the time when PowerPoint was the most impressive communication technology in the lecture hall. These days, students and professors enjoy the power of Twitter, a tool that allows for digital discussions to supplement and even guide lecture sessions.
10 Ways Twitter Is Reinventing the College Lecture - Online Universities
8 grandes ideas para el aprendizaje constructivista y Significativo
i
There are tons of free textures and background images online.
Contar con TIC: Los cambios en la lectura por las nuevas tecnologías
Toda innovación tecnológica donde se ponen en juego los sistemas de producción y circulación del conocimiento parecen reavivar siempre la misma polémica: ¿cuál es el mejor modo de acceder, comprender y transmitir el saber?
El blog de Óscar González: Tú también puedes liderar el cambio educativo
Conectando APPs y educación #infografia #infographic #software #education
"las e-actividades como eje del #elearning universitario" . #CLED2012. Manuel Area
On tour
una docena de |
100 reasons why educators should use blogs
ClintLalonde.net | Trying to balance the ed with the tech
¿Por qué la Educación Sin Creatividad No es Suficiente? | El Blog de MasqueClases: Actualidad Educativa
The Dean's List: 50 Must-Read Higher Education Technology Blogs
"Los docentes tienen que experimentar, así es como se aprende" | Sobre Tiza
Las Netbooks No Muerden: Mapas conceptuales: Los verdaderos mapas del tesoro
García Aretio
cerradoporvacaciones
TRES SENCILLOS GRÁFICOS PARA ENTENDER LA EVALUACIÓN CONTINUA Y LA FORMACIÓN BASADA EN COMPETENCIAS (A TRAVÉS DE LA ACCIÓN TUTORIAL)
Educación Infantil: CINE Y EDUCACIÓN: LA FORMACIÓN DEL FUTURO ESPECTADOR
Taller de herramientas web 2.0 para la Creatividad
A Simple Approach to Interactive E-Learning
Internet como recurso educativo
Digitally Immersed in the Challenges of Learning
10 BYOT / BYOD Back to School Basics
Innovations in Education - Developing Future Workskills Through Content Curation
Common Core Resources
Diez destrezas del Educador 3.0
iTeacherBook: Un gran amigo del profesor
Mira dentro de TIC: Presentación de miradentrodeTIC en novadors12 y aulablog12
El meu twitter-bloc: Recursos Educatius Oberts
86 Productivity Tricks, Tips, and Apps
Los 10 mandamientos Educación y TIC