Conflict management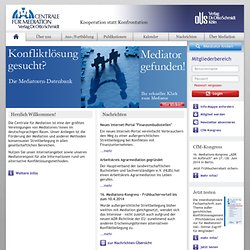 Centrale für Mediation
Ein neues Internet-Portal vereinfacht Verbrauchern den Weg zu einer außergerichtlichen Streitbeilegung bei Konflikten mit Finanzunternehmen. Der Hauptverband der landwirtschaftlichen Buchstellen und Sachverständigen e.V. (HLBS) hat einen Arbeitskreis Agrarmediation ins Leben gerufen. Wurde außergerichtliche Streitbeilegung bisher weithin mit Mediation gleichgesetzt, wendet sich das Interesse - nicht zuletzt auch aufgrund der neuen ADR-Richtlinie der EU -zunehmend auch anderen Erscheinungsformen alternativen Konfliktbeilegung zu.
Klärungshilfe_Thomann
Klärungshilfe_Methoden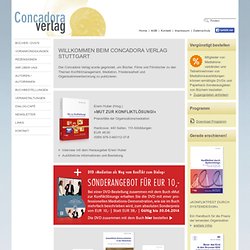 Concadora Verlag Stuttgart
Der Concadora Verlag wurde gegründet, um Bücher, Filme und Filmbücher zu den Themen Konfliktmanagement, Mediation, Friedensarbeit und Organisationsentwicklung zu publizieren. Konfliktmanagement als Kernaufgabe in Familienunternehmen Familienunternehmen sind besonders anfällig für Konflikte, weil das Zusammenleben in der Familie einer anderen Logik folgt als die Anforderungen des Unternehmens.
Conflict Management Skills
Gregorio Billikopf Party-Directed Mediation (3rd Edition - January 2014) 446 pages + xvi preface 14 chapters, 3 appendices, index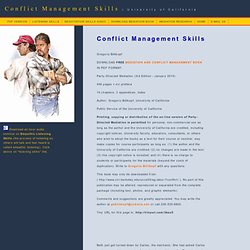 Basics of Conflict Management
Clarifying Confusion About Conflict Types of Managerial Actions That Cause Workplace Conflicts Key Managerial Actions / Structures to Minimize Conflicts Ways People Deal With Conflict To Manage a Conflict with Another Person Additional Perspectives on Conflict Management General Resources About Conflict Management Also see Related Library Topics Note that many methods intended for addressing conflict between two people also might be considered as methods to address group conflict. Therefore, also see Conflict Management in Groups. Learn More in the Library's Blogs Related to Conflict Management In addition to the articles on this current page, see the following blogs which have posts related to Conflict Management.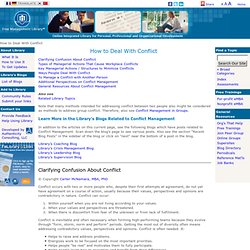 "Global Conflicts" is an award-winning educational game series used for teaching citizenship, geography, and media courses. The series allows students to explore and learn about different conflicts throughout the world and the underlying themes of democracy, human rights, globalization, terrorism, climate and poverty. The game series is easy to use for teachers and is developed with close attention to curriculum requirements and ease of use in classroom teaching. Let your students experience what they usually only read about....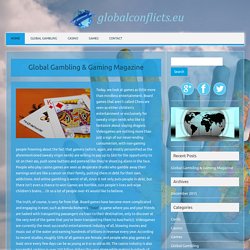 Public Good Game - 2
Friedenspädagogik
Beyond Intractability Copyright © 2003-2012 The Beyond Intractability Project, The Conflict Information Consortium, University of Colorado; All rights reserved. Content may not be reproduced without prior written permission. Inquire about affordable reprint/republication rights. Beyond Intractability is a Registered Trademark of the University of ColoradoContact Beyond IntractabilityPrivacy Policy The Beyond Intractability Knowledge Base Project Guy Burgess and Heidi Burgess, Co-Directors and Editors c/o Conflict Information Consortium (Formerly Conflict Research Consortium), University of Colorado 580 UCB, University of Colorado, Boulder, CO 80309, USA -- Phone: (303) 492-1635 -- Contact