Commentary on surveillance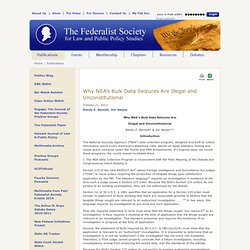 Why NSA's Bulk Data Seizures Are Illegal and Unconstitutional » Publications » The Federalist Society
Why NSA's Bulk Data Seizures Are Illegal and Unconstitutional October 21, 2013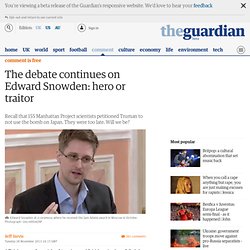 The debate continues on Edward Snowden: hero or traitor | Jeff Jarvis | Comment is free
Edward Snowden at a ceremony where he received the Sam Adams award in Moscow in October. Photograph: Uncredited/AP Official means of oversight of American and British spying have failed.
NSA whistleblower Edward Snowden and Barack Obama appear on the front pages of local papers in Hong Kong on 11 June 2013. Photograph: Bobby Yip/Reuters Even though we know governments do all kinds of things I was shocked by the information about the US surveillance operation, Prism . To me, it's abusively using government powers to interfere in individuals' privacy. This is an important moment for international society to reconsider and protect individual rights.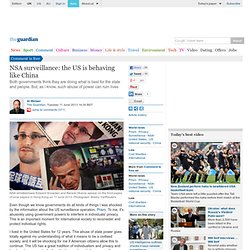 NSA surveillance: The US is behaving like China | Ai Weiwei | Comment is free
'After 9/11 NSA had secret deal with White House'
As has been said, probably rightly, the 19th century did not end until 1914, when the First World War broke out; similarly, the 20th century did not end on New Year's Eve 2000 or New Year's Day 2001, as the calendar would suggest, but continued for another few months. I daresay that the 20th century finally ended only on September 11, 2001, when suicide bombers succeeded in attacking the World Trade Center. Naturally, terrorism had been known for a long time. It was known all too well to 19th-century Europe. It also existed in the 20th century, and in plenty of shades.
Farewell to Modernity in the New Age of Surveillance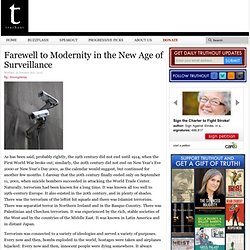 The Politics of Surveillance: The Erosion of Privacy in Latin America | Rights & Liberties | Scoop.it
While most Latin American countries have democratically-elected governments, many still fail to respect human rights, including the right to privacy. Across the region, there have been multiple scandals involving government officials and intelligence agencies engaged in illegal surveillance of communications. These include numerous chilling examples of how interception technologies are being misused to spy on politicians, dissidents, judges, human rights organizations and activists. Although privacy violations vary from country to country, and the full extent of government surveillance in the region remains largely unknown, newly disclosed data gathering programs hint at the architecture of surveillance lying beneath the surface of ostensibly democratic societies. These surveillance systems demonstrate how communication interception is being used as a political tool to identify, control and stifle dissent.