Résultats des plans de surveillance
WORLD POULTRY 30/05/13 Survey confirms extent of mycotoxin problem in feed. The 2012 drought in the US and the recent aflatoxin scandal in Europe has raised awareness once again of the mycotoxin problem facing the animal feed industry.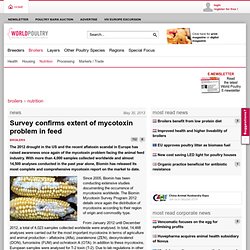 With more than 4,000 samples collected worldwide and almost 14,500 analyses conducted in the past year alone, Biomin has released its most complete and comprehensive mycotoxin report on the market to date. Since 2005, Biomin has been conducting extensive studies documenting the occurrence of mycotoxins worldwide. The Biomin Mycotoxin Survey Program 2012 details once again the distribution of mycotoxins according to their region of origin and commodity type.
From January 2012 until December 2012, a total of 4,023 samples collected worldwide were analysed. BIOMIN 16/09/13 Rapport Mycotoxines BIOMIN 2012. REVUE DE L ALIMENTATION ANIMALE 26/07/13 Mycotoxines : le rapport Biomin révèle la réalité du risque. Comme chaque année depuis 2005, Biomin édite un rapport sur l'état de la contamination en mycotoxines des matières premières et aliments dans le monde.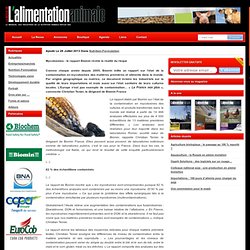 Par origine géographique ou matrice, ce document éclaire les industriels sur la qualité de leurs importations et mais aussi sur l'état sanitaire de leurs cultures locales. L'Europe n'est pas exempte de contamination… « La France non plus », commente Christian Tenier, le dirigeant de Biomin France. Le rapport établi par Biomin sur l'état de la contamination en mycotoxines des cultures et produits transformés dans le monde est réalisé à partir de 14 468 analyses effectuées sur plus de 4 000 échantillons de 13 matières premières différentes. « Les analyses sont réalisées pour leur majorité dans les laboratoires Romer, société sœur de Biomin, rappelle Christian Tenier, le dirigeant de Biomin France. BIOMIN - Annual mycotoxin report 2012. BIOMIN, the leader in Mycotoxin Risk Management, is proud to introduce you the mycotoxin analyzes results for the period between January and December 2012.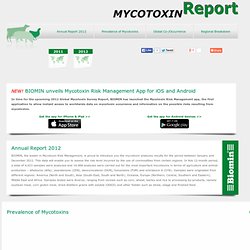 This data will enable you to assess the risk level incurred by the use of commodities from certain regions. In this 12-month period, a total of 4,023 samples were analyzed and 14,468 analyzes were carried out for the most important mycotoxins in terms of agriculture and animal production – aflatoxins (Afla), zearalenone (ZEN), deoxynivalenol (DON), fumonisins (FUM) and ochratoxin A (OTA). Samples were originated from different regions: America (North and South), Asia (South-East, South and North), Oceania, Europe (Northern, Central, Southern and Eastern), Middle East and Africa.
Samples tested were diverse, ranging from cereals such as corn, wheat, barley and rice to processing by-products, namely soybean meal, corn gluten meal, dried distillers grains with soluble (DDGS) and other fodder such as straw, silage and finished feed. JUNDISHAPUR JOURNAL OF MICROBIOLOGY - 2013 - Mycoflora of Fungal Contamination in Wheat Storage (Silos) in Golestan Province, No.
Ciudad Universitaria, C1428EHA, Buenos Aires - 2013 - Mycoflora and Mycotoxins Contamination of Soybean RR Harvested In the Pamp. African Journal of Agricultural Research 22/08/13 A survey of South African silage for fungi and mycotoxins. Toxins, Vol. 5, 2013 Estimated Dietary Exposure to Mycotoxins after Taking into Account the Cooking of Staple Foods in Japan.
Abstract: Mycotoxins are commonly present in cereal grains and are not completely destroyed during their cooking and processing.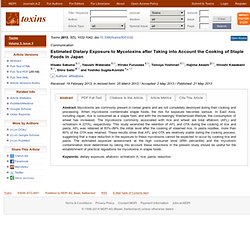 When mycotoxins contaminate staple foods, the risk for exposure becomes serious. In East Asia, including Japan, rice is consumed as a staple food, and with the increasingly Westernized lifestyle, the consumption of wheat has increased. The mycotoxins commonly associated with rice and wheat are total aflatoxin (AFL) and ochratoxin A (OTA), respectively.
Mycotoxines en Suisse
AGÊNCIA PAULISTA DE TECNOLOGIA DOS AGRONEGÓCIOS (SAU PAULO) - 2012 - Thèse en ligne : MONITORAMENTO DE MICOTOXINAS EM RAÇÃO DEST. J. Agric. Food Chem. 2009, 57, 9828–9837 The Occurrence and Concentration of Mycotoxins in U.S. Distillers Dried Grains with Sol. Toxins 2012, 4 Current Situation of Mycotoxin Contamination and Co-occurrence in Animal Feed—Focus on Europe. World Mycotoxin Journal 26/10/11 A comprehensive survey on the occurrence of mycotoxins in maize dried distillers' grain and sol.
JOURNAL OF ANIMAL AND VETERINAY ADVANCES - 2011 - Co-Occurrence of Moulds and Mycotoxins in corn grains used for animal feeds in. FSA 22/11/11 Survey of mycotoxins pub. Food and Nutrition Sciences, 2011, 2, 751-758 September 2011 Occurrence of Fungi and Mycotoxins in Some Commercial Baby Foods in. VWA (NL) 12/04/11 Mycotoxinen, handhaving 2009 - resultaten 2009. AMERICAN JOURNAL OF FOOD TECHNOLOGY - 2011 - Microbial contamination and mycotoxins from nuts in Riyadh, Saudi Arabia. AFMA - MARS 2008 - MATRIX - Au sommaire:Mycotoxin Survey Program 2007.
AFMA - JUIN 2009 - MATRIX - Au sommaire:Mycotoxin survey shows size of the problemA survey of mycotoxins in feed samples from So.
Mycotoxines en France
---