Keep your Job
Inspire Creativity at Work With All 5 of Your Senses. You've probably heard of the debate about whether open offices or the oh-so-dreaded traditional cubicles are better in the workplace.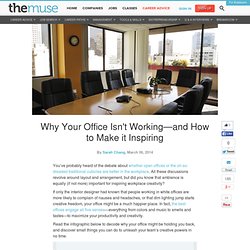 All these discussions revolve around layout and arrangement, but did you know that ambience is equally (if not more) important for inspiring workplace creativity? If only the interior designer had known that people working in white offices are more likely to complain of nausea and headaches, or that dim lighting jump starts creative freedom, your office might be a much happier place. How to Ask for a Raise. Do you think you deserve more for what you do at work?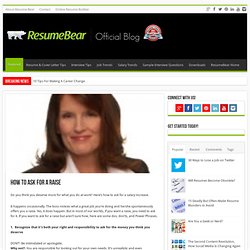 Here's how to ask for a salary increase. It happens occasionally. The boss notices what a great job you're doing and he/she spontaneously offers you a raise. Yes, it does happen. But in most of our worlds, if you want a raise, you need to ask for it. Easiest Way to Get a Raise and Promotion. If, for some reason, you need any urging to become more aggressive about your career and financial future, a new study from Accenture should provide it.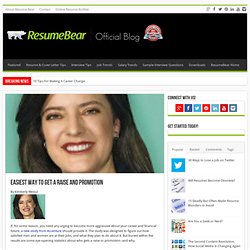 The study was designed to figure out how satisfied men and women are at their jobs, and what they plan to do about it. But buried within the results are some eye-opening statistics about who gets a raise or promotion–and why. Accenture surveyed 3,400 professionals at medium and large-sized companies in 29 countries. Some 500 of those people were in the U.S. Make a Temp Job Last. Should You Let Your Employees Work From Home? Today, many companies offer their employees the option to work from home, even if they live relatively close to the office.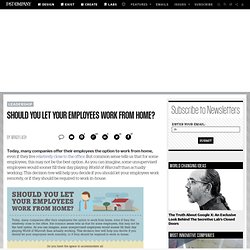 But common sense tells us that for some employees, this may not be the best option. As you can imagine, some unsupervised employees would sooner fill their day playing World of Warcraft than actually working. This decision tree will help you decide if you should let your employees work remotely, or if they should be required to work in-house. This post was written by Colin Dobrin. 5 Things to Do Every Day for Success. Fast Company wants you to have your best year yet in 2012; click for more advice and tips on how to work smarter, manage your career, and lead a more meaningful life.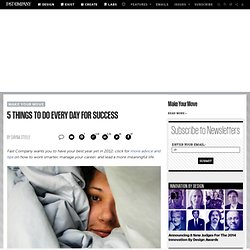 "You get up at what time? " I hear that a lot, along with "You are so lucky. " So, I'm going to help out here and let you in on the secrets of my success. If Mentors Are So Important, Where Are They? | BNET. Last Updated Oct 27, 2011 10:06 PM EDT Where have all the mentors gone?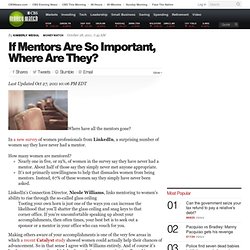 In a new survey of women professionals from LinkedIn, a surprising number of women say they have never had a mentor. How many women are mentored? Nearly one in five, or 19%, of women in the survey say they have never had a mentor. Give Your Employees Unlimited Vacation Days. The 9 a.m.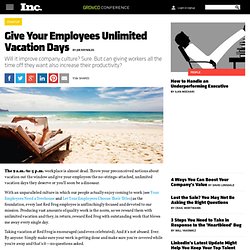 -to-5 p.m. workplace is almost dead. Throw your preconceived notions about vacation out the window and give your employees the no-strings-attached, unlimited vacation days they deserve or you'll soon be a dinosaur. How to get a pay raise - Jan. 12. (MONEY Magazine) -- Another year, another piddling pay raise?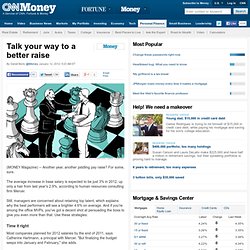 For some, sure. The average increase in base salary is expected to be just 3% in 2012, up only a hair from last year's 2.9%, according to human resources consulting firm Mercer. Still, managers are concerned about retaining top talent, which explains why the best performers will see a brighter 4.6% on average. How to Be Happy at Work. Let me start off with a little story.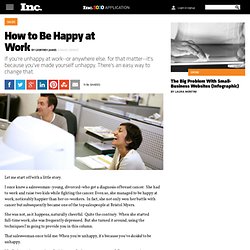 I once knew a saleswoman–young, divorced–who got a diagnosis of breast cancer. She had to work and raise two kids while fighting the cancer. Even so, she managed to be happy at work, noticeably happier than her co-workers. In fact, she not only won her battle with cancer but subsequently became one of the top salespeople at Bristol Myers. Recruiting: 8 Qualities Your Best Employees Should Have. Great employees are reliable, dependable, proactive, diligent, great leaders and great followers... they possess a wide range of easily-defined—but hard to find—qualities.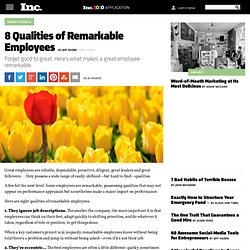 A few hit the next level. Some employees are remarkable, possessing qualities that may not appear on performance appraisals but nonetheless make a major impact on performance. Here are eight qualities of remarkable employees:
---