Keep your Job
Do you think you deserve more for what you do at work? Here's how to ask for a salary increase. It happens occasionally. The boss notices what a great job you're doing and he/she spontaneously offers you a raise. Yes, it does happen. But in most of our worlds, if you want a raise, you need to ask for it.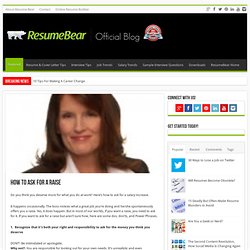 How to Ask for a Raise
If, for some reason, you need any urging to become more aggressive about your career and financial future, a new study from Accenture should provide it.
Easiest Way to Get a Raise and Promotion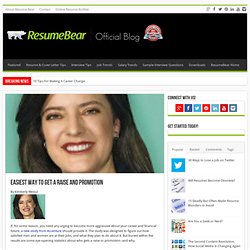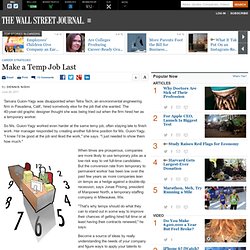 Make a Temp Job Last
By DENNIS NISHI Tamara Guion-Yagy was disappointed when Tetra Tech, an environmental engineering firm in Pasadena, Calif., hired somebody else for the job that she wanted. The 40-year-old graphic designer thought she was being tried out when the firm hired her as a temporary worker.
Today, many companies offer their employees the option to work from home, even if they live relatively close to the office . But common sense tells us that for some employees, this may not be the best option. As you can imagine, some unsupervised employees would sooner fill their day playing World of Warcraft than actually working. This decision tree will help you decide if you should let your employees work remotely, or if they should be required to work in-house.
Should You Let Your Employees Work From Home?
Fast Company wants you to have your best year yet in 2012; click for more advice and tips on how to work smarter, manage your career, and lead a more meaningful life. "You get up at what time?" I hear that a lot, along with "You are so lucky."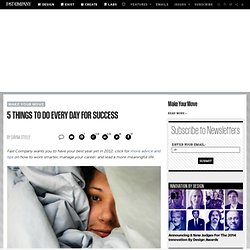 Where have all the mentors gone? In a new survey of women professionals from LinkedIn , a surprising number of women say they have never had a mentor. How many women are mentored? Nearly one in five, or 19%, of women in the survey say they have never had a mentor. About half of those say they simply never met anyone appropriate.
If Mentors Are So Important, Where Are They? | BNET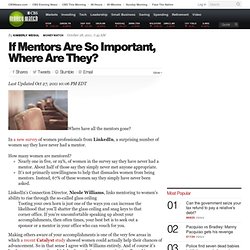 Give Your Employees Unlimited Vacation Days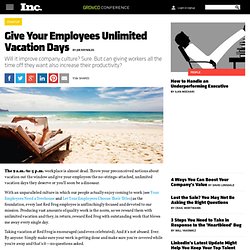 Will it improve company culture? Sure. But can giving workers all the time off they want also increase their productivity?
(MONEY Magazine) -- Another year, another piddling pay raise? For some, sure. The average increase in base salary is expected to be just 3% in 2012, up only a hair from last year's 2.9%, according to human resources consulting firm Mercer. Still, managers are concerned about retaining top talent, which explains why the best performers will see a brighter 4.6% on average.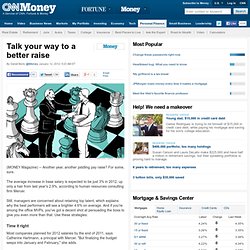 How to get a pay raise - Jan. 12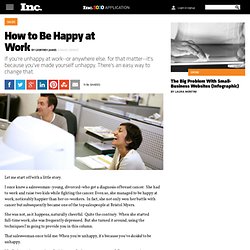 If you're unhappy at work--or anywhere else, for that matter--it's because you've made yourself unhappy. There's an easy way to change that. 3,563 in Share Connect with Evernote: Please Login to Connect Your Account with Evernote
How to Be Happy at Work
Forget good to great. Here's what makes a great employee remarkable. shutterstock images 25K in Share