Business coaching
10 Advanced Twitter Tips & Tricks. As a part of our mission, we aim to make use of our tweeting experience by bringing you tips that may help you get more attention, engagement, clicks, replies, and new followers.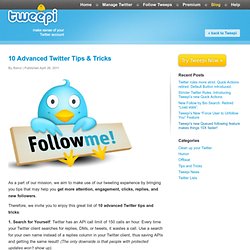 Therefore, we invite you to enjoy this great list of 10 advanced Twitter tips and tricks: 1. Search for Yourself: Twitter has an API call limit of 150 calls an hour. Every time your Twitter client searches for replies, DMs, or tweets, it wastes a call. The Battle of Free Vs Paid. Understanding Users of Social Networks. If the ongoing social networking revolution has you scratching your head and asking, "Why do people spend time on this?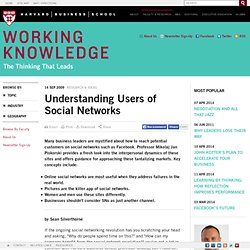 " and "How can my company benefit from the social network revolution? " you've got a lot in common with Harvard Business School professor Mikolaj Jan Piskorski. Why Most Businesses Get Facebook Wrong. In this video I interview Jay Baer, co-author of the new book The Now Revolution and founder of the popular social media blog Convince and Convert.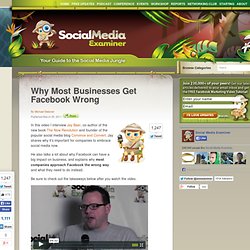 Jay shares why it's important for companies to embrace social media now. He also talks a lot about why Facebook can have a big impact on business, and explains why most companies approach Facebook the wrong way and what they need to do instead. Uncompromising Leadership in Tough Times. Economic difficulties need not mean that we lower our standards for leadership.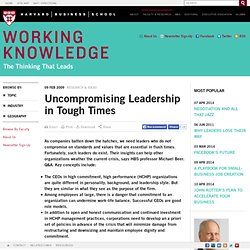 If anything, we should raise our sights. New work by HBS professor Michael Beer and colleagues shows that there is still a place for what they term uncompromising leadership. Due out this summer, the book High Commitment, High Performance: How to Build a Resilient Organization for Sustained Advantage describes organizations that, Beer says, "are diametrically opposite to the firms we saw fail on Wall Street. The book's perspective also leads to answers to the question of how to manage in tough times in a way that avoids liquidation of human and cultural assets. " The book looks broadly at what it takes to build a high commitment, high performance (HCHP) system inside companies. Ten fundamental mistakes that will kill your email marketing | We are the Free Radicals.
When people tell me "Email doesn't work" it usually means that they're doing something wrong.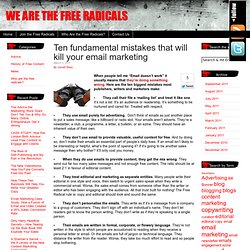 Here are the ten biggest mistakes most publishers, writers and marketers make: • They call their file a 'mailing list' and treat it like one. It's not a list. It's an audience or readership. It's something to be nurtured and cared for. IT'S ALIVE! Why Email Can Be Even More Profitable in The Social Media Age | We are the Free Radicals. You may have heard or seen the following statement: In the past year I've been told this by many people… marketers, business owners, media analysts, journalists and social media pundits.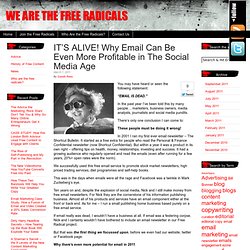 There's only one conclusion I can come to: These people must be doing it wrong! In 2001 I ran my first ever email newsletter – The Shortcut Bulletin. The Company as Community - Threadless Puts Everyone in Charge | Page 2. The Dawn of Topic-Centric Social Media? An interview with Guillaume Decugis, CEO of Scoop.it | We are the Free Radicals. After a couple of weeks beta testing new curation tool Scoop.it, I emailed the CEO with some questions from The Free Radicals….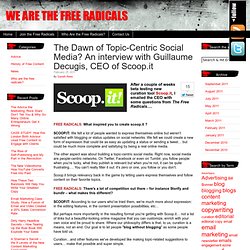 FREE RADICALS: What inspired you to create scoop.it ? SCOOP.IT: We felt a lot of people wanted to express themselves online but weren't satisfied with blogging or status updates on social networks. We felt we could create a new form of expression that could be as easy as updating a status or sending a tweet… but could be much more complete and satisfying by being a real online media. The other aspect was about building a topic-centric social media. Right now, social media are people-centric networks. Free Content Marketing. 30+ QuestionsTo Improve Your Business Marketing - Stefan Drew Associates. The purpose of this questionnaire is to help you spot opportunities and to motivate your team to improve your marketing.
Why not try these questions with your team? Have fun! 15 Most Unusual and Interactive Business Cards. Even the most creative business card design cannot guarantee your business success, however it is one of those very first things that make a very long lasting impression.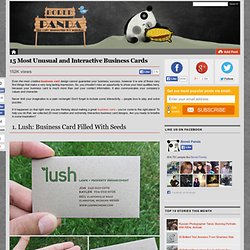 So, you shouldn't miss an opportunity to show your best qualities here, because your business card is much more than just your contact information. It also communicates your company's values and character. Never limit your imagination to a plain rectangle! The Most Important Management Trends of the (Still Young) Twenty-First Century. HBS Working Knowledge recently celebrated its tenth birthday, and we mark the occasion by looking back and looking forward.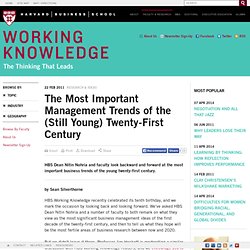 We've asked HBS Dean Nitin Nohria and a number of faculty to both remark on what they view as the most significant business management ideas of the first decade of the twenty-first century, and then to tell us what they hope will be the most fertile areas of business research between now and 2020. But we didn't leave it there. Professor Jim Heskett is moderating a similar discussion with HBS Working Knowledge readers, and we encourage you to participate.
As of this writing some 75 comments have been submitted. Finally, I thought you would be interested in learning the most popular WK articles since we set up shop. Clay Christensen's Milkshake Marketing. When planning new products, companies often start by segmenting their markets and positioning their merchandise accordingly. This segmentation involves either dividing the market into product categories, such as function or price, or dividing the customer base into target demographics, such as age, gender, education, or income level. Unfortunately, neither way works very well, according to Harvard Business School professor Clayton Christensen, who notes that each year 30,000 new consumer products are launched—and 95 percent of them fail. Blog Comments|How to Reply to Comments on Your Blog. Welcome to My DoFollow Blog! As a Big Thank You, I'd Like to Give You FREE Access to my "Online Marketing Success Formula" Report That Gives You The Key Ingredients For Success in YOUR Business!
~ Mavis Nong One of the key responsibilities of a blogger is to respond to your readers' comments. Blog Commenting | Killer Tips Up For Grabs! Welcome to My DoFollow Blog! As a Big Thank You, I'd Like to Give You FREE Access to my "Online Marketing Success Formula" Report That Gives You The Key Ingredients For Success in YOUR Business! ~ Mavis Nong. Top 10 Business Blogs and Why They Are Successful. Does your business have a blog? Are you looking to generate engaging comments and new daily visitors? If so, look no further. 52 Great Subject Lines to Boost Your Email Open Rates | We are the Free Radicals. If open rates for your email newsletters are dropping, try and pep up your subject lines. Here are a bunch of classics that have worked for me in a variety of guises over the past 10 years. Look, I've even arranged them into handy 'fill-in the-blanks' templates for your marketing pleasure. • Do you suffer this frustrating problem?
Are You Missing Something? Four Things Your Free Content Website Should and Should NEVER Do | We are the Free Radicals. Why there should be NO difference between editorial and marketing copy | We are the Free Radicals. 10 Rules for modern collaboration. BBC Radio 4 Programmes - In Business. Creative Entrepreneurship: How to Build an Empire in Your Spare Time.
---