Space
Space elevator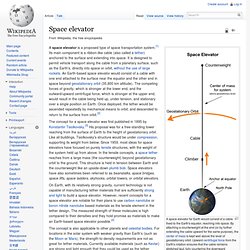 A space elevator for Earth would consist of a cable fixed to the Earth's equator, reaching into space. By attaching a counterweight at the end (or by further extending the cable upward for the same purpose), the center of mass is kept well above the level of geostationary orbit. Upward centrifugal force from the Earth's rotation ensures that the cable remains stretched taut, fully countering the downward gravitational pull. Once above the geostationary level, climbers would have weight in the upward direction as the centrifugal force overpowers gravity. (The height relative to the diameter of the Earth on the diagram is to scale.
Space Elevators
Science Deck - Space Elevators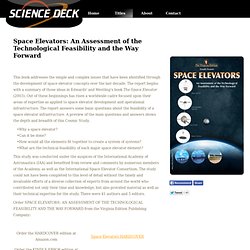 This book addresses the simple and complex issues that have been identified through the development of space elevator concepts over the last decade.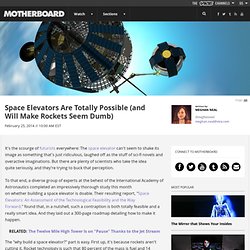 Space Elevators Are Totally Possible (and Will Make Rockets Seem Dumb)
It's the scourge of futurists everywhere: The space elevator can't seem to shake its image as something that's just ridiculous, laughed off as the stuff of sci-fi novels and overactive imaginations. But there are plenty of scientists who take the idea quite seriously, and they're trying to buck that perception.
Lunar Map Catalog
NASA's Buckminster Fuller-inspired Super Ball Bot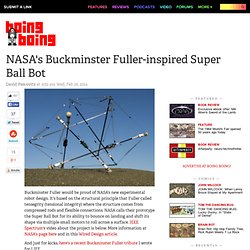 Buckminster Fuller would be proud of NASA's new experimental robot design. It's based on the structural principle that Fuller called tensegrity (tensional integrity) where the structure comes from compressed rods and flexible connections.
imagine.gsfc.nasa.gov/docs/teachers/lifecycles/Imagine2.pdf
www.searchanddiscovery.com/documents/halbouty/images/halbouty.pdf
What is the universe made of? - Dennis Wildfogel
19g6gf916lxofjpg.jpg (1885×3044)
Does a tree falls in a forest and no one is around to hear it, does it make a sound? If i.e. Andromeda galaxy is full of alien civilizations, would it make any difference for us?
How would humanity change if we knew aliens existed?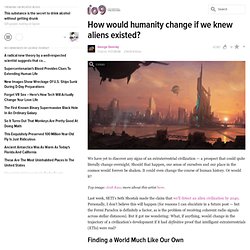 Big Pic: The Solar System's Largest Moon, Mapped
How Many People Are In Space Right Now?
Star Sand
NASA | Jewel Box Sun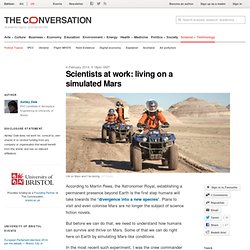 According to Martin Rees, the Astronomer Royal, establishing a permanent presence beyond Earth is the first step humans will take towards the "divergence into a new species". Plans to visit and even colonise Mars are no longer the subject of science fiction novels. But before we can do that, we need to understand how humans can survive and thrive on Mars.
Scientists at work: living on a simulated Mars
Overview - Finding Our Place in the Cosmos: From Galileo to Sagan and Beyond | Library of Congress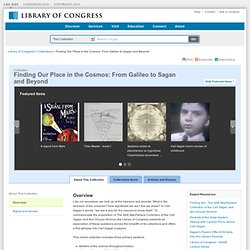 Overview Like our ancestors, we look up at the heavens and wonder.
How Rosetta wakes up from deep space hibernation
How fast are you moving right now? - Tucker Hiatt
Opportunity: 10 Years on Mars - Operating A Rover
Opportunity: 10 Years on Mars - Operating A Rover
Relief as Rosetta wakes, but we continue to hold our breath
As one of the scientists involved in the Rosetta mission, news that the unmanned spacecraft has woken up and restored contact with Earth comes as a great relief.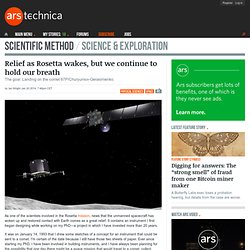 [1401.3741] Enduring Quests-Daring Visions (NASA Astrophysics in the Next Three Decades)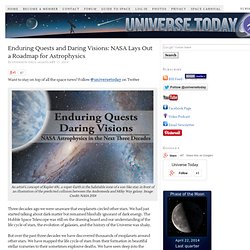 Want to stay on top of all the space news? Follow @universetoday on Twitter An artist's concept of Kepler-69c, a super-Earth in the habitable zone of a sun-like star, in front of an illustration of the predicted collision between the Andromeda and Milky Way galaxy.
Enduring Quests and Daring Visions: NASA Lays Out a Roadmap for Astrophysics
▶ No Edge: The Shape of the Universe. (Part 1: Flat Models)
No Edge: The Shape of the Universe. (Part 1: Flat Models)
What do we mean when we say the Universe is curved?
SExpand New measurements from the Baryonic Oscillation Spectroscopic Survey (BOSS) study have charted the shape and size of our universe to within 1% accuracy.
New Survey Supports the Theory that the Universe Is Infinite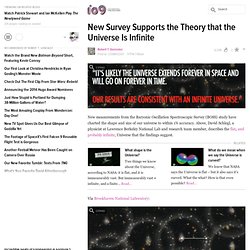 New Survey Supports the Theory that the Universe Is Infinite
a School of Geosciences, University of Aberdeen, Meston Building, King's College, Aberdeen, AB24 3UE, UKb School of Physics & Astronomy, University of St Andrews, North Haugh, St Andrews, Fife, KY16 9SS, UK
Circumstellar habitable zones for deep terrestrial biospheres
SExpand A team of astrobiologists has redefined conventional notions of where life can exist within a solar system.
New study dramatically changes where we believe aliens might live
SExpand
Astronomers may have just discovered a new class of planets
This spidery spacecraft will be the first to soft-land on a comet
Vytas SunSpiral
NASA's New Robot Prototype Looks Like a Pile of Drunk Sticks
Mars Wear and Tear: Curiosity's Wheel Damage: Photos
Meet the Kraken: Hydrocarbon seas spotted at Titan's north pole
China has landed on the Moon
▶ The World Outside My Window - Time Lapse of Earth from the ISS (4K)
NASA's hovering lander looked beautiful at yesterday's test-launch
India, China send probes out of this world
Sphère de Dyson
Future Spacecraft Will Be 3-D Printed--In Space, By Robots | Co.Design | business + design
A first-hand account of the launch of NASA's LADEE lunar probe
Public maps out an A to Z of galaxies
BOLIDES - Visualizing meteorites
Fireball from Outer Space
Press Release - Blue Light Observations Indicate Water-Rich Atmosphere of a Super-Earth - Subaru Telescope
The Moon in 1910
British university posts exclusive photo scans of space exploration artifacts
▶ The 2 Secrets to Sending People to Mars
The 20 big questions in science | Science | The Observer
Sun Primer: Why NASA Scientists Observe the Sun in Different Wavelengths
Solar Palette If you look at the Sun (which you
Engineers Identify 12 Asteroids We Could Capture With Existing Rocket Technology - Wired Science
Keeping a Record of Our Burning Planet
Star Trails: Incredible Long Exposure Photographs Shot from Space
Scientists are arguing about whether Voyager has left the Solar System
Almost orbital, solar-powered drone offered as "atmospheric satellite"
Could We Stop An Asteroid? Feat. Bill Nye
Ars hops in Boeing's "commercial space" spaceship, the CST-100
Roswell & New Signals from Space
Hanny's Voorwerp - Sixty Symbols
Build a Solar System Model
Build a Solar System Model
European Space Agency Reveals New Rocket Design
Astronomers watch gas streaming into a massive embryonic star
Newly Discovered Planet Has Glass Rain and 4,500 MPH Wind
How To Clean Up Space Junk
How To Clean Up Space Junk
Planétarium
Mysterious radio bursts come from outside our galaxy
Last transmitter dies, finalizing retirement for ocean-sensing satellite
Wildfires Smoke Crosses the Atlantic
Galerie de FEI Company
Interstellar gas allows chemical reactions caused by quantum tunneling
The James Webb Space Telescope
Découverte de trois exoplanètes potentiellement habitables
Galaxy Zoo
Scale on Vimeo
Cassini captures gigantic hurricane on Saturn in exquisite detail
Laser propulsion
Iron in Egyptian relics came from space
Does the Big Bang necessarily mean we're part of a multiverse?
Kickstarting a Space Telescope?!
Willamette Meteorite
How It Works: NASA's Curiosity Mars Rover
Mars Science Laboratory: Time Lapse - Sol 0 - Sol 281
How Kepler's Pointing System Might Have Failed
Frank Tinsley, art of ... : un album sur Flickr
Commercial Crew Program
Powerful winds on giant planets confined to a thin atmospheric layer
Costs of US piloted programs
Saving Fermi: NASA's system for avoiding collisions with space junk
We Are Floating In Space: Spacewalk
A new detector has a clever way of detecting dark matter
Gearing up to search for gravity waves
Telescope detects the most energetic gamma-ray burst yet
High-mass pulsar binary provides best test of general relativity
Remains of a supernova fall to Earth
La NASA étudie les portails magnétiques
10 cool NASA projects for studying the environment
Homepage | The Planetary Society
Creating a Hubble Galaxy in Two Minutes
We're 99% certain this is the most beautiful footage of Earth's auroras yet recorded
Kepler's Tally of Planets - Interactive Feature
Orbital Sciences : l'espace public devient de plus en plus privé
Kepler spots two super Earths, one squarely in the habitable zone
Comment capturer un astéroïde ?
Everybody Poops : Atomic Toasters
Voici comment la NASA va capturer un astéroïde
trs-new.jpl.nasa.gov/dspace/bitstream/2014/13644/1/00-0010.pdf
Voyager
Curiosity : mission accomplie ! Mars a pu héberger la vie !
Ce trou noir tourne (presque) à la vitesse de la lumière
DE-STAR, le destructeur d'astéroïdes
Un océan de lave à la surface de Mercure
BRITE, le télescope spatial le plus petit au monde
Des communications spatiales LASER
Welcome! — PyEphem home page
www.nasa.gov/pdf/703154main_earth_art-ebook.pdf
Orson Welles: Who's Out There? (NASA, 1975)