Management & Team
How Can I Delegate to an Unreliable Person?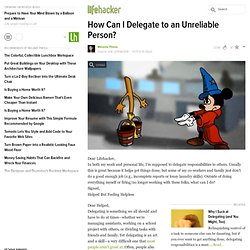 Let me add a bit here to students who are forced to work into groups:Try to manage your own expectations with the results to fit with the rest of the group.This can be a huge point of stress in people's life, but for students specially you have kinda of a big difference with groups in a work environment (I'm comparing because couple of years back I had to deal with both simultaneously). Put simply, I had a great 4 people team experience at my job, but always had all sorts of trouble with teams going from 2 to 7 people at the university.At some point, I stopped to analyze the situation, and just came to the conclusion that what I was expecting from people to get to a certain result was not what people was expecting to do. We had this disparity in classes where there was always one or two people who were actually willing to learn something trying to lead groups of people who couldn't careless.
One thing I personally learned in my life is that you cannot do everything yourself. If you do, you will simply waste too much time. Let's theorize for a second and say that I need professionally designed flyers for an upcoming event. Let's say a BIG club party.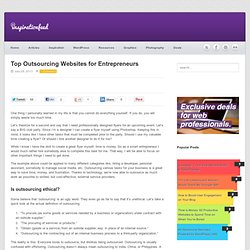 Top Outsourcing Websites for Entrepreneurs
There are many reasons companies with more diverse executive teams should outperform their peers: fielding a team of top executives with varied cultural backgrounds and life experiences can broaden a company's strategic perspective, for example. And relentless competition for the best people should reward organizations that cast their nets beyond traditional talent pools for leadership. To understand whether reality is consistent with theory, we looked at the executive board composition, returns on equity (ROE), and margins on earnings before interest and taxes (EBIT) of 180 publicly traded companies in France, Germany, the United Kingdom, and the United States over the period from 2008 to 2010. To score a company's diversity, we focused on two groups that can be measured objectively from company data: women and foreign nationals on senior teams (the latter being a proxy for cultural diversity). Diversity and performance
Is there a payoff from top-team diversity? - McKinsey Quarterly - Organization - Talent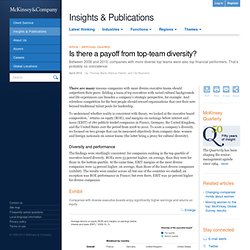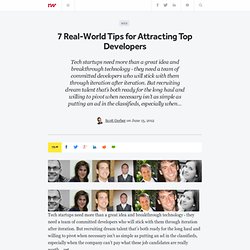 Tech startups need more than a great idea and breakthrough technology - they need a team of committed developers who will stick with them through iteration after iteration. But recruiting dream talent that's both ready for the long haul and willing to pivot when necessary isn't as simple as putting an ad in the classifieds, especially when the company can't pay what these job candidates are really worth… yet. For help, we asked seven successful young entrepreneurs from the Young Entrepreneur Council (YEC) about what really attracts rock-star talent.
7 Real-World Tips for Attracting Top Developers
Negotiation Skills Top 10 Tips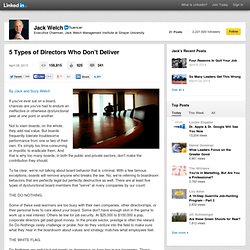 By Jack and Suzy Welch If you've ever sat on a board, chances are you've had to endure an ineffective or otherwise dysfunctional peer at one point or another. Not to slam boards; on the whole, they add real value. But boards frequently tolerate troublesome performance from one or two of their own. It's simply too time-consuming or impolitic to eradicate them.
5 Types of Directors Who Don't Deliver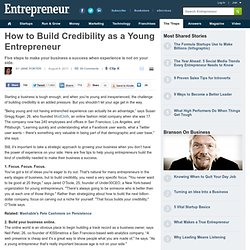 Five steps to make your business a success when experience is not on your side. Starting a business is tough enough, and when you're young and inexperienced, the challenge of building credibility is an added pressure. But you shouldn't let your age get in the way. "Being young and not having entrenched experience can actually be an advantage," says Susan Gregg Koger, 26, who founded ModCloth, an online fashion retail company when she was 17. The company now has 240 employees and offices in San Francisco, Los Angeles, and Pittsburgh. "Learning quickly and understanding what a Facebook user wants, what a Twitter user wants – there's something very valuable in being part of that demographic and user base," she says.
How to Build Credibility as a Young Entrepreneur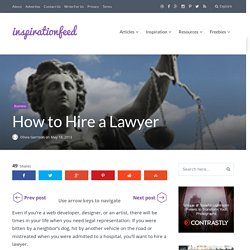 How to Hire a Lawyer
This article was written for Inspirationfeed by Olivia Garrison. Olivia is a professional blogger who provides news and information on construction law, business law, and criminal law. She writes for the Cobb Law Group, a leading law firm representing Georgia construction contract litigation , Georgia material suppliers and other practice areas. Even if you're a web developer, designer, or an artist, there will be times in your life when you need legal representation. If you were bitten by a neighbor's dog, hit by another vehicle on the road or mistreated when you were admitted to a hospital, you'll want to hire a lawyer. You'll also need an attorney when buying a new home or planning out your will.
Starting a new business is far from easy. It takes time, dedicated staff, and a lot of financial assistance. The past involved so much failure by not planning. Many would empty their savings accounts and take out loans against their mortgage. This caused many people to not only lose their business if they could not keep afloat but also their homes. The Next Generation of Startups is looking towards smarter financing methods.
The Next Generation Startups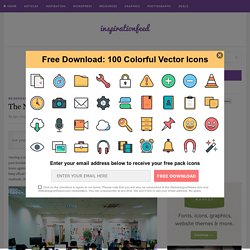 As a leader you have a tendency to repeat behavior that becomes both automatic and unconscious over time. That's why most leaders are used to making decisions in the amount of time needed by others to understand the question. They're on another level. This stumps beginners whom are looking to become leaders. The most common question becomes: How do leaders make great decisions even when they find themselves under pressure? The answer is that all their decisions are made based on accumulated experiences from past situations which have helped them grow in their field.
How To Be a Successful Leader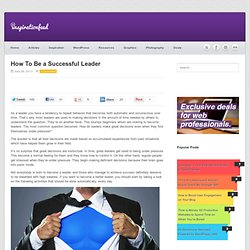 6 Tips for Starting a Successful Business Out of College
So you graduated college. Congratulations! Four years (in some cases a few more than that) and a lot of blood, sweat, and tears later and you are standing at the finish line victorious. Then, the elation starts to fade, people continue living their lives, and you ask yourself that age-old question: Now what?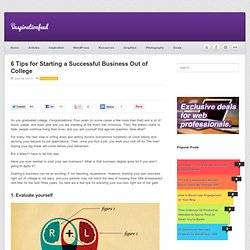 SExpand Starting a new remote gig, be it a contract project or a full-time job, can be a little intimidating if you're used to going into an office day after day. But this style of employment is growing in popularity, with some very notable companies lending it their endorsements. As a developer, I've worked remotely for years now on projects of various scales and durations.
The Beginner's Guide to Working From Home
How To Decide What Ideas To Prototype
[Editor's note: This is the fifth in a series of seven posts on running your own Google Ventures design sprint. Read the first part here, the second here, the third here, and the fourth here.] At the Google Ventures Design Studio, we have a five-day process for taking a product or feature from design through prototyping and testing.
Entrepreneurs often are adept at combining a personal skill or interest with business savvy to create a new enterprise. But what happens when a person's area of expertise is a little, well, unusual? As in fire-eating and snake-charming type of wacky. The enterprising performers on this list have created businesses out of teaching their special talents to others. And as it turns out, the businesses behind these schools are growing. Revenues in the fine-arts schools category, which as unlikely as it may sound includes such training, are projected to increase by nearly 3 percent this year to $4.73 billion, says industry research firm IBISWorld.
Unconventional Wisdom: Eight Wacky Schools
The billionaire entrepreneur shares his advice for promoting your business's best asset. Editor's Note: Entrepreneur Richard Branson regularly shares his business experience and advice with readers. What follows is the latest edited round of insightful responses.
Richard Branson on Managing Experienced Workers
Seven Steps to Superstar Employees
Don't just rely on annual performance reviews. Create an ongoing communication with your employees to help them be their best. Many employers sit their workers down once a year for a review. At that time, the employee finds out what they've been doing right or if there are areas in need of improvement.
How To Smooth a Rejected Job Applicant's Feathers
Do's and Don'ts of Using Social Media to Screen New Hires
Think Twice Before Adopting The "Ship Or Die" Mentality
SEO and the Metrics of Success
Chart: Where People Want to Work for Themselves
Anger Is Not a Leadership Skill
Five DIY Online Form Builders
Partnership Agreement - Business Forms
How Do I Chart a Path for Employee Growth? - Human Resources - Ask Entrepreneur
Three Tips for Saving Money on Mobile Plans
DailyCandy's Dany Levy on Taking Initiative
How to Hire Workers for Hard-to-Fill Jobs
Five Tips for Saving Money on Shipping
How to Survive a Tax Audit
When to Hire a Bookkeeper or Accountant
Ready to Declare Your Independence? A Seven-Point Checklist
Five Tips to Transform Your Business
Les 3 stratégies de la startup
Guy Kawasaki: The Best Way to Improve Company Culture - Entrepreneur Video Network - Entrepreneur.com
What to Consider Before Teaming Up With a Partner