Unusual Art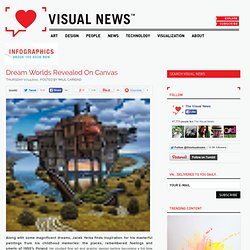 Along with some magnificent dreams, Jacek Yerka finds inspiration for his masterful paintings from his childhood memories: the places, remembered feelings and smells of 1950′s Poland. He studied fine art and graphic design before becoming a full time artist in 1980… and we're glad he did. His paintings will take you through incredible worlds of imagination, bending reality in captivating and clever ways fit to inspire a novel or film.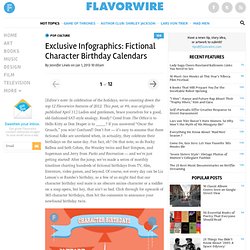 Exclusive Infographics: Fictional Character Birthday Calendars
[Editor's note: In celebration of the holidays, we're counting down the top 12 Flavorwire features of 2012. This post, at #6, was originally published April 11.] Ladies and gentlemen, brace yourselves for a good, old-fashioned SAT-style analogy. Ready? Creed from The Office is to Hello Kitty as Don Draper is to ________? If you answered "Oscar the Grouch," you win!
Historic Explosions in Cauliflower
Mundane by their very nature, manhole covers don't necessarily stand out to us while we walk or drive over them (although sometimes their simplistic appearance leads to interesting urban art). On occasion though, municipalities and even private property owners see the value of using the manhole cover as a unique way to help establish the identity of its surroundings. Turns out we're not the only ones who are intrigued by the possibilities these underfoot pieces of infrastructure provide: there's even a Flickr pool with over 14,000 entries of manholes from around the world. Below are 24 that caught our attention:
The World's Coolest Manhole Cover Designs - Design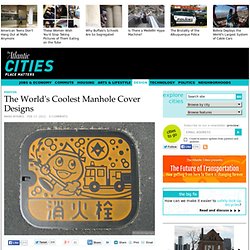 Google Zeitgeist '13 I was very lucky to be flown to Arizona in September to install a large scale string […] Design Montage Poster I recently collaborated with Jack Tierney, from Listen to the Graphics on a cute limited edition poster […] Columbia Law School Magazine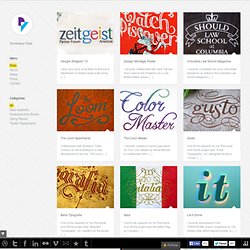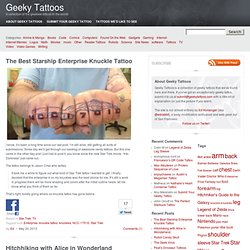 I know, it's been a long time since our last post. I'm still alive, still getting all sorts of submissions. Some day we'll get through our backlog of awesome nerdy tattoos. But this one came in the other day and I just had to post it, you know since the new Star Trek movie, "Into Darkness" just came out.
Geeky Tattoos
How do you paint with sound? It's a good question and the answer comes from German photographer Martin Klimas. He starts by putting different colored paint on top of a speaker over some translucent material, then cranks up the volume. The vibrations of the speaker shoot the paint into the air creating beautiful patterns and sculptural forms, and Klimas snaps them with his camera while in flight. We're used to seeing audiovisual collaborations, like those explored by Quayola and Jamie XX, but they're usually animated using computer software, whereas this is a much more analogue affair. Miles Davis – "Pharaoh's Dance"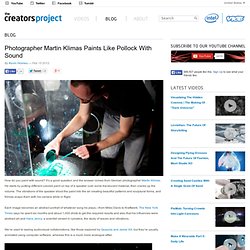 Koalas to the Max dot Com
Cecilia Camouflaged
kim welling by kimslittlemonsters on Etsy
Home : Charlotte Trounce
lizzystewartillustration: "Hard Wood and Heavy Water" an exhibition Jaguar Shoes32-34 Kingsland Road, Shoreditch, London E2 8DAPV: 30th January 2014. 7pm till late31st January – 16th March 2014.This is my first solo show in London. You can read about it here. lizzystewartillustration: Myself and Eleni Kalorkoti chat about work we've made, work we like and work we don't.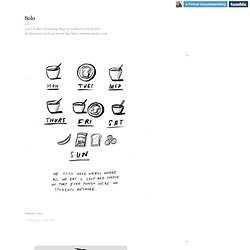 Solo
Tamara Shopsin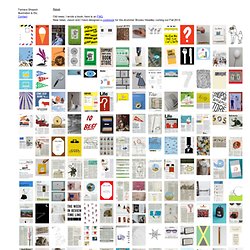 Tamara Shopsin Illustration & Etc. Contact Old news: I wrote a book, here is an FAQNew news: Jason and I have designed a cookbook for the drummer Brooks Headley coming out Fall 2014 Pancake Brunch at the Kadist March 13, 2012 Video by Joseph del Pesco Blockee is a web app that lets you visualize improvements to your block.
Rainbow Toy Car Installation Made from 2,500 Cars
Looking for street arts? then have a look at these best selected street artists of the year. With one of the most authoritative resource… for 2011. Street art is an awesome way to represent anything which can be a type of visual art, many artists today have a keen interest in street art as it's the most profound and it can be used to serve many purposes.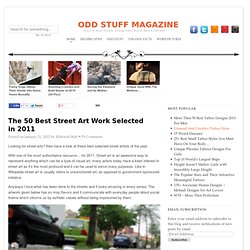 15 Great Works of Literature-Inspired Nail Art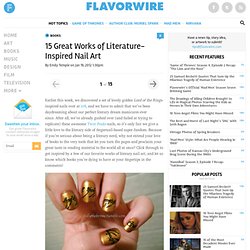 Earlier this week, we discovered a set of lovely golden Lord of the Rings-inspired nails over at io9, and we have to admit that we've been daydreaming about our perfect literary dream manicures ever since. After all, we've already gushed over (and failed at trying to replicate) these awesome Twin Peaks nails, so it's only fair we give a little love to the literary side of fingernail-based super-fandom. Because if you're serious about being a literary nerd, why not extend your love of books to the very tools that let you turn the pages and proclaim your great taste in reading material to the world all at once? Click through to get inspired by a few of our favorite works of literary nail art, and let us know which books you're dying to have at your fingertips in the comments! Lord of the Rings [via]
by Maria Popova What the Mad Hatter has to do with one of the most inspired collaborations in Western culture. Last week, we marveled at Leonard Weisgard's stunning illustrations for the first color edition of Alice in Wonderland, circa 1949. But it turns out they might not be the most culturally intriguing.
Last week, I was scouting office space in a building in Queens. My guide brought me to this totally unassuming elevator: Really, I have to show you this as I encountered it: WOW. It's like Willy Wonka built an elevator to the land of Oz! Easily the coolest elevator I've ever been on in New York:
Larken by larkendesign on Etsy