Food
First things first, the CellarVie Wines team cannot lay claim to being responsible for the making of the 'Ultimate Sandwich'. This remarkable feat of culinary engineering, complete with the beautiful pictures displayed below, arrived in our inbox courtesy of an anonymous email chain on Tuesday afternoon. Jamie Oliver would undoubtedly and perhaps quite correctly, not endorse this as a healthy meal, and it certainly isn't for the faint-hearted but we thought it was a bit of fun nonetheless. So feast your eyes on the 'Ultimate sandwich'…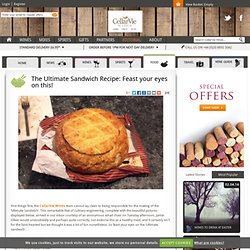 The Ultimate Sandwich Recipe: Feast your eyes on this!
Just before I left for the airport Monday morning, I stopped short and ran back inside, not because I forgot my power cord or business cards or anything normal like that, but to make myself a turkey sandwich. My flight left late, of course, and by the time I had time to unwrap my semi-smooshed last bit of home-cooked anything, I was so hungry, I was ready to ask the 18-month-old next to me to share one of his drooled-upon teething biscuits. Proust may have had his madeleine and my husband may have his pickled green tomatoes, but I had that turkey sandwich and in the one bite I allowed myself before the drink cart finally brought me something to wash it down with, I had found a happiness I didn't know could exist at the front end of a much-dreaded three day business trip to a nine-acre enclosed glass pod.
homemade oreos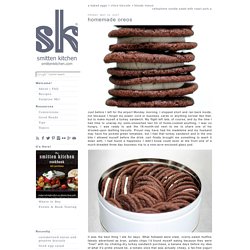 100 Years of Oreo: Recipes and Facts About the Famous Cookie | Shine Food
The Oreo cookie was first baked one hundred years ago today!The Oreo cookie turns 100 today, and a full century of milk-dipping, creme-scraping deliciousness later, they're still they're one of the most popular treats in the world. Originally called the Oreo biscuit, they were created in a National Biscuit Company bakery in Manhattan on March 6, 1912. Now, more than 95 million cookies are sold every day in more than 100 countries, generating $1.5 billion in revenue each year. Becky Tousey, Kraft Foods' corporate archivist, says that the brand's message hasn't changed over the course of a century.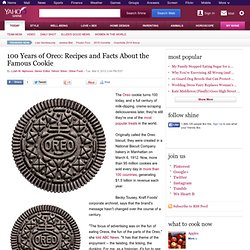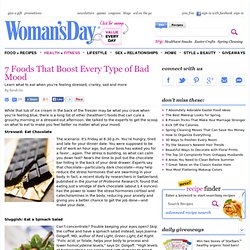 While that tub of ice cream in the back of the freezer may be what you crave when you're feeling blue, there is a long list of other (healthier!) foods that can cure a grouchy morning or a stressed-out afternoon. We talked to the experts to get the scoop on what to eat to make you feel better no matter what your mood. Stressed: Eat Chocolate
Foods to Improve Moods - Healthy Living Tips at WomansDay.com - Womans Day - StumbleUpon
Here's a cake sure to sweeten up the Valentines in your life. Pick up three boxes of your favorite white cake mix—or work from scratch if you have the time—along with a bottle of Wilton's Icing Color in petal pink. Split each box into two batches for a total of six, then add increasing amounts of dye little by little until you achieve the ombre effect. For the outside of the cake, I used a piping bag fit with a basketweave tip. Happy baking, everyone!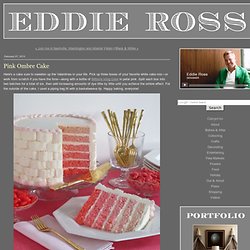 EDDIE ROSS - Pink Ombre Cake - StumbleUpon
Get your cook on. - StumbleUpon
Grown Up Hot Chocolate with Homemade Bailey's Marshmallows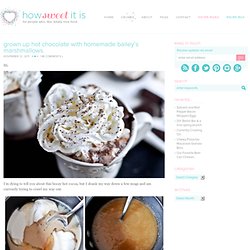 Hi. I'm dying to tell you about this boozy hot cocoa, but I drank my way down a few mugs and am currently trying to crawl my way out. Like everything else this week, it wasn't my idea… a bunch of you [like Allison] looked at me [virtually] as if I was insane for not putting the marshmallow vodka in hot chocolate. I'm so glad I have smart invisible internet friends!
Alcohol | foodgawker - StumbleUpon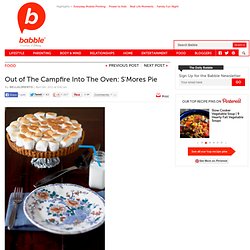 There is just something about a s'more that brings out the kid in me. The toasted marshmallow, the melted chocolate, the crunch of the graham cracker. You put them together and it's bliss. We love them so much, we eat them year round, we've even grilled marshmallows in our wood burning fireplace, over our gas stove, and made them in the microwave in a pinch. So naturally a s'mores pie would be the next logical step ; ) And it couldnt' be easier. I started with making the graham cracker crust and baking it until golden.
Out of the Campfire, into the Oven: Smores Pie | The Family Kitchen - StumbleUpon
Say 'Yes' to Pesto | PETA.org - StumbleUpon
The following article was written by Keegan Baur. Spring is upon us, and I, for one, am so ready for warm weather. This past weekend, I wanted to cook a fresh and light dinner and decided to try the Avocado Pesto Pasta dish à la Chef Chloe. It hit the spot for me, and I'm definitely excited to use more recipes by this budding new vegan chef.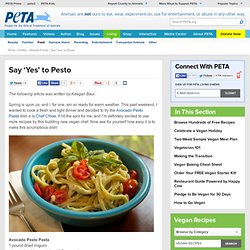 Want to know how to make one heck of a delicious chicken dish? Good. Because I was going to tell you anyway. First up. Chop up some jalapenos and other good stuff. Saute them in a little butter.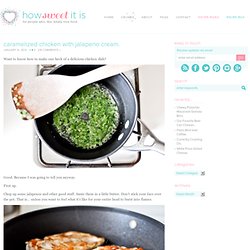 Caramelized Chicken with Jalapeno Cream | How Sweet It Is - StumbleUpon
Cookie Recipes | smitten kitchen - StumbleUpon
Baked Egg Boat recipe - StumbleUpon
Breakfast is my favorite meal. I like to drink iced coffee and watch the cream climb its way down the chunky ice cubes in a dazy before the caffeine hits. I like to order bacon with whatever I'm eating. I like eating potatoes with ketchup. I like eggs over easy, and fluffy scrambled eggs. I pretty much like everything there is to like about breakfast.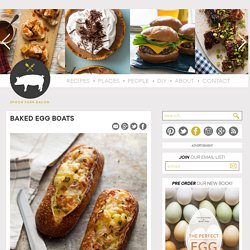 Happy New Year! Many of us are thinking about our New Year's resolutions and healthy eating is often at the top of the list. If you are setting a goal to eat healthy in 2012, here are 50 healthy recipes to help you get started. Beverages Easy Strawberry Mango Smoothie Berry Banana Smoothie
50 Healthy Recipes to Kick Off 2012 | Two Peas & Their Pod - StumbleUpon
Potato and Cheese Pierogi | MyGourmetConnection Recipes
Creating a romantic meal at home is a somewhat bigger challenge than your standard Monday-night fare. Especially if you haven't yet cooked for this significant other — or, if you're in a long-term relationship, haven't cooked for them often. And especially when the occasion in question is Valentine's Day.
7 Romantic Meals For $10 Or Less | MintLife Blog | Personal Finance News & Advice - StumbleUpon
Dinner in 15 Minutes Flat - Make Your Selections | Real Simple
The best new recipes from The Kitchn | punchfork.com - StumbleUpon
Happy weekend, everyone! I hope you're in the mood for delicious spring-y brunch recipes, plus appetizers and sweets, because we've got a lot of ideas for you this week. If you want to tackle lamb for Easter (or any time, really), try our easy tutorial for roasting a leg of lamb. If you're looking for some fun spring appetizers, you need to make the asparagus and prosciutto crostini and the baked brie with herbed artichokes. And for brunch? These sticky lemon rolls with lemon cream cheese glaze obviously need to happen.
Ramen Hacks: 30+ Easy Ways to Upgrade Your Instant Noodles | Serious Eats - StumbleUpon
SLIDESHOW: Ramen Hacks: 30+ Easy Ways to Upgrade Your Instant Noodles [Photographs: J. Kenji Lopez-Alt] Ramen in the U.S. has come a long way.
I rolled my eyes at the red velvet cake trend, but now I can't get enough. I'll make any excuse to have 'cake' for breakfast– here's my take on a classic. Red Velvet Crepes (Makes about 24, 8″ crepes) Ingredients: – 1 1/2 cups all-purpose flour - 1 teaspoon baking powder - 1/2 teaspoon baking soda - 1/4 teaspoon salt - 3 tablespoons sugar - 2 cups butter milk - 1 1/4 cup whole or lowfat milk - 1 large egg - 1 teaspoon vanilla extract - 1 1/2 tablespoons cocoa powder, sifted - 1 tablespoon red food color gel - 2 tablespoons unsalted butter, melted + 2 tablespoons cooking oil (for pan) *Update: Because the buttermilk lends to the acidity of this batter, do not substitute the baking soda for extra baking powder.
Red Velvet Crêpes | Duhlicious - StumbleUpon
One Bowl Vanilla Cupcakes For Two | How Sweet It Is - StumbleUpon
Better Than Takeout Orange Chicken - StumbleUpon
Broccoli and White Cheddar Mac & Cheese & The Craving Chronicles - StumbleUpon
Nibble Me This: Spaghetti and Meatball Pot Pie - StumbleUpon
Picky Palate - StumbleUpon
Ultimate Chocolate Chip Cookie n' Oreo Fudge Brownie Bar | Kevin & Amanda
GET OFF YOUR BUTT AND BAKE!: PRETZEL BITES - Parmesan or Cinnamon and Sugar with glaze.
A brownie by any other name… | King Arthur Flour – Baking Banter - StumbleUpon
rainy day gal & buffalo chicken mac and cheese - StumbleUpon
Queso Blanco Dip {Sugar Rush Reinvented: #6} - StumbleUpon
Pepperoni Pizza Monkey Bread - StumbleUpon