Who owns what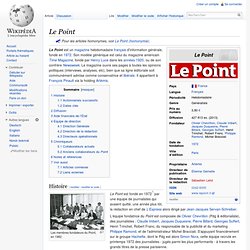 Un article de Wikipédia, l'encyclopédie libre. Le Point est un magazine hebdomadaire français d'information générale, fondé en 1972 . Son modèle générique est celui du magazine américain Time Magazine , fondé par Henry Luce dans les années 1920 , ou de son confrère Newsweek .
Le Point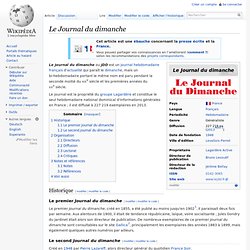 Un article de Wikipédia, l'encyclopédie libre. Le Journal du dimanche ou JDD est un journal hebdomadaire français d' actualité qui paraît le dimanche , mais un bi-hebdomadaire portant le même nom est paru pendant la seconde moitié du XIX e siècle et les premières années du XX e siècle. Le journal est la propriété du groupe Lagardère et constitue le seul hebdomadaire national dominical d'informations générales en France ; il tire à 260 000 exemplaires environ en 2010. [réf. nécessaire] Historique [ modifier ]
Le Journal du dimanche
Un article de Wikipédia, l'encyclopédie libre. Cet article concerne le journal français « Le Monde ». Pour les autres significations associées au mot monde, voir Monde . Le Monde est un journal français fondé par Hubert Beuve-Méry en 1944 .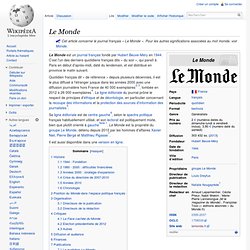 Le Monde
Un article de Wikipédia, l'encyclopédie libre. Le Figaro est un journal français fondé en 1826 sous le règne de Charles X . Il est à ce titre le plus ancien quotidien français encore publié.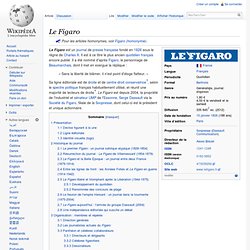 Le Figaro
News Corporation or News Corp. is an American diversified multinational mass media corporation headquartered in New York City, United States. It is the world's second-largest media group as of 2011 in terms of revenue, and the world's third largest in entertainment as of 2009. [ 5 ] [ 6 ] [ 7 ] [ 8 ] The company is controlled by Rupert Murdoch and his family members. [ 9 ] News Corporation is a publicly traded company listed on the NASDAQ , with secondary listings on the Australian Securities Exchange . Formerly incorporated in South Australia, the company was re-incorporated under Delaware General Corporation Law after a majority of shareholders approved the move on 12 November 2004. At present, News Corporation is headquartered at 1211 Avenue of the Americas , in New York City , in the newer 1960s–1970s corridor of the Rockefeller Center complex.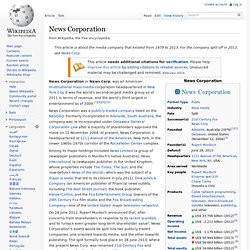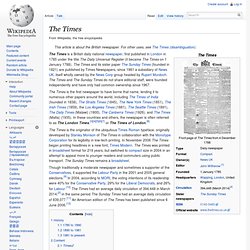 The Times is a British daily national newspaper, first published in London in 1785 under the title The Daily Universal Register (it became The Times on 1 January 1788). The Times and its sister paper The Sunday Times (founded in 1821) are published by Times Newspapers, since 1981 a subsidiary of News International , itself wholly owned by the News Corporation group headed by Rupert Murdoch . The Times and The Sunday Times do not share editorial staff, were founded independently and have only had common ownership since 1967. The Times is the first newspaper to have borne that name, lending it to numerous other papers around the world, including The Times of India (founded in 1838), The Straits Times (1845), The New York Times (1851), The Irish Times (1859), the Los Angeles Times (1881), The Seattle Times (1891), The Daily Times (Malawi) (1900), The Canberra Times (1926), The Times (Malta) (1935) and The Times of Israel (2012).
The Times
Not to be confused with the Guardian Enterprise Group, an American media company (see .2 Network ). Guardian Media Group plc (often referred to as GMG) is a company of the United Kingdom owning various mass media operations including The Guardian and The Observer . The group is wholly owned by Scott Trust Limited , which exists to secure the financial and editorial independence of The Guardian in perpetuity. [ edit ] History The company was founded as the Manchester Guardian Ltd in 1907 when C.
Guardian Media Group