Corporations & Gov Watch
Confront Corporate Power
Public Citizen to court: Don't let retailer get away with retaliating against online critic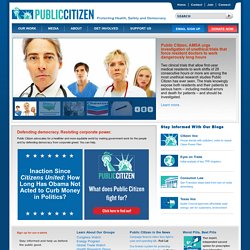 Activist Cash: Profiling activists, organizations & funding
David Brin: THE TRANSPARENT SOCIETY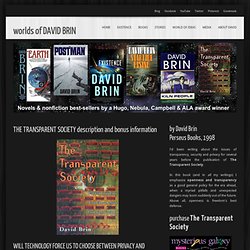 Our society has one great knack above all others -- one that no other ever managed -- that of holding the mighty accountable. Although elites of all kinds enacted laws and customs to hold commonfolk accountable, never before have citizens been so empowered. And history shows that this didn't happen by blinding the mighty -- a futile endeavor that has never worked.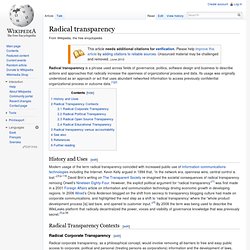 Radical transparency
Radical transparency is a phrase used across fields of governance, politics, software design and business to describe actions and approaches that radically increase the openness of organizational process and data.
sociétés & gouv vigilance fr...
Knowmore.org - Question Your Goods. Vote With Your Wallet.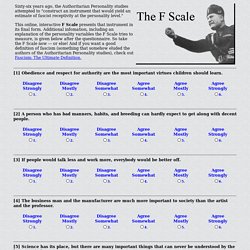 Fifty years ago, the Authoritarian Personality studies attempted to "construct an instrument that would yield an estimate of fascist receptivity at the personality level."
The F Scale: Final form
The 14 Characteristics of Fascism, by Lawrence Britt, Spring 2003
The Transparent Society: Will Technology Force Us to Choose Between Privacy and Freedom? was published in May 1998 by Perseus Press (formerly Addison Wesley). This large nonfiction work concerns threats to privacy and openness in the information age.
the radical transparency of DAVID BRIN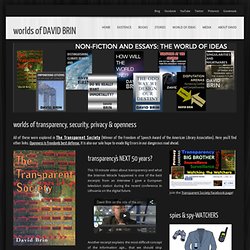 The Transparent Society: Will Technology Force Us To Choose Between Privacy ... - David Brin - Google Books
Government transparency is that rarest of political phenomena -- a great idea with support across the political spectrum and popularity among the public. Yet, here we are in the 21st century with every tool we would need to make government more transparent and accountable, and still we are operating with a government that often behaves as it did in the 19th century.
Introducing the Cycle of Transparency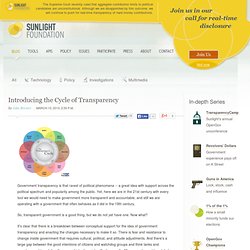 NNDB: Tracking the entire world
Peter Eigen: How to expose the corrupt
Corporations Monitoring...
Category:Consumer rights activists
Inequality watch
Center for Consumer Freedom